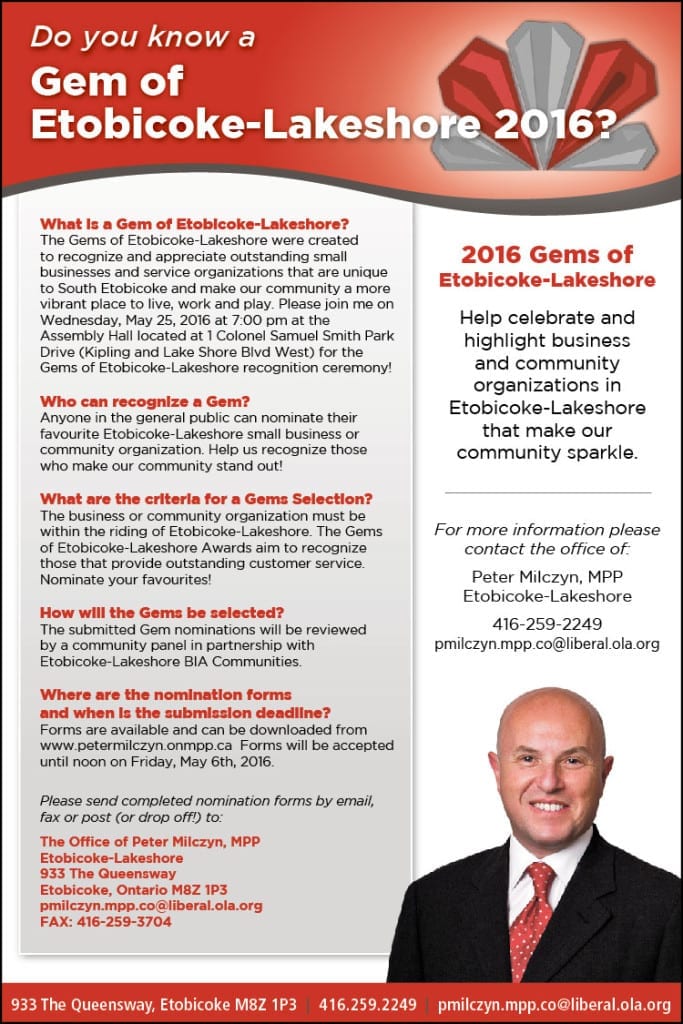 The following message is from Etobicoke-Lakeshore MPP Peter Milczyn's Office:
Do you know a Gem of Etobicoke-Lakeshore 2016?
The Gems of Etobicoke-Lakeshore were created to recognize and appreciate outstanding small businesses, community and service organizations that are unique to South Etobicoke and make our community a more vibrant place to live, work and play.
What are the criteria for a Gems selection? The small business or community organization must be within the riding of Etobicoke-Lakeshore. We  are looking to recognize those that provide outstanding customer service. Please nominate your favourites!
[Click below to access a nomination form:]
2016 Gems of Etobicoke-Lakeshore Nomination Form
The submitted Gem nominations will be reviewed by a community panel in partnership with Etobicoke-Lakeshore BIA Communities. Information and nomination forms are attached, and can also be downloaded from www.petermilczyn.onmpp.ca
Forms will be accepted until noon on Friday, May 6, 2016. Completed nomination forms can be sent to my office by email, fax or post (or drop off!) to:
The Office of Peter Milczyn, MPP
Etobicoke-Lakeshore
933 The Queensway
Etobicoke, Ontario M8Z 1P3
pmilczyn.mpp.co@liberal.ola.org
FAX: 416 259 3704
Please call Wendy McNaughton at my office, at 416-259-2249, if you require any further information.
Help celebrate and highlight small businesses, service and community organizations in Etobicoke-Lakeshore that make our community sparkle! Please join me on Wednesday, May 25, 2016 at 7:00 pm at the Assembly Hall located at 1 Colonel Sam Smith Drive (Kipling and Lake Shore Blvd West) for the Gems of Etobicoke-Lakeshore recognition ceremony!
Sincerely,
Peter Milczyn, MPP
Etobicoke-Lakeshore
Share this: