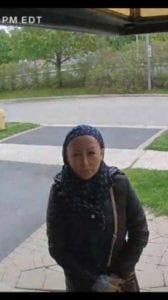 Click on images to enlarge them; click again to enlarge them further
The following message was posted at a local Neighbourhood Watch Facebook page; the introduction to the text reads:
Good read. This car was spotted by a few local residents in the Mimico, New Toronto and Long Branch neighbourhoods and reported.
Video related to the Attempted Home Invasion / Robbery
Attempted Home Invasion / Robbery
Major Mackenzie & Weston Road, Woodbridge area!!
Attention everyone living in the surrounding area!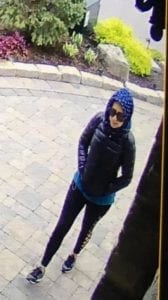 On Monday May 22nd, 2017 at approx. 2pm, my doorbell rang from the young female with scarf and sunglasses.
I DID NOT ANSWER THE DOOR AS I DID NOT RECOGNIZE THE PERSON AND WAS NOT EXPECTING ANYONE!
She continued to ring the bell and each time would cover her mouth with the scarf and turn her back to the camera!
After approx. 3-5 mins. She was still at my front door!
FROM INSIDE THE HOUSE, I said: "Hello! Can I help you?"
She replies: " uh, John here?"
After I answered that there was no John she asked if this was #48 and I said it was not, she turned and left!
It was ONLY AFTER we played back the surveillance video, we saw more!
When she covered her mouth with her scarf, she was communicating with her accomplices!
When she had assumed that no one was home, she contacted them to get out of the truck!
older style, MERCEDES SUV (you can see it in the video)
The 2 white males exit the vehicle, with backpacks and put caps on and make their was to the side of my home to the gate.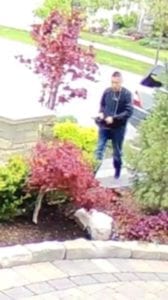 We were able to capture from our neighbours video surveillance that they were attempting to get through the gate when the female at my front door communicated to them and they turned and returned to the truck as did she!
Their advice: Immediately call 911
This has been reported to YORK REGIONAL POLICE!
Their advice was to IMMEDIATELY CALL 9-1-1 if you see someone acting strange at your door!
Please all be cautious!
York Regional Police also indicated that these criminals work in "clusters" meaning that they focus on one area at a time.
Just glad I was home cuz my daughter was already making her way to open the front door!
She's definitely knows now to ABSOLUTELY NEVER OPEN THE DOOR!!!!!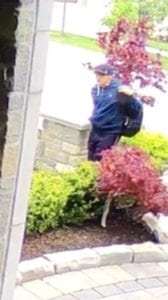 Share this: