Linguistic anthropology features a close study of schoolyard games of stance, status, and exclusion
Research reports and articles related to social hierarchies, sense-making, bullying, warfare, and conflict resolution are of interest to me.
During my teaching career, from which I retired in 2006, I worked in schools across the Greater Toronto Area. I began my career in 1975 working with infants and toddlers in a parent-cooperative day care centre located at the time on McCaul Street in Toronto.
In the last decade of my career I was an elementary teacher with the Peel District School Board at Munden Park Public School in Mississauga. I maintain a strong interest in early childhood education including the introduction of All Day Kindergarten in Ontario.
Teacher training and social construction of meaning
When I began my teaching career in 1975 I did not have any formal training. I learned by observing and by interacting. I was in a position to learn about teaching through direct immersion in the experience of it. Teaching is a process that many people are adept at. Teaching occurs in many lines of work without being called "teaching."
Some years later, I spent a year getting a teaching certificate at the University of Toronto Faculty of Education. Teacher training shapes a person's mind in a particular way.
It may be helpful, at least with some teaching careers, if a prospective teacher has some things figured out, about the social construction of meaning that is at the heart of education, before getting trained in how to be a teacher.
Among the books I've recently enjoyed encountering, with regard to research focusing in particular on social interaction during recess periods in schoolyards, is The Hidden Life of Girls: Games of Stance, Status, and Exclusion (2006) by Marjorie Harness Goodwin, professor of anthropology at UCLA, whose work "focuses on how people build their cognitive and social world through the use of language in interaction in a range of natural settings" (p. ix).
Her area of interest, to express it another way, is linguistic anthropology, which has been described (see link in this sentence) as "the comparative study of the ways in which language shapes social life."
The Hidden Life of Girls: Games of Stance, Status, and Exclusion (2006)
I have broken the following excerpt (pp. 251-253) from The Hidden Life of Girls (2006) into shorter paragraphs and have omitted the footnote references: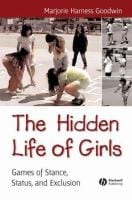 'In studies of peer victimization psychologists make use of peer evaluation techniques, self-reports, or combinations of both self and peer nomination reports. Underwood (2003:9) has argued that in order to adequately under­stand social aggression among girls, observational as well as questionnaire methods need to be used. Pellegrini (1998:171) has explicitly called for studies of peer victimization using "direct observation methods" involving videotaping, noting that "questionnaires limit our understanding events . . . to what respondents choose to tell us."
'Frequently, however, "the focus is on whether, how often, and in what form the individual behaved aggressively or not" and the context of aggression is largely ignored (Shantz and Hobart 1989). Rarely have psychologists (even those conducting naturalistic studies of children) investigated the actual discourse used during aggressive inter­actions. Amazingly, with the exception of the work of Juvonen and her colleagues, the role of the peer group in peer victimization is seldom the object of study.
'A focus on the individual and reliance on experiments has characterized anthropological studies of children's acquisition of racist attitudes as well because it is believed that "everyday behavior and speech provide little purchase on children's beliefs about race and ethnicity" (Hirschfeld 1996:198). In most studies of social exclusion and racial attitudes, as in studies of social class as a discursive practice, the actual social processes through which exclusion or the construction of social difference occurs are left unexplored.
Victimization as a social process
'An important alternative approach would view the activity of victimiza­tion as a social rather than an individual process, and locate values within interactive practice, adopting a Vygotsyian (1978) perspective. In this book by examining the actual exchanges that constitute bullying or exclusion, I have examined the interactive processes through which girls organize their social relations and delineate asymmetrical relations of power.
'Just such types of descriptions have been advocated by social psychologists ; Jaana Juvonen and Sandra Graham (2004:231) in their work on "Research-Based Interventions on Bullying" state that children need concrete examples of bullying behavior rather than abstract definitions: "the many faces or forms of bullying (including ever-increasing cyber bullying) need to be recognized and incorporated in school policies and for prevention and intervention purposes."
'While it is easy to recognize physical aggression, forms of covert and indirect aggression are much less discernable, and often missed by teachers, aides, or other adults at the school. Before bullying prevention projects can be effective adults need to recognize that bullying and aggression are not part of a "character forming experience" (Smith and Brain 2000), but rather a serious problem involving the individual rights of children.'
[End of excerpt]
What is the evidence?
Goodwin's research, and the analysis of it, includes among other things a focus on two questions that I find of particular interest.
First, on the basis of what evidence, and what frames of reference, can we arrive at valid conclusions regarding a series of social interactions that a person happens to be observing?
Secondly, young girls have been characterized in particular ways in academic literature and in popular culture. On the basis of what evidence and frames of reference are such characterizations made? How solid and relevant is the evidence? How cogent are the frames of reference?
To express these questions in another way, a person can say: "What are you seeing? On what basis does your explanation of what you are seeing make sense?"
Research in pre-school settings
Research involving video recording of social interactions in preschool settings and elsewhere is an ongoing topic of interest for me, as an April 5, 2011 article posted at the Canadian Stuttering Association website illustrates. The article is entitled: "Stuttering has social consequences, even for 3 and 4 year olds."
Bullying
In an April 2014 interview with Marina Gavrylyuk, Sales Representative at Sutton Group Summit Realty Inc., I shared some thoughts about bullying.
Marina Gavrylyuk: 'What do you think about all the anti-bullying programs launched at schools these days? Do you think they cause the opposite effect?'
Thoughts about bullying
'Different people will say different things on this. I like to adopt an evidence-based approach regarding bullying. Bullying is a relationship problem when kids use power and aggression to cause harm to another person who is not in a position to defend himself, or herself. Often it is a group activity where some kids work as a team to focus on one particular child.
'Conflict is a regular part of life; everybody can have disagreements, everybody can argue and have conflicts, but when one person uses power – as an example, because of larger size or because of being older – in order to cause harm, we as adults are in a position to model better forms of behavior. We can teach children to deal with relationships in a way that is helpful for everyone and we have to go with the research. Conflict is normal, but bullying does not have to be a normal part of life. When bullying occurs – it is a form of warfare.
Research about bullying
'And we know from the research, that the kids who are bullied in elementary school, in high school, university, in the work place – suffer, they suffer tremendously, to the extent that their chance of committing suicide is increased. We can say, as some people do, that it's just about kids being kids, and adults being adults. But in a civilized society, this is not a sufficient answer.
PREVNet: Promoting Relationships & Eliminating Violence
'We realize that, in a civil society, we have a reason to be concerned for the life and well-being of every child, of every adolescent, of every adult – and I am a strong supporter of effective and well organized anti-bullying programs which are based on evidence of what works. In that regard, the PREVNet website shares some great information about anti-bullying programs that work.
'I've spent time in my volunteer work in years past organizing workshops about bullying. And, in fact, if you do a web-search with my name and the word "bullying" you would find information that I've shared with parents and other people. And certainly the key thing is if one child is being victimized, it is very helpful when one person in the group has the courage to step up and say: "You need to make this stop."
'And I think this is very important, especially for every adult who is in the position to use wisdom to make bullying stop. Stepping in, making it stop, could literally save the person's life. It can change the atmosphere in a classroom, it can make a big difference. And it is very important for kids to be feeling comfortable and knowing that they can go to an adult to deal with problems. And I encourage every effort to keep those lines of communication open. It's among the most important things the adult can do – to help to defend those who otherwise can't be defended and will be beaten down and destroyed.'
[End of excerpt] 
Debra Pepler and Wendy Craig
An article that I wrote some years ago about research related to bullying can be accessed here. It may also be noted that Debra Pepler of York University and the Hospital for Sick Children, and Wendy Craig of Queen's University, have done extensive research related to bullying in Canadian schools. They have used video recordings as a key part of their research. Further information about research – and evidence-based programs that seek to effectively address bullying in schools – is available at the PREVnet website.
Generation Change
An Oct. 27, 2014 Metro Toronto article is entitled: "Generation Change holds annual candlelight vigil to honour victims of bullying."
Updates
A Nov. 1, 2014 blog post at davidkeithlaw.worpress.com is entitled "Think Anew, Act Anew: Jian Ghomeshi and the Squadron of Cowards." The post, which addresses the dynamics of bullying among other topics, is in the categories of: Arts and Entertainment, Canada, and Workplace Safety.
A Nov. 10, 2014 New Yorker article is entitled: "The Outcast: After a Hasidic man exposed child abuse in his tight-knit Brooklyn community, he found himself the target of a criminal investigation."
An Oct. 6, 2014 article at the hairpin.com is entitled: "Stories Like Passwords."
An Oct. 30, 2014 article at penguinrandomhouse.ca is entitled: "How Predators Get Away With It: Why the Canadian media must do more to challenge its own sexism. And speak out against the abusers in its midst."
A Nov. 6, 2014 rabble.ca article is entitled: "Jian Ghomeshi and the bystander effect."
Kidsmediacentre at Centennial College in Toronto conducts research on children & youth's digital usage patterns and media habits http://www.hashtaginstafame.com
A Jan. 6, 2015 CBC article is entitled: "Online video sparks bullying investigation: Video of Summerside, P.E.I., school fight has gathered over 2 million views since Christmas Eve."
An April 2, 2015 New Yorker article is entitled: "Playground pain and pleasure."