Provincial Changes to Planning Law and Bill 108 – Town Hall on Bill 108 at Toronto City Hall on Monday, May 27, 2019
*
The following message is from Councillor Good Perks, Ward 4, City of Toronto: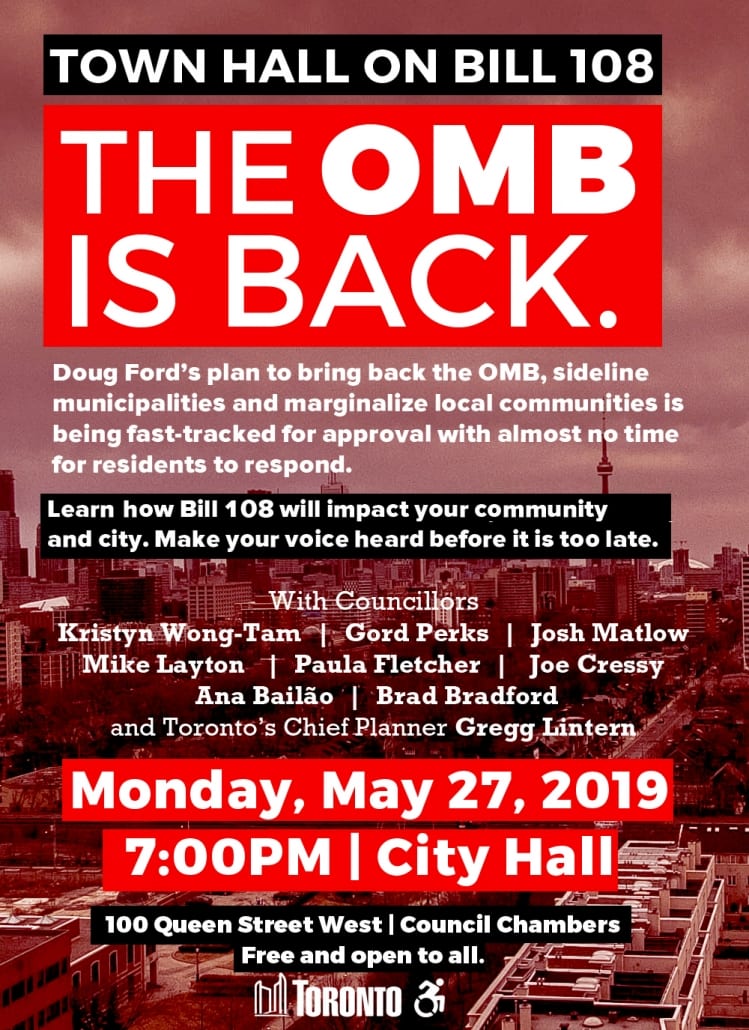 Friends,
Earlier this month the Government of Ontario announced changes to planning law in Ontario under Bill 108 which affects 13 different pieces of legislation and reinstates the old Ontario Municipal Board (OMB), putting more power in the hands of developers and their lobbyists. We cannot allow an unaccountable and unelected body to determine local planning decisions. Your voice is critical in taking a stand against Premier Ford and these unwanted changes.
Read the Chief Planner's report to City Council on the proposed Bill 108:
https://www.toronto.ca/legdocs/mmis/2019/cc/bgrd/backgroundfile-133165.pdf
[Read Chief Planner's presentation:]
www.toronto.ca/legdocs/mmis/2019/cc/bgrd/backgroundfile-133199.pdf
Town Hall on Bill 108 at City Hall
On Monday, May 27, 2019 at 7pm, join myself and Councillors Kristyn Wong-Tam, Josh Matlow, Paula Fletcher, Mike Layton, Joe Cressy, Ana Bailão and Brad Bradford, along with Toronto's Chief Planner Gregg Lintern, to learn about how Bill 108 will impact your community and how you can have your say before it is too late. This meeting is free and open to all.
When: Monday, May 27, 2019 at 7pm
Where: Council Chambers, Toronto City Hall, 100 Queen Street West
Facebook event: www.facebook.com/events/309554903273831
Bill 108 Committee Hearings at Queens Park
As an Ontario citizen, you can have your say on this issue at public hearings. You can take part in the committee process by appearing as a committee witness, submitting written material to a committee, or attending committee hearings.
There is only one day of hearings for Bill 108: Friday May 31st 9:00am-11:30am and 1:00pm – 5:00pm. The deadline to request to appear is Wednesday May 29th at 12:00pm.
Witnesses will receive up to six minutes for presentation followed by twelve minutes of questions by committee members.
You may also submit written materials voicing your concerns. The deadline for written submissions is Friday, May 31st 5:00pm. More information about how to submit written materials and participate in committees can be found at www.ola.org/en/get-involved/participate-committees
The first step in appearing before a committee is registering with the Clerk of the Committee. The Committee contact information is comm-justicepolicy@ola.org, 416-325-7352.
Gord
Councillor Gord Perks
Ward 4, Parkdale High-Park
100 Queen Street West, Suite A14
Toronto, ON M5H 2N2
(t) 416-392-7919
(f) 416-392-0398
www.gordperks.ca
twitter: @gordperks
Facebook: @GordPerks