Saving The Foundry – Making progress, but they still need your help
*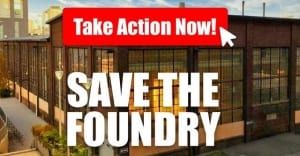 From Friends of The Foundry:
You are making a difference – 20,000+ signatures in 10 days  & a temporary pause in the demolition.
We are now in Court against the Province and legal fights are expensive.  You can help:
2. 
Email Doug Ford
 asking him to stop the demolition and start the consultation.
3. Pass this on to 5 friends.
Where are we now?
The St. Lawrence Neighbourhood Association SLNA has taken the Friends of the Foundry campaign to the Courts with
We have had strong support from local Councillor Kristyn Wong-Tam and the Architectural Conservancy of Ontario but we have to fund the legal challenge
 A decision on an interim order that would continue to pause the demolition is expected some time Friday
Toronto City Council will be asked on Tuesday to authorize City legal council to also seek a stop to the demolition
A full hearing on the SLNA ( and hopefully City) applications will be held at the end of February
Need to know more?
The Dominion Foundry complex in the West Don Lands, a listed heritage site, is in imminent danger. The Province has already partially demolished one of the two most important buildings on the site, but the damage is not irreversible.
The demolition was started with no notice to the City of Toronto or the community. We are arguing that the Province has ignored its own Heritage guidelines and breached a subdivision agreement with the City of Toronto by starting demolition without having completed an appropriate heritage assessment and considering alternatives that would ensure that some or all of the buildings are conserved.
We can't let Doug Ford's government get away with this.
c/o 128 Hogarth Ave. Toronto ON M4K 1K4
Cell: 416 892-8941