182 Queens Ave. in Mimico was built in 1902, new evidence indicates, not around 1898 as earlier noted
I have received information that newly uncovered evidence suggests 182 Queens Ave. was built in 1902 rather than about 1898. I mention it in the interests of evidence-based accuracy.
The relevant source for this update is the following post at the History of the Town of Mimico website, which is a tremendously valuable source of information:
Robert Herod House – 182 Queens Avenue – Under Threat
An excerpt (I have omitted embedded links in the text: to access those please go to above-noted link) reads:
This rather plain house at 182 Queens Avenue was built probably in 1902 by Robert Murray Herod a bricklayer and builder on Lot 162, Plan M77. (Note that my earlier post indicated a date of 1898 for the house however subsequent research has indicated he didn't purchase the lot until June 1902).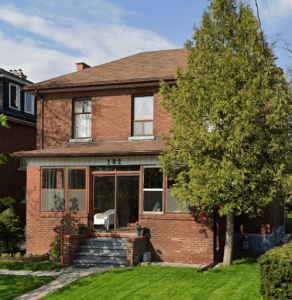 It was one of the earliest houses in Mimico, and on this stretch of the street. Given his occupation as a bricklayer and builder he most likely built it himself.
Robert was the son of William Herod and Ann Murray, born in Hagersville, Ontario in 1855.
Robert married Martha Ritchie, also from Mimico, at the Methodist Parsonage at 125 Dunn Avenue in Parkdale on August 13, 1889. They would go on to have six children
He first appears in Mimico in the 1899 Toronto City Directory (pg 58) living on Queens Avenue (hence the original posting that the house was built in 1898) and he and his family were enumerated there in the 1901 and 1911 census.
However, though he was living on Queens Avenue by 1898 (since the information for the 1899 City Directory would have been assembled in late 1898), it was not until June 13, 1902 that Robert Murray Herod acquired a number of lots on the west side of the street from R. H. Guthrie. The purchase included lots 162, 163, 164, 165, 166, 167 and 168. The house was built on lot 162. He would later build a house for his son Archibald on lot 163 in 1912.
Previous posts: 182 Queens Ave., Mimico