Comments from residents and developers regarding draft of new City of Toronto laneway housing bylaw: Part 3
You can find Parts 1 and 2 at these previous posts:
The City of Toronto has passed a new bylaw regarding laneway housing; comments made during the drafting are featured at this post (Part 1)
I look at laneway housing, a broad topic with many facets, from a more general, abstract perspective than was the case when, in 2010, in connection with the former Parkview School in Long Branch, I first became interested in land use decision making
Laneway housing is also featured at earlier posts including:
Community consultation meetings are taking place in Toronto on allowing laneway housing across the city
I'm looking forward to a webinar about Toronto laneway houses; the webinar has prompted me to think about great design in general – as at 58 Wheatfield Road
Toronto has launched city-wide "missing middle" housing project, as Michael Mizzi explains at November 18, 2020 Long Branch Neighbourhood Association AGM
Submissions in response to bylaws draft
A bylaw was passed on Dec. 17, 2021 regarding laneway housing in the City of Toronto. At the following link, you can access the submissions that were made during the drafting of the bylaw, before the final version of it was passed:
Click here to access details related to passing of new City of Toronto laneway housing bylaw >
By way of adding to two recent posts, below are texts (for brevity I've omitted names of commenters) of additional submissions:
13. Annex Residents' Association
Re: PH 29.2 Changing Lanes: The City of Toronto's Review of Laneway Suites – Monitoring Program and By-law Amendments
We write regarding proposed amendments to the zoning by-law pertaining to Laneway Suites. While we fully support alternative housing and expanding available options, this must be approached with care. In our view, sustainability and the resilience of neighbourhoods must be primary factors in the decision-making process, not principles to be abandoned.
We are particularly concerned by the proposed decrease in soft landscaping requirements, currently at 85%. The consequent loss of permeable surfaces and green spaces is simply unacceptable. In fact, rather than reducing the requirements, the City should make them apply even to walkways, rather than pandering to old-fashioned construction techniques.
Equally important is the maintenance of a healthy tree canopy. As new developments creep increasingly high, shadows and reduction of light have an adverse impact on trees. Any new development under this Laneway Suites proposal should be required to submit to a shadow study. Without adequate assessment, shadowing will not only diminish land value, it will result in a loss of growing spaces.
Permanent losses of growing spaces, losses of permeable surfaces and increased shadowing will have deleterious effects on the environment.
Finally, your report states that there are no financial impacts involved in the approval of Laneway Suites. While admittedly there is no overt and immediate cost to the City in this proposal, we see this view as incredibly short sighted. There are hidden costs down the road, costs to be paid for having ignored environmental protection. Just look to the tribulations currently being experienced by our neighbours in British Columbia. The more we relax rather than strengthen environmental regulations, the more we are inviting natural disasters like flooding. And these bring very real financial costs.
In short, it is imperative that we proactively address the climate emergency and build properly for our future. We cannot be so quick to build any type of housing without fully appreciating its impact on the future residents, the environment, and the resilience of Toronto. We respectfully request that you do not allow any reductions to the soft landscaping requirement of 85% and look at height restrictions more holistically.
14. Bloor West Village Residents Association
Re: PH29.2-Agenda Item Nov. 25 Changing Lanes: The City of Toronto's Review ofLaneway Suites -Zoning By-law Amendments – Final Report
By way of introduction, the Bloor West Village Residents Association represents several thousand households in part of Ward 4 extending from Bloor Street to Annette Street, and from Gothic Avenue to the Humber River. We are writing to express our agreement with of all of the concerns raised by CORRA in its letter to the Committee dated November 18, 2021.
First of all, to be clear, our Board fully supports the need to expand residential opportunities in the so-called "missing middle" of our city, and we applaud Council and staff for their efforts in this regard. However, this should be done responsibly, taking into account established neighbourhood character, the larger regulatory framework including the OP policies and the Tree Protection By-law, as well as the emerging impacts of climate change on storm water management. Need we look any further than the disaster in the lower BC mainland, and more recently Saint John, New Brunswick, to understand the consequences of not being ready for similar major storm events in Toronto?
More to the point, and without reiterating the detailed objections in CORRA'S letter, our main concerns are summarized as follows:
1) The potential for 180 sq. m. of finished living space contained within two floors above grade and one below grade, which could result in a building larger than the existing principal dwelling, clearly doesn't fit any reasonable definition of a "suite' or "ancillary building", and is already much too big, based on the original by-law. We therefore object to any increase above the maximum height of 6 m. as already prescribed in the original by-law.
2) There are no references in either the original by-law or the proposed amendments, as to how the substantial additional storm water run-off resulting from the imposition of a large laneway suite and associated hardscaping will be accommodated on-site or in the City's storm sewer system. We therefore object in the strongest possible terms to any increase in hard surfaces that are currently permitted.
3) There are also no references to how the provisions in City's OP and Private Tree By-law will be applied to protect the City's invaluable tree canopy. This is of particular concern in our area where the pre-development old-growth Red Oak forest comprises a major part of our canopy. We therefore request that the amended by-law incorporate the necessary protections to ensure that healthy mature native trees are NOT destroyed or harmed to enable the construction of a Laneway Suite.
In closing, we wish to thank the committee for the opportunity to provide feedback on this important City planning initiative, and are looking forward to its thoughtful consideration of our concerns and those of other residents associations.
15. Seaton Village Residents Association
RE: PH29.2 (9:30 AM) Changing Lanes: The City of Toronto's Review of Laneway Suites, November 25, 2021
I write to you as a member and past Chair of the Seaton Village Residents Association.
I am opposed to the by-law amendments as currently drafted and as outlined below.
Exemption for Proximity, Adjacency
I would like to see the By-Law amended to enable an exemption whereby Laneway Suites cannot be built where adjacency is closer than 5.0 / 7.5 metres to neighbouring homes.
Properties on laneways ending in "T" intersections, irregular and perpendicular lots have adjacencies with the lane that make them worse off than the primary residence building the laneway suite. This is due to unusual lot configurations as well as narrow laneways (narrowest allowed are 3 metres). See below.
In the diagram, properties that would be impacted by a Laneway House are indicated in red. The properties in yellow would be able to build a Laneway House.
In almost all cases in the diagram, the Laneway Suite would be less than 4 metres from the "red dotted" property.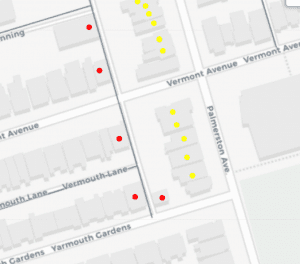 The current and proposed by-law mitigations for privacy and overlook only benefit the main property owner and their adjacent neighbours (in yellow).
It does NOT provide mitigation for those neighbours who live across the laneway (red) or neighbours who abut onto a side lot (bottom right red dot). It is not equitable that neighbours in this situation would be less than 4 metres (or less) from a Laneway Suite and the principal property owner is required to be 7.5 metres away. This does not provide limited impacts on adjacent properties.
In a Laneway House Disruption Study that was conducted (and submitted to City Planning) it was noted that:
…in Seaton Village and Harbord Village over 1300 potential sites for laneway suites were identified. In about 3% of the cases, these suites could be constructed in close proximity to neighbours' homes, affecting 66 residences.
In nearly 75% of the cases, the laneway suite would be constructed within 5 meters or less of the neighbour's home, a shorter distance than that required between the laneway suite and the primary residence for a 1-storey suite.
The current by-law has taken a "one size fits all" approach. It does not consider laneways which are narrow and which have configurations other than the "long lot". That is, where lots abut at the laneway, usually with a garage, and the main house is located at the other end of the lot at the street.
Generally, Laneway Suites work well for these "long lots". The principal residence is minimally affected by massing, construction noise, loss of privacy, noise of air conditioners, satellite dishes, windows, doors, balconies, as they face into the laneway.
However, adjacent neighbours on an irregular laneway would bear the brunt of the negative effects of the new builds. Allowing laneway suites to be built at such close quarters would have immediate and devastating effects on a resident's privacy and light.
Reports Do Not Sufficiently Address Irregular Lane Configurations
Both the Gladki Report and subsequent November 9, 2021 Report to Committee, do not address unusual lane configurations so that there is mitigation for proximity, adjacency, overlook and privacy for ALL neighbours.
The Gladki Report says [bolded emphasis and parenthesis added]:
Industry experts highlighted that perpendicular lot relationships with laneway suites have resulted in some impacted neighbouring properties, (are 66+ residences considered to be "some"?) specifically with regards to the permitted two storey height of a laneway suite on a lot with this relationship.
I would add that no recommendation is made here for residents who live on narrow "T" shaped irregular lanes and their impacts. In both these situations laneway housing should not be allowed.
The Report recommends:
A minimum setback of 1.5 m from the interior lot line that abuts the rear yard of a perpendicular lot applies to the second storey of a laneway suite.
No mitigating architectural proposals are available to minimize impacts to affected neighbours such as the 45 degree angular plane; or a 7.5 / 5.0 metre distance from their residence.
For example, in one irregular lot situation, I have observed that a resident would have a window blocked off should a Laneway Suite be built. However, even with the proposed by-law change (1.5 m from adjacent property at second storey only) there is no requirement for mitigation of loss of light and privacy such as an angular plane.
These issues were once at the fore with the City of Toronto. In a June 2006 Staff Report it was said that
Construction of houses on lanes can be considered only in special circumstances when there are no privacy, overlook, shadowing and engineering servicing implications.
Why has the City strayed from this vision with these draft by-laws? I don't feel we need to be as restrictive as the report suggests, I support Laneway Housing, as long as it is equitable.
These by-law amendments go against the spirit of the Toronto Official Plan (Apr 2021). The current plan at Ch. 4, 9(c) (updated April 2021), says:
In established Neighbourhoods, infill development on properties that vary from the local pattern in terms of lot size, configuration and/or orientation will:
1. have heights, massing and scale that are respectful of those permitted by zoning for nearby residential properties, have setbacks from adjacent residential properties and public streets that are proportionate to those permitted by zoning for adjacent residential properties, while taking into account the existing form of development on the infill property;
2. provide adequate privacy, sunlight and sky views for occupants of new and existing buildings by ensuring adequate distance and separation between building walls and using landscaping, planting and fencing to enhance privacy where needed;
Again, why has the City strayed from this vision in these draft by-laws? Are residents who live on irregular laneways just casualties of the process? Is it the wish to just have the by-law draft pushed through?
If so, why is the Garden Suites review appearing to be working with this issue?
The current video, entitled "City of Toronto Garden Suites Draft Rules" cites how privacy and sunlight concerns should be mitigated with a 45 degree angular plane on three sides.
It goes on to say:
● The rear and side yard setbacks are intended to address privacy issues.
● The angular planes are in place to limit the impact of buildings.
Why, at the least, are these features not being considered for Laneway Suites for situations I have described. It seems there is a disconnect here.
Recommendations
● Increasing the maximum permitted height of a suite from 6.0 metres to 6.3 metres
● Increasing the permitted height of certain rooftop equipment, such as HVAC units, from 1.0 metres to 1.5 metres
● Increasing the minimum distance of certain rooftop equipment, such as HVAC units, from the side wall of a suite from 1.0 metres to 1.5 metres;
● Reducing the required minimum side and rear yard setback from 1.5 to 1.0 metres from the lane.
This review recommends increasing the maximum permitted heights and distances to facilitate the construction of suites while maintaining a positive relationship to adjacent properties.
I do not support these increases in heights and distances. There would be no "positive relationship" to adjacent properties.
For residents living on irregular lanes and being impacted with a Laneway House at close quarters it would only make them bear the further brunt of the negative effects of the new builds.
On top of which, there would be projections and encroachments added to the new height that would further result in loss of privacy and light. To which, I would add, we have no recourse with the current and proposed by-law.
In addition, the loss of soft landscaping at the back of the Suite would further impact laneway neighbours by reducing access to what little green space is available.
● Perpendicular/irregular lot relationship provision – 1.5 metre side yard setback for the portion of a laneway suite above a height of 4.0 metres
The recommendation is to increase the minimum setback to 1.5 metres at the second storey. This does not address the concerns I have outlined above. There would still be impacts for neighbours living on an irregular lane and who live across from a Laneway Suite.
It has been said "Laneway housing increases density in a non-intrusive way" (Toronto Star, July 6, 2019). I would disagree. The addition of laneway housing as I have outlined would indeed be intrusive.
In sum, I would like to see the By-Law amended to enable an exemption whereby laneway houses cannot be built where adjacency is closer than 5.0 / 7.5 metres to neighbouring homes.
16. Arris Strategy Studio
RE: PH29.2 – Agenda Item Nov. 25 – Changing Lanes: The City of Toronto's Review of Laneway Suites – Zoning By-law Amendments – Final Report
INTRODUCTION
I was retained by FoNTRA to review the maximum permitted building height standard for Laneway Suites. My opinion is based upon 20-years experience operating Chizen & Mills, a design-build practice primarily renovating and constructing additions to houses in the former City of Toronto, and my 18-years of practice as a Registered Professional Planner.
It has been recommended to increase height to 6.3m (20′-8"), primarily to address wood/soil contact and insulation considerations…
In my opinion, no such increase in the maximum permitted building height is necessary. Currently, 2.44m (8′-0") ceiling heights can be attained with an R-60 roof assembly.
Furthermore, in my opinion, there are good reasons for not increasing the building height standard. Laneway Suites are not intended to emulate the scale of the main house. These buildings should be of a more modest scale – recognisant of their ancillary building origins.
ABOUT BUILDING HEIGHT
The following schedule is an 'indicative' model, intended for reference purposes. It identifies the components of a Laneway Suite that cumulatively amount to the building's overall height. A height is ascribed to each component. The intention is to permit each component to be reviewed separately, whilst being recognisant of the effect on the overall building height.
I have intentionally set up the model to reflect the current 6.00m (19′-8") height standard. This model permits individual component heights to be adjusted, to increase some and to reduce others, whilst maintaining the planned building height.

Each component is briefly discussed below in terms of potential height savings. Of note, if all the potential height savings were applied – 0.33m (1′-1") – then a cumulative height could be achieved that is below the current maximum permitted building height standard, namely, achieving a height of a 5.66m (18′-7"). However, that is not the intention of this exercise – but rather it is to determine whether there is enough latitude in the current 6.00m (19′-'8") standard to accommodate appropriate and desirable Laneway Suite solutions.
1. main floor assembly – No height savings have been identified in this element. Insulated concrete floors can address wood/soil contact and associated moisture issues within this condition. If wood floor assemblies are preferred a ventilated recessed crawl space can be incorporated.
2. floor-to-ceiling heights – a height savings of up to 0.11m (0′-41⁄2") per floor could be attained by adopting OBC minimum room height standards, and a smaller savings if partial reductions were selected.
3. second floor assembly – a height savings of up to 0.10m (0′-4") could be attained by reducing span lengths by introducing interior load bearing walls. In so doing, reducing joist thicknesses.
4. roof assembly – a height saving of 0.13m (0′-5″) could be attained by utilizing high R-value foam insulation, as I find some builders have already adopted.
As mentioned further above, no savings are actually necessary.
17. ABC Residents Association
Re: Changing Lanes – Laneway Suites Zoning By-law Amendments, Planning & Housing Committee – November 25, 2021 meeting – PH 29.2
The ABC Residents Association is writing with two specific objections to the proposed zoning by-law amendments for Laneway Suites.
We have participated in consultations on Laneway Suites from the inception of deliberations as part of our overall interest in preserving what makes Toronto's neighbourhoods special and desirable while also looking at increased densities and variety of housing options both within the neighbourhood and mixed-use designations. A part of the ABCRA area is covered by SASP 211 with affiliated Urban Design Guidelines. SASP 211 was exempted from the laneway suites by- law by City Council direction and the issue was referred to a long anticipated and delayed review of SASP 211 on a range of issues for the specific area that we hope will be done soon.
When considered and approved, the current standards for Laneway Suites represented a balance which allowed for the introduction of livable laneway suites while at the same time recognizing and mitigating adverse impacts on adjacent neighbours and the green environment.
Now only a few years later, City planners are recommending 13 changes. Our review of the rationale for these changes indicates a desire to provide more latitude in response to building industry requests. However, two proposed changes in particular are at the expense of the natural environment and adjacent neighbours thus compromising the balance created in the original standards.
OUR OBJECTIONS:
Our response to two specific proposed amendments is outlined below:
1. Height: Increase in maximum permitted height of a suite from 6.0 metres to 6.3 metres.
The builders have suggested that an increase in height would enable better-insulated structures. However, our research with industry experts, one of whom will address the Committee on the 25th, shows there are standard construction options for the insulation of foundations and ceilings that work within the current height by-law as described in the attached letter. The proposed height increase:
• Strays from keeping Laneway Suites as secondary units that nestle into existing neighbourhoods
• Increases the adverse impact on adjacent neighbours.
2. Soft landscaping reduction: exempting a walkway from the minimum required percentage of soft landscaping space.
The City has said the City's Neighbourhoods are losing pervious ground area at the highest rate in the City and that innovative and consistent approaches to maintaining green space and facilitating tree canopy growth and protection are necessary moving forward. Yet, the City Planner is recommending reductions to the soft landscaping requirements at both the front and rear of the Laneway Suite.
Consistent with the City's recognition and concern about losing pervious ground area for drainage, carbon capture, and livability, any consideration of soft landscaping should be focused on it being enhanced rather eroded.
We see no reasonable rationale to reduce the current soft landscaping requirements.
• The impact of the change [in] the total square metres for a walkway between the main house and the laneway unit would be subtracted from the minimum soft landscaping required percentage (85%).
• There already is 15% hardscaping allocation for this space that should be used and should be sufficient for a walkway.
• City staff is recommending a 5-foot-wide sidewalk. Curious when the emergency access is only .9 of a metre less than 3 feet.
• To calculate the percentage impact, we used a 1.5m width by a 7.5m length (the separation distance), which is 11.25 square metres. If this walkway is subtracted from soft landscaping, the soft landscaping percentage is reduced from 85% to 60%. and the hard landscaping increased from 15% to 40%.
This is a significant major reduction in soft landscaping, which the City says they will ''maintain and improve".
ABCRA'S REQUESTS:
➢ That the proposed amendment regarding "Increasing the maximum permitted height of a suite from 6.0 metres to 6.3 metres" NOT be approved.
➢ That the proposed amendment for an exemption for a walkway against the 85% soft landscaping allocation NOT be approved.
ABCRA, in the spirit of compromise, is not objecting to the other 11 by-law changes, including ones to reduce the Rear Yard Setback and its soft landscaping, increasing the permitted height of rooftop equipment, and adding roof skylight projections. However, we feel strongly that changes proposed related to increasing the maximum permitted height and exemption of a walkway from the minimum percentage of soft landscaping are unnecessary, inappropriate, and unacceptable to achieving the goals of the laneway suites program while supporting the green environment and respecting adjacent neighbours.
ABCRA respectfully requests that the members of the Planning and Housing Committee not approve these two specific proposed amendments so there would be no change and the existing standards remain in the by-law.
Thank you for your consideration of our concerns.
18. Federation of North Toronto Residents' Associations
RE: PH29.2 The City of Toronto's Review of Laneway Suites – Monitoring Program and Zoning Bylaw Amendments – Final Report
FoNTRA members have participated in City Planning's consultations.
We are concerned about 2 particular proposed changes that relax current regulations; the in- creased permitted height and the blanket exemption for walkways. Such decisions should not be based on Committee of Adjustment decisions without evaluating their reasons, if any, and without evaluating impacts on abutting neighbours. Or developed just to ensure compliance.
Proposed Increase in permitted height from 6m to 6.3m –
We are pleased to see that the consultant's recommendation of 6.75m is not accepted. We question as to whether the additional .3m is really needed. The technical advice we have re- ceived is that a building can be successfully built with a height of 6m. (See attached planning opinion)
FONTRA requests that
The proposed amendment regarding "Increasing the maximum permitted height of a suite from 6.0 m. to 6.3 m. NOT be approved.
Proposed exemption for walkways of up to 1.5 m wide from the requirement for soft landscaping for lots in excess of 6 metres
The report states that "maintaining soft landscaping is important for many reasons, including amenity, storm water retention, growing space for trees, and combatting the urban heat is- land affect". The report also provides the rationale that the 85% lot area requirement for softscaping will result in a comparable relative requirement to that for houses without lane- way suites. Given the importance of building up the permeable surface in residential neigh- bourhoods, the proposed significant exemption for a 1.5m wide walkway is not needed.
• Most lots will be able to accommodate the accessibility standard of 1.5m for a walk- way walkway area within the15 % hardscaping limit and narrower walkways will be even more accommodated. Narrower walkway should be encouraged to ensure more softscaping.
• Why provide for an exemption of 1.5m just for the short distance from the main house to the laneway suite? There is no required walkway width for access from the street to the main house and only .9 m is required between neighbouring houses for emer- gency use.
• The accessibility standard of 1.5m walkway will only be needed only in the limited cases where 2 wheelchairs have to pass each other. For others the exemption will just provide more paved area for other uses and reduce compliance with the 85% softscaping objective.
FONTRA requests that
The proposed amendment for an exemption for a walkway against the 85% soft landscaping allocation NOT be approved.