"Y" Squadron air crew, Long Branch Aerodrome, May 27, 1917
The following photo and text is from Bob Lansdale, who's given permission to post it:


PANORAMA AIR CREW 1917. Photo by Bob Lansdale of the original photo
Bob Lansdale writes:
At an auction yesterday held by the Photo Hist Soc of Canada I saw this picture on the wall of the Veterans Club at the top of 41st street. I thought it might make something for our PHSC newsletter as a sidebar.
I had to get up on a table to photograph it and it must have been quite a spectacle as John [K] and Bob [W] held the table. Wish I had a picture of our antics to go with this.
Originally when I saw the picture I thought that it was a helluva big plane that I had never seen before. But on close inspection I see that it is three planes in close order.
Interesting picture that we don't see often
Although it is marked "Squadron Long Branch" I wonder where it was taken for sure. The picture is taken by a Toronto photographer although they could travel quite a distance for business. I grew up in Long Branch (west Toronto suburb on 41st Street ) with the RIFLE RANGES over west of Long Branch in what is now Lakeview. During the First World War I can imagine that it was taken over by the military and there would be space for an aerodrome.
Worth some research to see what was included as "Long Branch" at the
time…….
Bob L.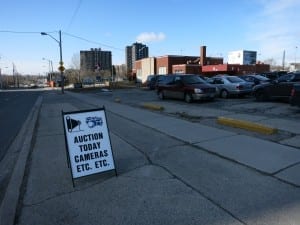 This photo, taken by Jaan Pill on March 17, 2013, the day of the auction that Bob Lansdale attended, shows the sign advertising the event. The Veteran's Club, aka The Legion, that Bob Lansdale refers to is in the background behind the cars.
Jaan Pill replied:
I enjoy reading the back story about how you took the picture! I've taken a photo of the photo in the past, but my version is nowhere close to the quality you've been able to attain from your table-top position.
Possibly some website visitors can help with research.
A very useful reference (which I will read closely to look for clues regarding the photo) is Aviation in Canada: The pioneer decades (2008) by Larry Milberry. It's available at the Toronto Public Library.
After Bob Lansdale sent an email giving permission to post the item, Jaan added:
Your message has prompted me to take a closer look at the library book I mentioned. I plan to post information from it as part of the preparations for this year's Jane's Walks in Long Branch.
Meeting you at the Cloverdale Mall event in 2012 — Government and Community Services Fair — opened up many doors for me. Robert Lansdale has provided so much great material for the Preserved Stories website over the past year. I much appreciate your help!
[Further information about The Royal Canadian Legion can be found here. Click on the link in the previous sentence to access a blog post about redevelopment plans related to The Legion.]
[Posts at the Preserved Stories website related to military history can be found here.]
Long Branch Aerodrome
There was a Long Branch Aerodrome, in what is now Mississauga. It was Canada's first aerodrome, as a plaque at the site attests.
William Faulkner
The Aerodrome is where the American writer William Faulkner took flying lessons during the First World War.
In letters that he wrote home about his flying lessons at the Aerodrome, Faulkner reportedly made his exploits as a student pilot appear immeasurably larger and more impressive than they were. In subsequent years he became one of the great fiction writers of his era. I have wondered what role the letters might have played in the genesis of his writing career.
I also recall a detail about the talk Faulkner gave years later when he was awarded the Nobel Prize for Literature. Because of a problem with the sound system, according to one account of the event that I have read, few people actually heard what he said. The newspapers had a copy of his text, however, and the next day his talk was deemed to have had a powerful impact, and his speech became a cause for celebration.
From Faulkner, the anthropologist T.M. Luhrmann (1989, p. 203) has commented, you learn "that the mad are wise."
Updates: An August 30, 2013 Brain Pickings blog post discusses Faulkner's fondness for fiction in everyday life. A December 28, 2012 post at the Brain Pickings site addresses a similar theme related to this topic. [End of updates]
The "Y" Squadron photo
Each of us will respond to such a photo in our own unique way. What I find most engaging and salient what the expression and general body language of each person in this panorama communicates. These details become apparent when you enlarge the photo by clicking on it a couple of times.
A story, unknown to me, expresses the life journey of each subject.
What also comes to mind is what little I have learned about the reality of warfare, as a form of organized violence, and the contexts in which it occurs, has occurred, and continues to occur.
J.A.D. McCurdy
John Alexander Douglas McCurdy, Canada's First Pilot and the first man to fly in Canada and the British Empire, also had a connection with the Long Branch Aerodrome.
More information about J.A.D. McCurdy can be found at this blog post.
I look forward to posting an online video based on a great talk about Canadian aviation history by Honorary Colonel Gerald Haddon, grandson of J.A.D. McCurdy, at James S. Bell Junior Middle School on March 20, 2012. It was a well-attended, highly engaging presentation.
I'm so pleased that we were able to arrange it. Many people have expressed interest in seeing a video of Honorary Colonel Gerald Haddon's talk.
The message from Bob Lansdale has reminded me that it's time for me to edit the video I made of the March 2012 meeting at James S. Bell, and to edit and post many other videos related to local history that I've made in recent years.
Why was it called Long Branch Aerodrome if it's now in Mississauga?
At a post entitled History of Long Branch, I discuss how it was that the Long Branch Aerodrome was named after Long Branch, even though it (like other places named after Long Branch) was not actually in the Village of Long Branch.
Some background about the Aerodrome can be found in this Heritage Mississauga online document, which refers to Squadrons X and Y at Long Branch. The document notes that the Ontario Heritage Trust plaque, unveiled in September 1969, is located at the northern end of the former aerodrome.
Bob Lansdale has followed up with these details:
For the history of Long Branch suggest try these URLs.
[Click on  the links below to access the articles.]
A Brief History of the Curtiss Aviation School [The link is no longer active]
"from Curtiss Aviation School on November 8, 1916 to serve the R.F.C.
(Ellis, 1954). Squadrons. X and Y at Long Branch became the home of the
Cadet Wing …"
LONG BRANCH for (1919) Aviation in Canada 1917-1918
"Jul 22, 2012 – brigade, i.e., that of "X" and "Y" Squadrons, Long Branch
subsequently became the home of the Cadet Wing. The area covers
approximately … "
"Donald reported to "Y" Squadron, Long Branch, just outside of Toronto
(at that time). He started by going up as a passenger in a Curtiss JN-4
'Canuck'".
Training squadron locations – The war in the air – Great War Forum
"8 posts – 6 authors – 20 Mar 2009
by the new 86 Squadron, while 83, 84, and 87 were at Camp Mohawk. By
early July Long Branch hosted 'Y' Squadron as well as 88, 89, and … "