TRCA/Sawmill Sid portable sawmilling project now underway at Small Arms Building in Mississauga
Some time back I learned about a small-scale portable sawmill operation run by Sawmill Sid and the Toronto and Region Conservation Authority (TRCA) near the historic Small Arms Building in Lakeview in Mississauga.
Sawmill Sid's agreement to work on the site is with the TRCA.
Sawmill Sid is dedicated to portable sawmilling and wood repurposing in the Greater Toronto Area.
Click here for previous posts about the Small Arms Building >
Click here to access the Facebook Page of the Small Arms Society >
Sawmill Sid and the Small Arms Society
Sawmill Sid is working at the site in connection with an emerald ash borer infestation that has killed millions of ash trees in southwest Ontario and the Great Lakes States.
Click here for previous posts about the emerald ash borer >
The ash borer gets in between the bark and the trunk of ash trees and kills them. The trunk itself is unscathed and thus the wood can be reclaimed.
Entrepreneurship
The Sawmill Sid story comes down to a story about the application of entrepreneurship to a specified problem – in this case, what to do with dead ash trees.
Entrepreneurship, and the skills associated with it, is a key foundation for any kind of repurposing project, from what I have observed in recent years.
In recent months, by way of example, I've been learning about the makeup of a new board of directors at the Small Arms Society. The board includes both the expertise that relates to archival and historical research, and the expertise that relates to strategic thinking and the conduct of business. That's an essential combination.
In the strategy-related areas, the board members bring with them skills that involve, by way of example:
archival research
architectural design
project management
event planning
cultural planning
accounting
auditing
graphic design
communications, and
marketing
Repurposing entails challenges
A couple of stories that many people have been following in recent years are highlighted in the following links. I mention the stories by way of underlining the fact that repurposing frequently entails some major challenges.
A Dec. 9, 2015 CBC article is entitled: "$650k plan to restore Mimico train station off the rails, community group says."
A Jan. 28, 2016 Etobicoke Guardian article is entitled: "Rising heritage costs, bureaucracy the main reasons behind Wesley Mimico Place project's cancellation: Mixed-use facility was to house seniors apartments and a community kitchen."
A flashback to British Columbia
When in December 2015 I saw the logs that had been piled up at a temporary logging site near the Small Arms Building, I had a flashback to the time that I worked at a sawmill in British Columbia forty-five years ago. The sight of the logs brought back so many memories of many years ago.
In the early 1970s I took time off from university for a year of work in the bush.
At that time, I had a credit card debt of $1,000 to pay off.
I recently used an online Government of Canada inflation calculator to determine that in 2015 Canadian dollars, that was about $6,200 that I paid off.
Lac La Hache north of 100 Mile House along the Fraser Canyon
I began as a green-chain worker at a small sawmill near Lac La Hache. My job was to stack lumber into a range of categories after a log had been cut into boards.
I was fortunate that such work was available. In the years that followed, labour-intensive green chains for stacking lumber began to be replaced by computer-operated sorting systems, according to Richard A. Rahala in Up-Coast: Forests and Industry on British Columbia's North Coast, 1870-2005 (2006).
Lac la Hache is a small community between 100 Mile House and Williams Lake in the interior of British Columbia.
Everything that I owned for that year including a cooking pot and a tiny camp stove that I used for cooking soybeans, I carried in a backpack. I had also bought a surplus Army jeep jacket to keep me warm.
Green chain at sawmill in a forest clearing
I found a small shack to rent close by the sawmill. I worked there from the fall of the year until the spring breakup at the start of the next year, when the unpaved road to the sawmill became impassable for logging trucks. I had my debt paid off by then.
It was easy to find work in those days. I had stopped at a gas station at Lac La Hache while hitchhiking from Vancouver and asked if there were any jobs around. I learned that a local sawmill had an opening available and I signed up at once.
Prince Rupert and Haida Gwaii
After working at the sawmill through the fall and winter, I hitchhiked to Prince Rupert at the start of the spring breakup (when the ground was unthawing and exerting turned to mud) when the sawmill had shut down for a while. In Prince Rupert I slept overnight in the woods and the next day flew to Haida Gwaii (Queen Charlotte Islands) off the west coast of British Columbia south of Alaska. Once when I had been hitchhiking, a driver had impressed upon me that Haida Gwaii was well worth a visit. I decided to follow up on the suggestion.
I lived on Haida Gwaii for six weeks learning how to cut down trees in the Pacific rainforest. I was about to go into the business as a tree faller but the six-foot chainsaw that was required for the work cost $600 ($3,700 in 2015 dollars).
When I sought to pay for it with my credit card (the same one that I had paid off), I found my credit wasn't any good and I couldn't buy the saw. That may have saved my life because I'm not really made out to be a tree faller.
Widow Makers in the Pacific rain forest
The work is dangerous. You have to cut a pathway through the bush to enable you to go running when the tree falls. Sometimes it bounces after it falls and who knows where it lands. There are also trees called Widow Makers in the bush – big trees that died decades ago but remain standing, propped up by other trees. When somebody walks through the bush, the Widow Makers become dislodged and they can fall upon anybody in the vicinity.
I learned all kinds of other terms for situations that can kill a logger; that one example provides an idea of what can happen. As well, people who've been felling trees with a chainsaw for some years can lose the capacity to feel anything, with their hands, because the constant vibration of the chainsaw can leave the hands totally numb as the years go by.
Mountainside logging
So I flew back (in a tiny passenger seaplane) to the mainland and began working as a chockerman as part of a mountainside logging crew between Terrance and Kitimat on the B.C. mainland.
I was witness to some close calls while working on the mountainside.
I recall one worker's comment, on one occasion where a person's life could easily have been lost: "Close calls don't count."
Safety on the job, at sawmills and in logging operations, requires collaboration and good intentions on the part of many people. When such collaboration and good intentions are lacking, anything can happen.
I've recently thought about the fact that the same applies when people are sharing the roads and highways, anywhere.
Richard A. Rahala notes, in Clearcutting the Pacific Rain Forest (1998), that chockermen on logging crews had in many cases been replaced, by the mid-1970s, by mechanized grapple-yarding systems.
Detraining
The chokerman job lasted for a while, long enough for my forearms to start to show the results of day to day chores putting cables around logs.
After that I went to work at an office job at an Alcan aluminum smelter in Kitimat and then went back to university. By that time the muscles in my arms had shrunk right back next to nothing; many decades later, when I began a program of strength training, I learned that the technical term for such shrinkage of muscles is called "detraining."
The subtext to the story is that it's a good idea to engage in regular, strenuous physical activity, as our bodies are not meant to be idle all the time.
Technological developments
I've recently thought among other things of the technological developments that have occurred in the logging and lumber industry in Canada during the past forty-five years.
I've also thought about the advances that have made portable sawmilling operations, such as the Sawmill Sid operation, possible.
I've thought of so many things and have begun reading library books about the British Columbia forestry industry to find a way to position the industry, and my own fleeting experiential connection with it, in my mind.
Some places are great for camping, some are not
I've been working day after day trying to figure out what I had learned during that year of travel and work across the British Columbia interior. Part of the time I lived in a tent as I could save money that way.
One of the insights I gained is that every environment where a person sets up a tent is different. Some places are super comfortable and congenial for camping, some are not.
Grizzly bears (or maybe Queen Charlotte Islands black bears)
During my stay on Haida Gwaii I spent six weeks living in an improvised shelter in the roots of a giant hemlock tree at the edge of a rain forest near Queen Charlotte City. I found a huge tree whose roots had grown over a rotten log many years earlier.
Trees in the B.C. rain forests are enormous. I borrowed or rented a chain saw, removed the rotten log and found I had a suitable cavity to work with.
In the interior of the cavity, I installed a layer of plastic sheeting and built a drainage ditch around the floor for water runoff when it rained.  The six weeks I spent living in the roots of the hemlock tree were among the best times that I remember from all of my years living in British Columbia. I was in B.C. from 1967 until I graduated from Simon Fraser University in 1974 and moved back east.
I would not see myself living out in the bush again, however. On the last night I was living in the tree, I heard something nearby and something told me I was in the presence of a bear. I had never had such an adrenalin rush in my life. I had a good sense of what bears are about. I had been at a logging camp some weeks earlier and had noticed an overturned fibreglass boat. Across the bottom of the boat were gouge marks that a grizzly bear (or maybe, as it occurs to me as I read more about these things, it was a Queen Charlotte Islands black bear) had made with the single swipe of a paw. The marks had impressed upon me what bears on Haida Gwaii are about.
Fortunately, it turned out that what I thought had been a bear turned out to be a false alarm. The next day or soon thereafter I was on my way back to the mainland.
Updates:
A subsequent post on related themes is entitled:
Great Bear Lake Rainforest agreement resolves conflict over logging in Canada's coastal rainforest
A Sept. 23, 2014 article is entitled: "Earliest sign of human habitation in Canada may have been found: Possible 13,800-year-old fishing weir found in ocean near B.C.'s Haida Gwaii islands."
A June 22, 2015 Global News article is entitled: "Footprints found on B.C.'s Calvert Island may be oldest on continent."
Some resources of interest include: Home Truths: Highlights from BC History (2012) and Haida Gwaii: Human History and Environment from the Time of Loon to the Time of the Iron People (2005)
Details regarding the latter study can be accessed here.
A May 18, 2017 Yale Environment 360 article is entitled: "Vanishing Borneo: Saving One of the World's Last Great Places."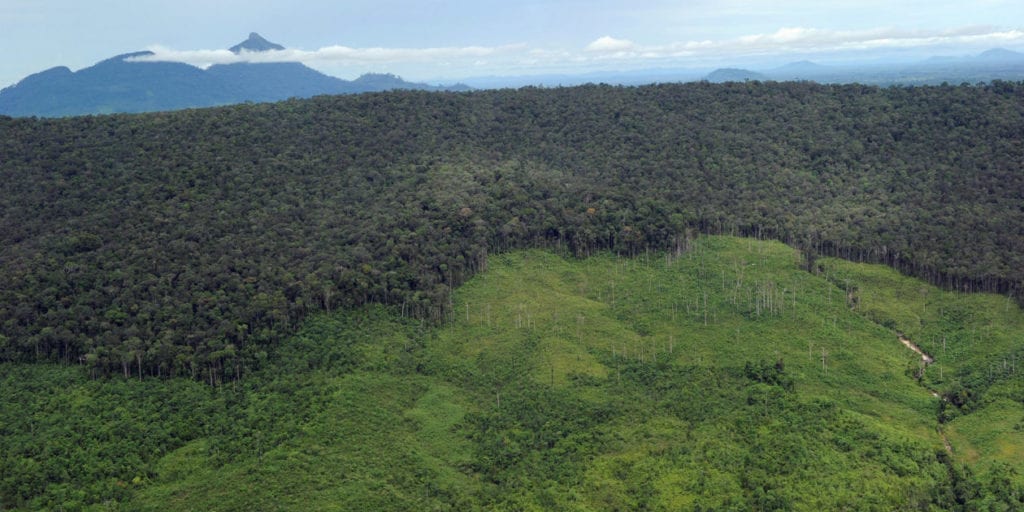 Logging practices
A Jan. 4, 2020 CBC article is entitled: "'We're going to see more of this': Spring flooding in B.C. may be worsened by logging practices: Logging companies not legally required to consider downstream flood risks when harvesting, reports suggest."
An excerpt reads:
IMeanwhile, research conducted by University of B.C. forest management professor Younes Alila suggests that logging at higher elevations in mountains areas can dramatically increase the frequency of flooding events downstream. Alila says many of those regions have been aggressively logged following the pine beetle infestation.
I"We're going to continue to see an increase in the flood risk for decades to come," said Alila "The effect of logging on floods — it's going to be long lasting because the regrowth of the trees and the recovery are slow by nature."
IResearchers like Alila think industry will need to be held to a higher standard in order to both protect communities and preserve the landscape.
I"For a long time, we have underestimated the effect of logging on the flood regime, he said.
I"The government has given free rein to the industry to do whatever they want, to a large extent, and no one is being held accountable," he added.