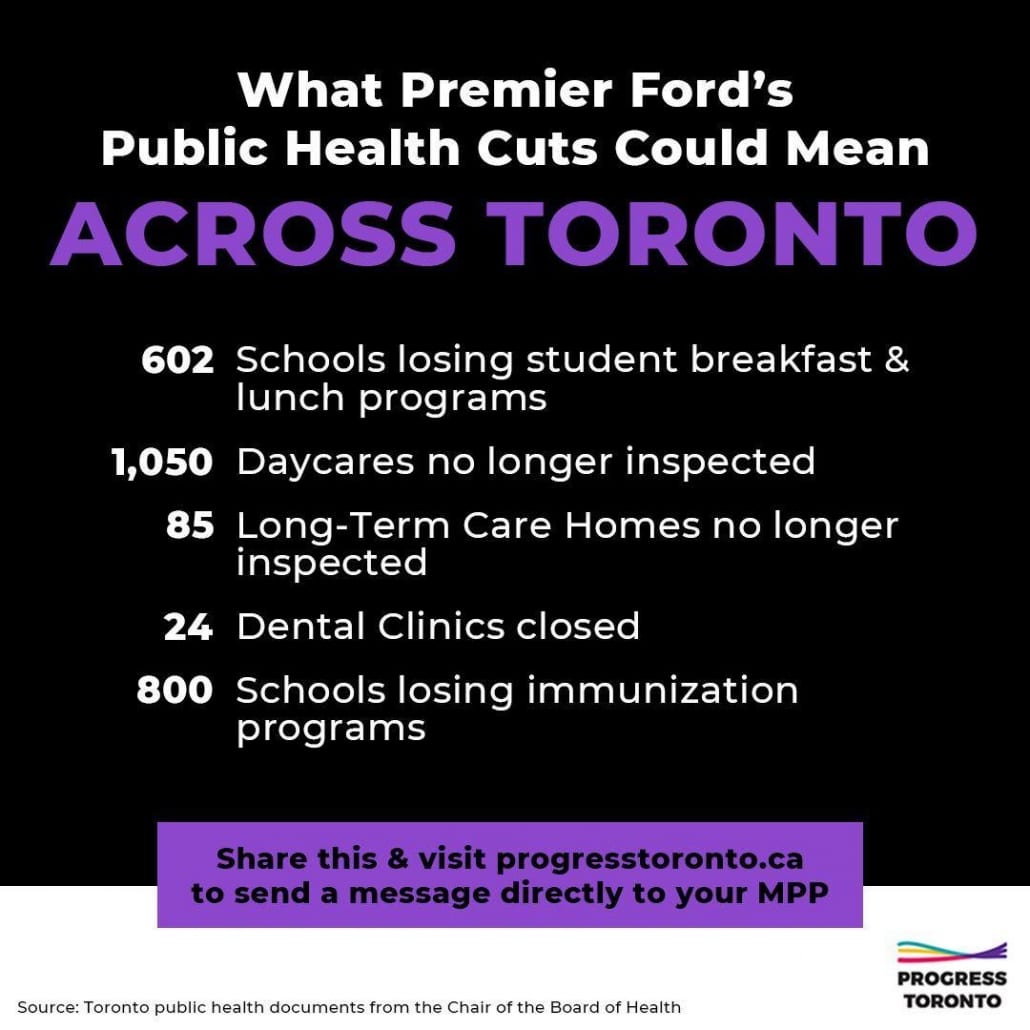 Message from Councillor Gord Parks, Ward 4, concerning Public Health cuts:
Hello friends,
Last month the Government of Ontario announced cuts to public health funding across the province. We are just now learning the full impact of these changes on our neighbourhoods and communities. In Ward 4 alone, the province's cuts will impact: student nutrition programs, food inspections and infection prevention in long-term care facilities, school based immunization programs, child care safety inspections, dental clinics, restaurant inspections, sexual health clinics, skin cancer prevention programs and many more. There is a total of 104 programs at risk in Ward 4, I have attached the full list.
The provincial cuts to public health are due to changes in provincial-municipal cost-sharing. In mid-April, without notice, the public health cost sharing model was altered to reduce provincial funding, back dated to April 1, 2019. This is a $64 million retroactive cut to Toronto Public Health's 2019 budget, which the City has not budgeted for. If the province's changes to cost sharing move forward, this will mean a $1 billion funding cut to Toronto Public Health's budget over the next ten years.
Our public health programs keep our communities healthy, contribute to everyday wellness and save lives. This cut to public health funding impacts everyone in Toronto. We need to visit, call, and write to the Premier and the Minister of Health and Long-Term Care to tell them to stop these cuts.
our voice is critical in taking a stand against Premier Ford and supporting the health of our communities.
Gord
Tell the Premier and his Minister to stop the cuts to public health:
Premier Doug Ford
premier@ontario.ca
Constituency office: 823 Albion Rd., Etobicoke, ON M9V 1A3
Tel: 416-745-2859
Christine Elliot, Minister of Health and Long-Term Care
christine.elliott@pc.ola.org
Constituency office: Unit 22, 16635 Yonge St. Newmarket, ON L3X 1V6
Toll Free: 800-211-1881  
Tel: 905-853-9889
Tell your MPP that you support the fight against this attack on our communities:
Bhutila Karpoche
BKarpoche-CO@ndp.on.ca
Constituency office: 2849 Dundas St. W, Toronto
Tel: 416-763-5630
[The followingt document accompanies the message:]