Watch 2 time Canadian Champion Dancers Boris & Patricia perform at the 75th Anniversary of the Small Arms Inspection Building May 25th. FREE tickets:
https://www.eventbrite.com/e/75th-anniversary-small-arms-inspection-building-tickets-59730475460 …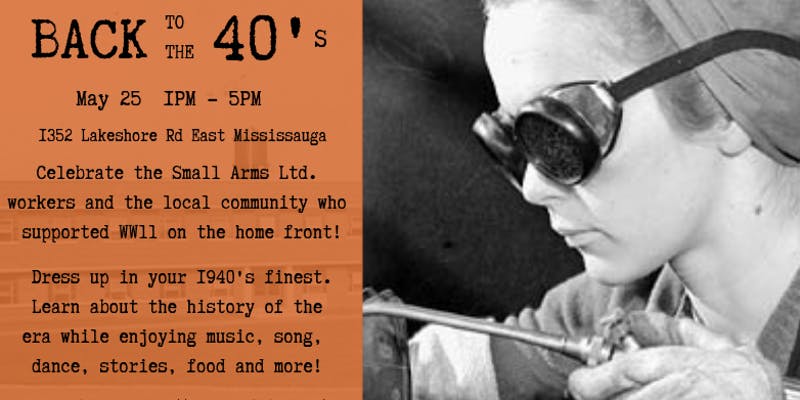 Description
Celebrate the Small Arms Ltd. workers and the local community who supported WWII on the home front! The Small Arms Society(SAS) is hosting a "back to the 40's" event, to celebrate the 14,000 women and men who worked at the Small Arms Ltd. site from 1940-1946. Over two-thirds of the workforce were women who played a vital role in supporting the Canadian military efforts during WWII.
Dress-up in your 1940's finest or as a Small Arms Ltd. factory worker. Check out our website CreativeHub1352.com to get the look.
Enjoy a 1940's cafe experience at the Brant Street Café with tea, refreshments, homemade baked goodies and more.
Music and dancing were a big part of the social life in the 1940's. Enjoy re-enactments, big band music, dancing, swing dance lessons, singing and more.
Learn about the history of the Small Arms Inspection Building and site along with Victory Bond celebrations and activities of 1944. Exhibits and artifacts will be on display in collaboration with Centennial College – Museum and Culture Management program.
Event: Saturday, May 25, 2019
1:00 – 5:00 p.m.
Official Ceremony – 1:30 p.m.
Location: Small Arms Inspection Building
1352 Lakeshore Rd. East
[More details at link at top of page – NOTE: TICKETS REQUIRED]
Click here for previous posts about the Small Arms Building >