Next MCHS Kitchener luncheon is on June 7, 2019 at Mandarin restaurant at 4220 King St. East (Kitchener)
I've now received feedback from enough people to determine that the Mandarin restaurant at 4220 King St. East in Kitchener would work well for our June 7, 2019 luncheon.
We'll meet June 7 at 12:30 pm,
The Mandarin offers a "walking lunch," meaning people walk back and forth to the buffet instead of just sitting for a couple of hours. Plus each person gets to choose exactly what and how much they will eat.
Please contact me at jpill@preservedstories.com if you are an MCHS grad and wish to attend the June 7 event, so that we know exactly how many people we can reserve a table for.
As well, he had a good lunch get together on Friday, May 24, 2019 at the Mandarin restaurant on the Queensway east of Kipling in Toronto. Rita, Scott, Dan, Jaan, and Bob attended.
By way of sharing a photo from the May 24 event, I've attached a dessert photo. (My own dessert this time was a bit of ice cream.)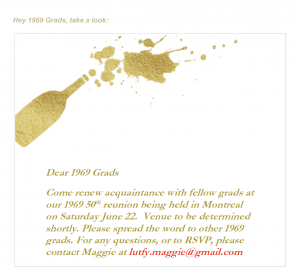 Among the many things we talked about at our May 24 get together was the MCHS 1969 50th reunion being held in Montreal.
As Dan, who is attending the Montreal reunion, noted, there's a bar for MCHS 1969 grads on Friday, June 21; banquet on Saturday, June 22; and breakfast on Sunday, June 23. I like the concept of three clearly defined events, spread out over three days. I'm also very highly impressed with how well the organizing has been going.
We tentatively arranged to meet for lunch in Toronto on THURSDAY, July 25, 2019. That is, not Friday.