Can you help us figure out WHERE IN LONG BRANCH this July 1915 photo, featuring Harold Snelgrove, age 2, was taken? Cottages in background provide key evidence
I was very excited to recently visit the Cottage Years exhibit at the Lakeshore Grounds Interpretive Centre. I visited the exhibit with Mike James of Niagara on the Lake. Mike and I have organized many Jane's Walks in Long Branch and New Toronto in years past.
It's wonderful to know that David Juliusson of Long Branch has continued to stage such walks – or more precisely, great Jane's Walk bike rides – in recent years. Such events enable residents from everywhere to compare notes – about history, and about what residents can do together, in any realm. It's also an awesome way to connect history with the actual locations where history has unfolded, and continues to unfold with each passing day.
Before the exhibit, we met with Jennifer Bazar, Curator at the Interpretive Centre and Nadine Finlay, Assistant Curator at the centre. We had a most informative and lively meeting, and I will share photos and a write-up based on our discussions when time permits.
I am highly impressed with the ongoing work – including most informative Lakeshore Grounds heritage walks – of the Interpretive Centre, which is providing a most impressive and valuable service for the Humber College community, and for the surrounding community in which Humber plays a central role.
Click here for previous posts about the Lakeshore Grounds Interpretive Centre >
Click here for previous posts about Humber College Lakeshore Campus >
After the exhibit, I had a workout at the Humber College Fitness Centre, a state-of-the-art fitness facility that I much enjoy visiting.
It's an enjoyable environment to work out in, a demonstration of first-rate architecture in service of the community – there's lots of light streaming in from the outside, the views to the outside (including the expanse of Lake Ontario visible from the third floor) are of interest, and everybody is friendly, knowledgeable, and helpful.
The layout gives people plenty of space to move around in, and the equipment meets all standard requirements for cardiovascular work and strength training.
Photo Exhibit in celebration of 135th Anniversary of Long Branch
The exhibit continues until Sept. 28, 2019. It's well worth your while to see the photos.
I've outlined the event at a previous post:
The Cottage Years: Exhibit Guide – Lakeshore Grounds Interpretive Centre – Photo Exhibit in celebration of the 135th Anniversary of Long Branch (Toronto not New Jersey)
Click here to access the Exhibit Guide >
At the current post we feature photos of Harold Snelgrove: (1) at age 2, July 1915 in Long Branch, Ontario; (2) at age 97 with his wife Ada, 90, in Hudson, Quebec
The 1915 photo is on display at the 135th Anniversary of Long Branch photo exhibit.
Important question: Where in Long Branch?
Can you help us determine where in Long Branch the 1915 photo of Harold Snelgrove was taken? The Snelgrove family, in Hudson, Quebec are keen to learn this detail.
The July 1915 photo is featured in the photo exhibit currently in place at the Interpretive Centre
We continue to seek help in tracking down the location
Harold Snelgrove's daughter Susan Snelgrove sent me the two photos, featured at the current post, some years ago. The first shows Harold Snelgrove at age 2 enjoying a summer's day in Long Branch. It's an evocative, beautiful photo.
The second photo, equally evocative, shows a poster announcing an event in May 2013 celebrating the life of Harold and Ada Snelgrove. The latter photo, taken in Hudson, Quebec, shows Harold, 97, with his wife Ada, 90.
The Celebration was on May 5, 2013, the same day as the second of the two Jane's Walk events in Long Branch that year.
We sent printouts of the May 4, 2013 and 5, 2013 Jane's Walk poster, featuring the 1915 photo of Harold Snelgrove, to Susan Snelgrove so that copies could be shared at the May 5 event in Hudson, Quebec.
Click here for overview of May 4, 2013 Jane's Walk in Long Branch >
On May 4, 2013 their family buried Harold and Ada Snelgrove's ashes.
We first learned of the story of Harold Snelgrove when Susan Snelgrove contacted the Etobicoke Historical Society seeking information about where, based on the cottage in the background, the photo was likely taken. We continue to seek help in tracking down the location.
In this blog post, I'm very pleased to share with you further details about Harold and his wife Ada. The information has been kindly provided by Susan Snelgrove.
Interview with Susan Snelgrove
Jaan Pill: What would be useful from my perspective would be some background about the event in Quebec commemorating the memory of your mother and father.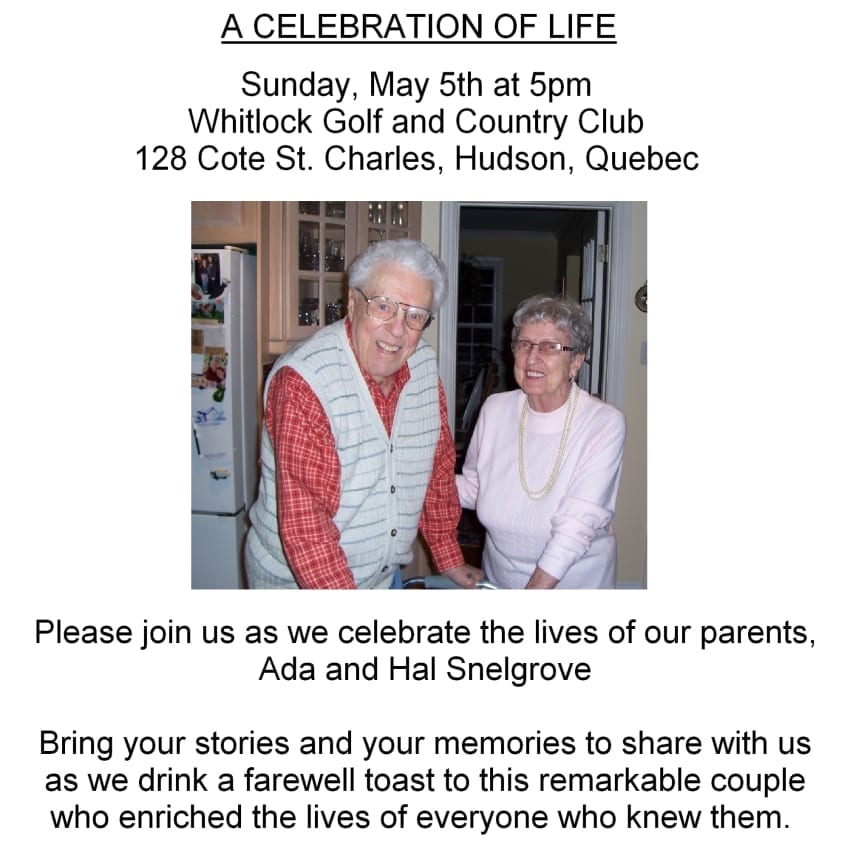 Susan Snelgrove: Mum and Dad met at a McGill sponsored dance at the Ritz (I believe) in Montreal in 1938. At that time Dad was working in Magog. They married in 1941 and by then Dad was working in Arvida, so they moved there, where my brothers Bill and John, and I, were born.
When I was 4 months old (early 1948) they moved to Montreal, to Grey Avenue, and we lived below my grandmother, Clara Snelgrove, in a duplex. My grandfather had died in December 1944.
In Montreal they had another child, James Edward, who died when he was 22 months old of leukemia. When I was 4, we moved to Hudson. My younger sister, CarolAnne, was born a year later.
My parents' story is a love story….they were married, happily, for 69 years until my mum died in 2010, and right up to the end they held hands and treated each other with love and respect. [See below for more details of their lives.]
Jaan: That would be of interest to website visitors who have years ago moved away from Long Branch but who have a connection through a relative or their own lives to the community. I get messages from across Canada from people who've had a connection to Long Branch in many cases dating back fifty years or more.
As well, the value of any photo, as a means of information sharing and for starting of conversations, is enhanced when there is detailed information about the people in the photo, and any other details based on what's in the photo.
Thus, I'd be interested in the backstory regarding your father. Where did he grow up?
Susan: Dad was born in Toronto, and spent a few years there before moving to Winnipeg as a young boy, then to Montreal.
My grandfather was in the tobacco supply business, so travelled all over (India, England etc) as a salesman.
Jaan: What did he do by way of making a living?
Susan: Dad worked for Alcan his entire career….he was a chemical engineer.
Jaan: Where did he live?
Susan: His job with Alcan had him living several places…..Montreal, Magog, Arvida (shortly before he and Mum got married), back to Montreal from 1948-51 and then to Hudson where we grew up and they lived the rest of their lives.
Jaan: What did he remember about Long Branch?
Susan: Unfortunately I don't know because the first time I heard of Long Branch was when I discovered the photo in a box after Dad passed away.
Jaan: What were the circumstances that led to the taking of the 1915 photo?
Susan: I would venture a guess that Dad's parents vacationed in Long Branch when they lived in Toronto.
Jaan: Who might have been the camera person?
Susan: Most likely my Dad's father.
Jaan: What kind of a camera might it have been?
Susan: It could have been a Folding Ensign (see picture below) because I discovered that in a box as well, and it's very old.
Jaan: Are there other photos available that put the July 1915 photo into some kind of context?
Susan: Not that I know of, but I will keep an eye out as I go through my parents' things.
Jaan: Hudson is on a body of water. Is that a coincidence or did Harold like to be by the water?
Susan: Dad moved us from Montreal (NDG, Grey Avenue) to Hudson when I was 4 because he wanted his family to grow up in the country. I know he loved the water, but I don't know how much of an influence that was.
He and Mum had fallen in love with Hudson, and there were several trains at that time commuting to Montreal, which made it easy for Dad to get to work.
In Hudson they were very involved in the Hudson Yacht Club, Whitlock Golf Club, the Curling Club, and Dad was a councillor at the Hudson town hall for several years. And so on.
Jaan Pill asked some follow-up questions, to which Susan Snelgrove replied.
Susan: Mum and Dad both went to McGill….Dad graduated in 1935 with a degree in Chemical Engineering….Mum didn't finish her degree but had a wonderful time and was very active as a singer in the McGill Revue.
Mum passed away November 18th, 2010. Dad passed away December 15, 2012. When Mum died it was very sudden, an ayneurism in her abdominal aorta burst and she was gone within 3 hours, so it was devastating for Dad. I felt badly that Mum was going off somewhere by herself, strange as that may sound.
When Dad died, it was very peaceful and he was at home. As he was just 4 months short of his 100th birthday, he'd had an amazingly long and happy life, and I felt better knowing he was going to be joining Mum who he'd missed so terribly after being devotedly in love with her for just over 69 years when she passed away.
The Celebration of their lives will be held at Whitlock Golf Club in Hudson where they were active members for many years and where Mum was Ladies' Captain and President for a long time.
There will be a slide show representing their entire lives from pictures of their parents and siblings to when they met and the loving life they shared together.
Several people will share memories and stories. I will tell their love story and propose a toast to thank them for all they gave to everyone they knew, especially us.
The family will be burying their Mum and Dad's ashes on May 4th, which also ties into the Jane's Walk dates.
Hudson, Quebec
Susan: Hudson began as a farming village and cottage vacationing town on the Lake of Two Mountains. It developed into a thriving small town of about 5000-6000 people when more and more people decided to make it their permanent residence and commute by train to Montreal for work.
We have three schools, a terrific Medical Centre, four wonderful golf courses, a tennis club, a yacht club and a racquet and fitness club, along with several good restaurants and excellent theatre.
As a whole, the people who live in Hudson are volunteer-minded and generous with their time. It is a beautiful, peaceful and safe place to live and raise children or to retire.
There are very active art clubs and many events and festivals throughout the year that keep this little town interesting, stimulating and attractive to a huge variety of people.
The bylaws are strict, so the growth over the years has kept it charming.
If you Google Hudson Quebec you can link into our website which will give you an even better idea of what it would be like to live here.
My parents moved here in 1951 when I was 4 years old and they never looked back.