Philip Bristow has found answer to question about death in 1947, of his grandfather, Augustus Bristow, in St. Laurent (Quebec)
On May 8, 2021, Philip Bristow sent me a message regarding the history of St. Laurent, a neighbourhood south of Cartierville in Montreal. Tim Hewlings of Montreal and Bob Carswell of Toronto have shared some interesting and relevant information in response to Philip's question. At this post, I will highlight some key points that were discussed in May 2021. In future posts, I will add to the narrative.
Click here for previous posts about St. Laurent (Quebec) >
Philip's question (May 8, 2021):
I hope you can help me solve a question I've had about my grandfather's death in 1947.
Augustus Bristow lived at 22 Cambridge in Norvic in the 1940's. The newspaper article says that on April 8, 1947 he was killed by a streetcar in front of 53 King George Avenue. Both the tramline and the street are gone. I suspect that the tracks ran up Decarie, along MacDonald St and up a right-of-way behind the buildings fronting on the current Marcel Laurin Blvd. Is it possible that Grenet was formerly King George?
I have not been able to find a good map of the area online. Do you happen to have a map of the Norvic area of St. Laurent from the 1940's? Photos would be a bonus. Thank you so much for your interest in preserving the history of St. Laurent.
Philip Bristow, St. Catharines, Ontario. Our family lived in Montreal from 1905 until we moved in 1993.
An April 8, 1947 Gazette article documents the death of Philip Bristow's grandfather: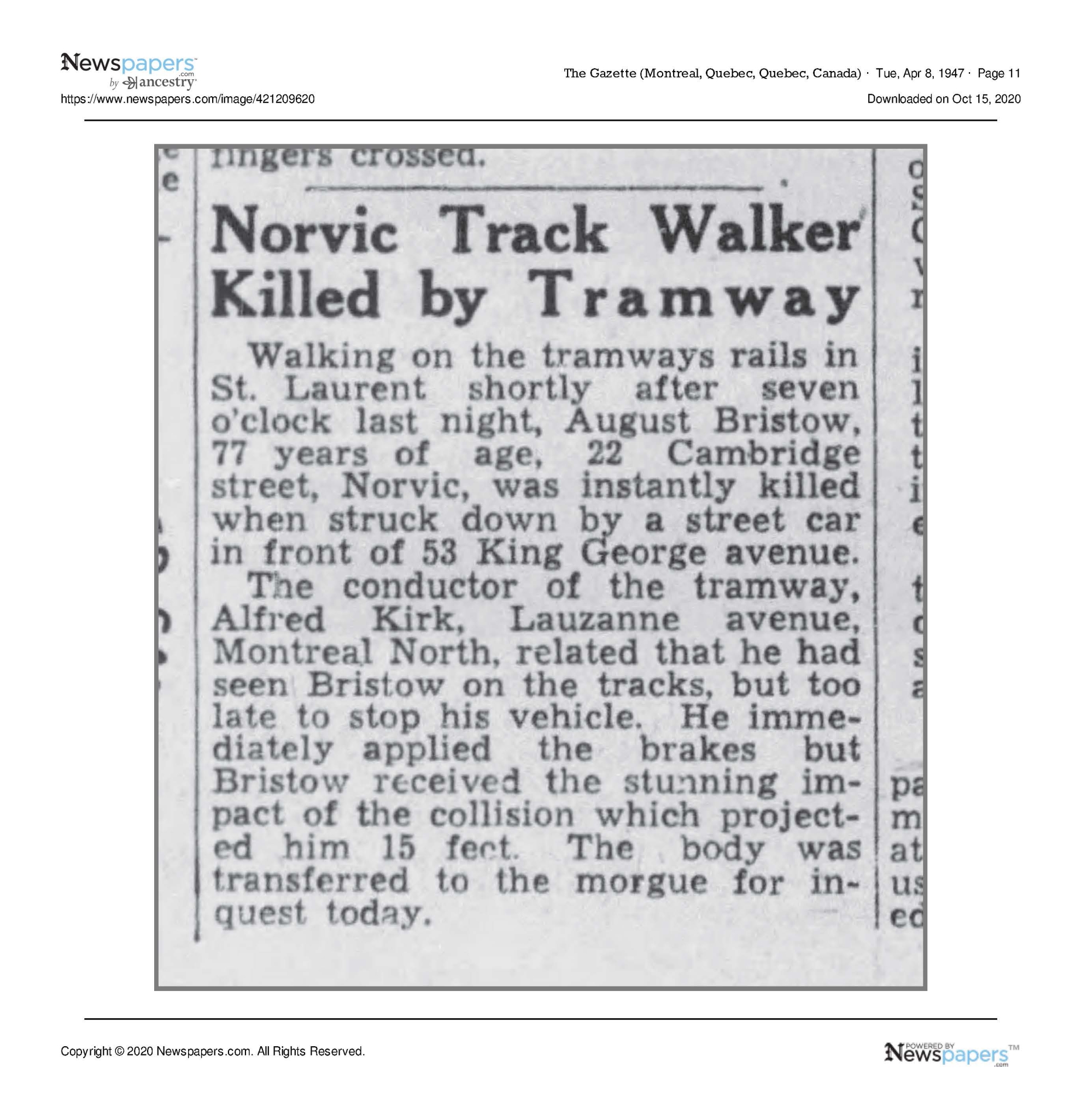 On May 9, 2021, Bob Carswell commented:
Jaan has asked me to help answer your inquiry. Like you I was unable to find a suitable map online. I suggest you contact the former City of St. Laurent offices, now the St. Laurent Borough and ask for one. They would be best suited to supply you with something that fits your needs and perhaps better answer your questions.
However, I did find something in Lovell's Directory for 1947 that might be useful. The King George Avenue you write about was actually called King George Blvd. It ran from Harvard to Laval in St. Laurent. There were three houses # 23, #25 & #53. Then it indicates that Cambridge begins at that point. It then continues with three more street addresses, #53, #101 & #103 (however the second #53 appears to be vacant so might just represent land owned by the previous #53). It ends there at Laval. I suspect your grandfather walked up from his house on Cambridge and was crossing the street but did not see or hear the streetcar coming.
I can understand why you might want a map. I suggest that your also contact the libraries at Concordia and McGill to see what they can offer in the way of a map of the area. They may have something extensive as they would each teach geography.
The following [Montreal Streetcar Map – 1948] might not be of much use as it is not detailed but it is the closest I can come to a map of the track lines in Montreal in 1947.
Bob Carswell has also referred (May 9, 2021) to the No.17 streetcar which travelled from Val Royal Station through some farm fields. He adds, "I have a very close connection to that whole area as it was my and my older brother's playground from 1946 to 1951 after settling in Cartierville in a new 6-plex on Reed St. (later Laurentian Blvd. & Rte 117) at de Salaberry St. When I got married in 1970, we had an apartment at the foot of Val Royal station where the buses went under the tracks at Grenet Street. It was the former streetcar line through the farm fields since the early 1900s which eventually became what is now Grenet Street in that area. The Marcel Laurin Blvd is named after a former mayor of St. Laurent. but the name does not apply below Val Royal station."
On May 9, 2021 Philip Bristow wrote to Jaan and Bob:
Hi Jaan & Bob.
Thank you very much for your help.
You've given me good information and jogged even more memories of Montreal.
I also posted the request on Montreal Then and Now on Facebook.
They got back to me this morning with a map showing the area almost exactly as you describe it.
It must be an early map because it is missing the two little bunnyear-like crescents off Laval.
I think the posts are public so you should be able to see them all yourself.
You've piqued my interest even more, Bob.
Where is/was Harvard in St. Laurent? It makes sense that there would be another university to add to Oxford & Cambridge Streets.
I've attached a page that I've made giving some information about my grandfather.
Your details about the street helps fill in the picture. I'll add them to my record.
I spent many hours on the internet over 4 days trying to satisfy my curiosity, before it dawned on me to try Fb and your group.
My interest stems from my work on our family tree.
I knew that my grandfather had been killed by a streetcar in St. Laurent in 1947, but it wasn't until I stumbled upon a newspaper clipping of the accident that I knew the exact location.
You mention Lovell's Directory.
The story goes that Augustus emigrated from either Bath or Reading, England around 1905.
The ship docked in Montreal on his way to Vancouver and eventually Australia.
He was touring the city on the layover when he happened upon Lovell Printing.
He was a press compositor so he went in to check out their operations and met John Lovell himself.
Mr. Lovell was impressed by his knowledge and offered him a job on the spot. As the saying goes, the rest is history, and that's why I'm Canadian not Australian!
Maybe you can help me with another gap in my information.
The 1921 census lists the family as living at 404A St.Antoine St.
Google Earth puts that in the middle of the intersection of St. Antoine and University St.
The numbering is different, because my father said they lived on St.Antoine in St, Henri – probably Little Burgundy.
They lived above a Funeral Director. Ferron's? Can you verify that easily? Don't spend any time on it.
By the 1930s they were living on Greene Avenue right where Westmount Square is today.
That was probably his address before he moved to St. Laurent.
It's a small world. In the 1980s my wife and I lived on Leduc just below MacDonald in VSL.
MacDonald curves up to Cote Vertu right at our street. I'm sure it follows the old streetcar right-of-way because when I looked north from the intersection the right-of-way was still visible behind the pharmaceutical company on Marcil Laurin.
When I was a kid our family lived in Ahuntsic and I remember taking the streetcar downtown to doctor's appointments.
It must have been the old #17, but I was too young to know about those things.
But I do remember two things about the trip.
At one point we went over a high bump or overpass. We seemed very high up.
The other memory is of the Orange Julip. What an awesome sight that was for a 5-6 year old.
Was that where the hump was, because I think I remember looking down on it?
On May 9, 2021, Tim Hewlings wrote:
Good afternoon,
There is no longer either a King George Blvd, nor a Harvard in the area, but it has not changed much in 80 years. So it is a bit of a mystery. I still live in St-Laurent, so I'll take a drive over that way this week and see if anything looks like it might have once been a street. There are a few alleys that may have once been streets.
Interesting, I have never heard the area called "Norvick" although there is a street in there of that name. We have always known it as "The Wartime Housing."
The 17 Streetcar ran along Grenet as Bob says. Started at Gouin and went to the Garland Terminus which was around Décarie and Van Horn.
I couldn't find a decent map either.
The following has a bit of history of the area. It might help a bit. If you click on the picture it does blow it up.
http://www2.ville.montreal.qc.ca/arrondissements/sla/historique/en/intro/histvsl/terri/quartdev/norvick/norvick.html
https://www.google.com/maps/place/Rue+de+Norvick,+Montr%C3%A9al,+QC/@45.521214,-73.7013331,17z/data=!4m5!3m4!1s0x4cc9187652f6b6ad:0x626cc82601969fed!8m2!3d45.5233014!4d-73.6978124
[End]
Norvic or Norvick?
I note there is a choice of spellings: Norvic (as in Gazette article) or Norvick; a PDF file which Philip Bristow has shared refers to Secteur Norvick:
Secteur-Norvick-énoncé-final.indd_-1
Below is a screenshot from the above-noted PDF:
I have used Google Translate to provide the following rough translation (I have added some paragraph breaks) of a passage in the PDF:
The heritage interest of the Norvick sector is based primarily on its urban landscape value, remarkable for its unique and distinctive character compared to other sectors of the borough, the quality, integrity and ingenuity of its plan inspired by the garden city concept, as well as the overall effect of its built and landscaped setting. Its plot original and sinuous, articulated around a core of collective facilities, its many mature trees and its small modest houses established on lots with varied shapes, give it a picturesque character, offering the walker a diversity of perspectives and landscape atmospheres.
In addition, the uniformity of the template and the volumetry of the houses combined with the variations of the materials, the architectural details of the facades and the setbacks, contribute to energize the setting built and landscaped while ensuring great homogeneity and coherence to the sector.
The Norvick sector is also of great historical value since it testifies to Canada's participation in the war effort, this district constituting one of the 163 quarters built in Canada by Wartime Housing Limited during the Second World War to house workers in military equipment factories. Developed in 1942 to house workers from Noorduyn and Canadian Vickers, this unusual sector was the first suburb of Saint-Laurent and bears witness an important period in the history of the borough and its aeronautical industry. Inspired by the urban planning concepts of garden city and neighborhood unit, it also illustrates the efforts made by Wartime Housing Limited to improve the productivity of workers by ensuring a certain level of well-being, and recalls the method of lives of the workers who occupied them.
Finally, this sector testifies, through the modifications made to the houses following the change in the mode of tenure (housing rental from the State to private ownership), of their appropriation by the owners who have personalized their residence over time.
More details (which I've translated using Google Translate) from above-noted PDF:
CHRONOLOGY OF SIGNIFICANT EVENTS
1911: Creation of the Cartierville airport.
1935: Establishment of Noorduyn Aviation, one of the first aeronautical companies to set up in Saint-Laurent. Its activities began in 1935 when R.B.C. Noorduyn begins the manufacture of the Norseman, a new model of passenger aircraft. This first factory employed about thirty workers.
1938: Adoption of the National Housing Act (Canada).
1939: Start of World War II. Noorduyn Aviation acquires several buildings on Chemin Bois-Franc and adds to its production a training aircraft, the Harvard, which will be sold to the British, American and Canadian governments. During the Second World War, up to 12,000 workers worked there.
1941: Establishment of Wartime Housing Limited (Crown company) to help industries to house the workforce needed to operate factories during the Second World War.
1942: Legislation passed allowing municipalities to enter into agreements with Wartime Housing Limited (retroactive to July 1941).
The federal authorities bought vast land at the Cartierville airport (in 1941) and erected a factory there that Canadian Vickers would manage.
Preparation of an implementation and distribution plan for the Norvick sector (named after the names of the companies Noorduyn and Canadian Vickers, companies at the origin of this development).
Start of construction of the 400 houses in the Norvick sector to house the workers of the Noorduyn and Canadian Vickers factories (originally, these "temporary" constructions were to be dismantled at the end of the war).
1943: Approval of the general plan for the sector by Ville Saint-Laurent (May). The construction of the 400 houses is completed around August.
1943-1944: Construction of the building located at 2080, rue de Londres (for the army).
1944: Canadian Vickers abandons aircraft construction. The federal government privatizes the Cartierville plant and Canadair is born.
1945: Distribution of properties located on the dividing line between the municipalities of Saint-Laurent and Montreal.
Deposit of the cadastral plan subdividing the lots deposited at the Department of Lands and Forests.
End of World War II.
1947 to 1950: Sale of the houses (from this time on, the pile foundations were gradually replaced by concrete foundations).
Around 1950: Transformation of 2080, rue de Londres into a school (Bois-Franc-Aquarelle school, Aquarelle building).
1951: Transfer of the streets to the municipalities of Saint-Laurent and Montreal.
Around 1953: Construction of the leisure centre on the front part of the lot at 2085, rue de Londres.
1953: Annexation by the City of Saint-Laurent of the portion of the Norvick district that belonged to the City of Montreal.
Construction of the Pie XII school at 2085, rue de Londres (current Bois-Franc-Watercolor school, Bois-Franc building).
1954: Construction of pavements and sidewalks.
Around 1955: Construction of an administrative building at 2100-2110, rue de Londres (currently occupied by two child care centres).
1955: Development of sidewalks in the Norvick sector.
2002: Ville Saint-Laurent becomes a borough of the City of Montreal following municipal mergers.
2010-2011: Expansion of the Bois-Franc (2085, rue de Londres) and Aquarelle (2080, rue de Londres) buildings of the Bois-Franc-Aquarelle school.