Addressing Power in Bullying is About Gender and Income Inequality – online talk by Wendy Craig, PhD, Queen's University – slides and recording are available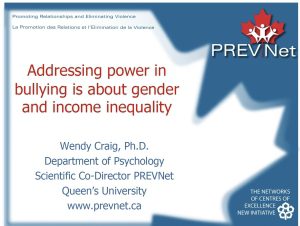 As I've mentioned at a previous post, as a volunteer I've presented several workshops about bullying in the past decade or so.
Each time I've prepared for a workshop, I've consulted the PREVnet website, where the evidence-based work of Wendy Craig and Debra Pepler dealing with bullying and related issues is featured.
Over the years, I've learned a lot about the relation between bullying and power. I've learned these things not so much from doing a lot of reading (of which I do a lot as a matter of course) but rather through preparing for such workshops. I've had the opportunity to think things through in a way that I otherwise would not have been able to do.
I was really impressed with the April 18, 2023 online presentation by Wendy Craig, which I attended today.
You can access slides and a recording of the presentation at this link at the University of Buffalo.