Etobicoke-Lakeshore MPP Laurel Broten's annual New Year's Levee – January 29, 2012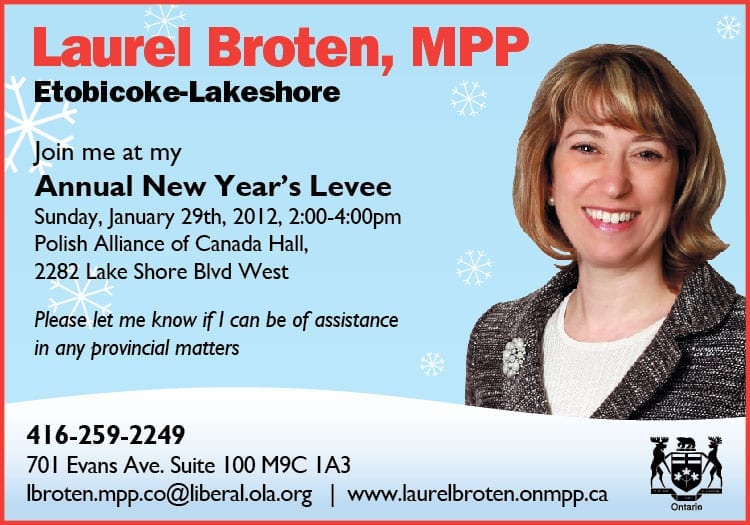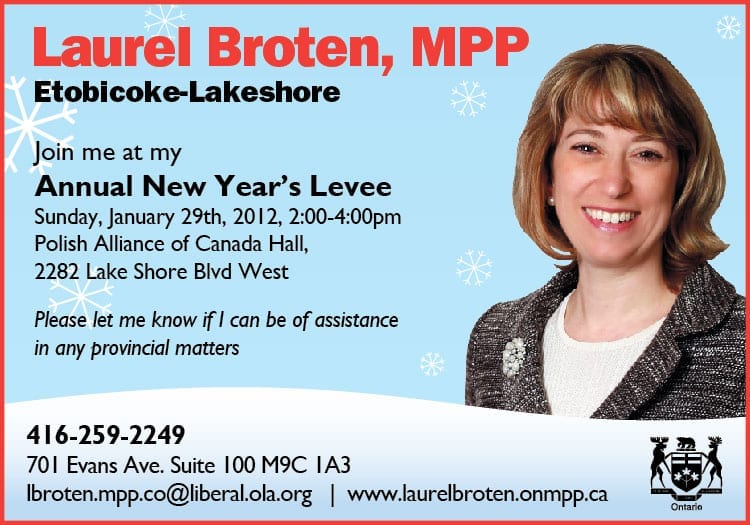 I'm pleased to share this announcement about Etobicoke-Lakeshore MPP Laurel Broten's annual New Year's Levee. The event will take place on Sunday, January 29th, from 2:00 – 4:00 pm at the Polish Alliance of Canada Hall, 2282 Lake Shore Blvd. West.
This is a community event that is open to everyone, and Laurel Broten is hoping to see many Etobicoke – Lakeshore residents there, as well as local business owners and community agencies' staff, to meet and greet the New Year and enjoy some refreshments.
Over the past year, our local MPP played a key role in ensuring that Parkview School in Long Branch, where the archaeological remains of the Colonel Samuel Smith homestead are located, remains in public hands.
The sale of Parkview School, announced in August 2011, turned out to be a 'good news' story, thanks to the efforts of Etobicoke-Lakeshore MPP Laurel Broten, Ward 3 Etobicoke-Lakeshore TDSB Trustee Pamela Gough, officials at the Toronto Lands Corporation, many people who wrote letters in support of keeping Parkview School in public hands, and key people who provided strategic advice.
As a retired teacher, parent, and volunteer, I'm very much impressed with the work that Laurel Broten is doing as Ontario's new Minister of Education. She has quickly established a track record as an education minister who can get things done, and who articulates clearly why it's important to deal head-on with key issues in our schools.
https://preservedstories.com/wp-content/uploads/2019/04/Preserved-Stories-logo-horizontal-1.png
0
0
Jaan Pill
https://preservedstories.com/wp-content/uploads/2019/04/Preserved-Stories-logo-horizontal-1.png
Jaan Pill
2012-01-22 14:13:14
2015-01-17 11:20:09
Etobicoke-Lakeshore MPP Laurel Broten's annual New Year's Levee – January 29, 2012