No bike parking at Mimico Adult Centre
I admire efforts by cyclists to get more people on bikes.
David Juliusson has shared a photo and a story related to the recent Mimico 20/20 meeting: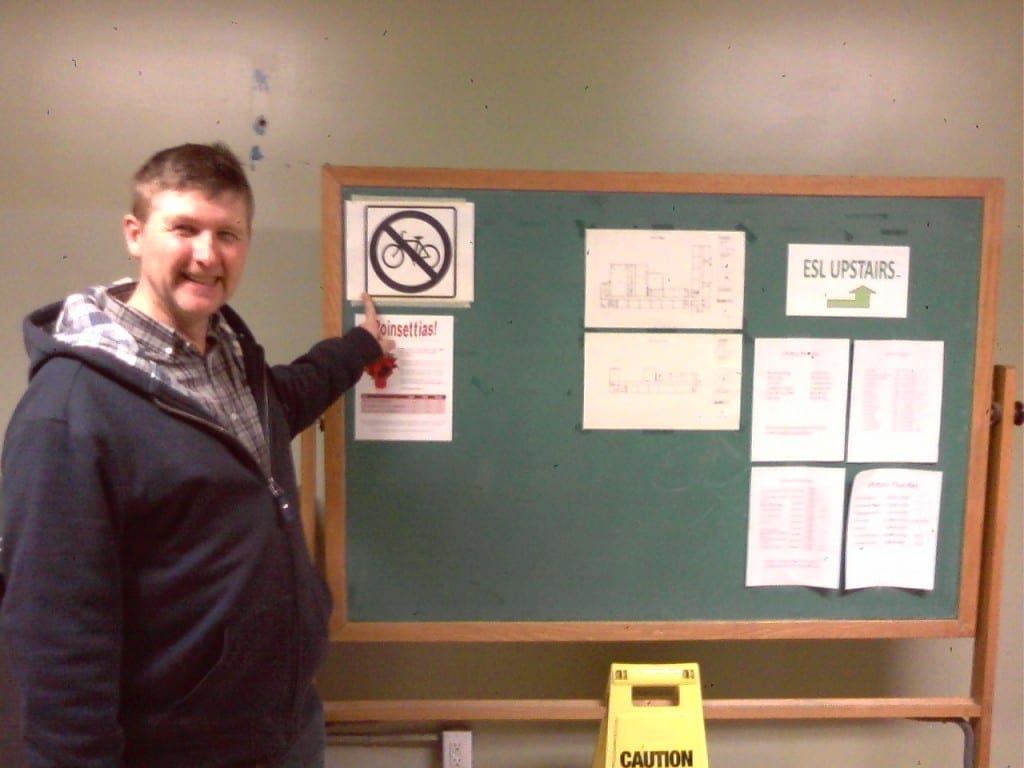 He comments that a Mimico 20/20 meeting was held on Dec. 6, 2012 at the Mimico Adult Centre which is a Toronto District School Board facility also used for after-school programs. He adds:
"The site is on a bike route. It has no bike parking. The sign I am pointing at is on the Bulletin Board immediately as you enter the school.
"It shows how far we have to go to get cycling accepted."
Bicycles and bicycling
I spent my early childhood, after the Second World War, in Sweden. In the late 1940s and early 1950s in Swedish cities, there were bikes everywhere. Everybody was riding a bike. It was such a sight to see — streets with masses of people riding bikes. The visual memory remains vivid: The colours, the sunlight, the flow of movement, the large numbers of people, the routine nature of the experience. It was a basic form of transportation.
When I visited Sweden starting in the 1980s the bikes were gone. I know from what I've read and from photos I've seen, however, that bikes have made a comeback in some European cities.
The local cycling enthusiasts such as David Juliusson have prompted me to take a greater interest in this topic. I enjoy bike riding along the Waterfront Trail from Long Branch into Mississauga as far as Port Credit and back. Such trails are wonderful resources. I also much enjoy the concept of Heritage Bike Rides. They offer a great way to share information about local history and natural features.
https://preservedstories.com/wp-content/uploads/2019/04/Preserved-Stories-logo-horizontal-1.png
0
0
Jaan Pill
https://preservedstories.com/wp-content/uploads/2019/04/Preserved-Stories-logo-horizontal-1.png
Jaan Pill
2012-12-10 11:13:44
2012-12-19 17:19:43
No bike parking at Mimico Adult Centre