For King and Country is an ongoing project of the Geneological Society, Toronto Branch
I subscribe to updates concerned with a site called For King and Country at torontofamilyhistory.com.
A previous blog post about King and Country can be accessed here.
The most recent update is concerned with Preparing War Memorials: Danforth Tech Shows How.
The opening paragraphs read:
How did schools collect the names for their war memorials? Danforth Tech, with 2,235 volunteers— more than any other school in the Commonwealth—shows us.
Danforth Tech's form for collecting students' info for war memorials. Photo courtesy Danforth CTI Library and Archives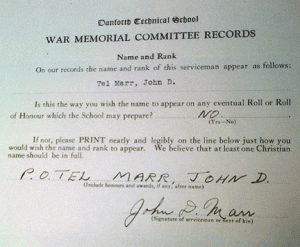 A War Memorial Committee sent forms like John D. Marr's (pictured here) asking former students how their names should appear. This form, not dated, was probably completed shortly after the end of the Second World War, when John Marr returned to his life in Toronto.
"Have not seen that signature in years," Ronald Marr commented when we sent him a copy of the war service record signed by his father. "P.O. Tel" likely stands for Petty Officer Telegraph," he suggested. John Marr, a wireless operator on a corvette in the Royal Canadian Navy, became so skilled at Morse Code that he was appointed to teach recruits in St. John's, Newfoundland.
Another Danforth list shows John Marr's Regimental Number: V-22191; his unit: RCNVR (Royal Canadian Naval Volunteer Reserve); and his address: 189 Wineva Ave.
Throughout the war, the school also sent out much longer "permanent war records" forms, asking for years of attendance at Danforth; date of enlistment; medals; campaigns served; names and addresses of parents; and much more. The returned forms and other records, including some photographs, are now kept in the school's War Memorial Library. No long form for John Marr has turned up yet.
[End of excerpt]
https://preservedstories.com/wp-content/uploads/2019/04/Preserved-Stories-logo-horizontal-1.png
0
0
Jaan Pill
https://preservedstories.com/wp-content/uploads/2019/04/Preserved-Stories-logo-horizontal-1.png
Jaan Pill
2014-01-09 12:04:41
2014-01-09 12:07:19
For King and Country is an ongoing project of the Geneological Society, Toronto Branch