Turkish Delight : Travel report by David Godley
I am pleased to share with you the following report (with photos, which I've inserted at random) from David Godley, who has previously written articles for this website, on topics related to urban planning as well as previous vacation trips that David has enjoyed:
Turkish Delight
by David Godley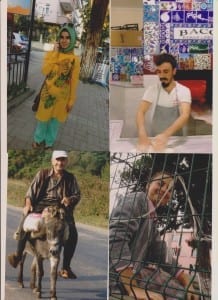 Turkey may have boundaries with Iraq, Iran, Syria and the former USSR but it is probably as safe as North America outside the conflict areas. You can be in the Grand Bazaar, Istanbul after 10 hours or so from hopping on a plane in Toronto. It costs less than $1000 return and Turkish Airlines have been awarded best airline in Europe for the last 3 years. They serve freshly squeezed orange juice.
Tigris and Euphrates
Turkey is the source of the Tigris and Euphrates and to the north of the fertile crescent where civilisation began. It claims the first ever town – Catalhoyuk. Waves of occupancy have washed over Asia Minor, as Turkey was called, including the Assyrians, Hittites, Greeks, Romans, followed by the Byzantines until the 11th century and the Ottomans until the 20th century. Both latter two Empires stretched all around the Mediterranean at their peak in the middle of their respective millennia.
Modern Turkey was founded by Mustapha Kemal Attaturk in 1923 and implemented what the "Young Turks" at the turn of the century advocated. Attaturk simply means Father of Turkey. Kemal had been part of the successful defeat of the Allies at Gallipolli and when the Greeks started invading after WW1, he drove them out.
A NATO member since 1952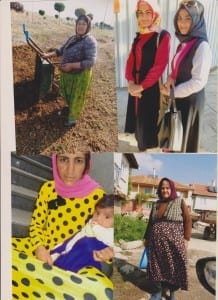 He declared a secular state, introduced the Latin alphabet, required everyone to have a surname and even banned fezes. He is probably the most lionised country leader in the world. The main street of most towns is Attaturk and there is usually a Mustapha Kemal thrown in for good measure. He laid the foundations of a Europeanised Turkey and the process is still going on today. Turkey has been a NATO member since 1952 and is gearing up for European Community Membership. One result is the excellent inter city roads and the completely new Istanbul to Ankara high speed train line. Interestingly it is about the same distance from Toronto to Montreal.
Istanbul is located on a bridge of land connecting Asia with Europe and therefore on a major trade route. The Sea of Marmara, which is two thirds the size of Lake Ontario, is linked to the Black Sea by the narrow Bosphorus and the Aegean and Mediterranean by the equally narrow Dardenelles. Crossing the Bosphorous had to be done by boat until relatively recently, so Istanbul or Constantinople, as it was originally called, was a natural place for growth.
Istanbul, population 15 million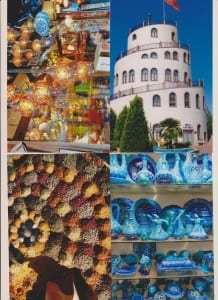 Modern Istanbul is impressive for its scale. It has a population of 15 million and is larger than any city in Europe. Some of the new developments would be at home in Shanghai. Many of the new buildings are exciting and certainly more colourful than North American counterparts. The north coast of the Sea of Marmara, on which Istanbul sits, is practically all developed for 150 miles. Since 1980 the population has sextupled its size. The region around the Sea of Marmara has a population roughly equivalent to Australia, not quite 25 million. Rural depopulation has left villages and small towns literally crumbling.
The Grand Bazaar is the oldest and largest covered market in the world. Built by the Ottomans it has 60 alleys with 3000 stores. And no car parking!
There are warrens of stores with brightly coloured goods spilling out onto the narrow public thoroughfares. No wheeled vehicle, even carts, can pass through. All goods have to be carried in by hand or back. It is the opposite of the antiseptic underground Pathway system in downtown Toronto but you can easily get lost in both.
Bargaining is part of the enjoyment of bazaars as it has been for centuries. Carpet salespeople will guarantee you can fly anywhere on their carpets if you drink 5 glasses of raki, the national drink made from aniseed. Carriers hurry round with silver trays of apple tea in Turkish tulip shaped glass cups serving storekeepers. The tulip, originating in Persia, is a symbol of Turkey but, unlike the Dutch ones, has pointed petals facing outwards at the top.
Ottoman power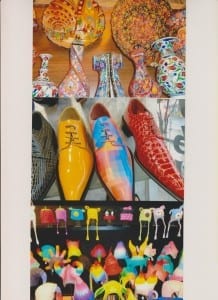 The key attractions are all within walking distance. As well as the Grand Bazaar there is the Spice Bazaar which is the second largest covered market in the world. The Hagia Sofia Cathedral is the Byzantine masterpiece which was completed 1400 years ago and after being converted to a mosque is now a museum. It was the largest cathedral in the world until Seville's was completed in 1620. The Blue Mosque, whose roof is disappointingly grey, is the Ottoman masterpiece completed in 1616 and is decorated inside with blue Iznik tiles. Iznik is a walled town to the south of the Maramara Sea which was briefly capital of the Byzantine Empire and the birthplace of the Nicean Creed.
It is too dark inside the building to appreciate the blue tiles and there are no seats! The most impressive feature for me was the massive columns holding up the dome. Topkapi Palace was the Sultan's HQ from 1465 to 1856. Unlike other palaces such as Schonbrunn in Vienna it evolved over time making it much more fascinating. Sulieman the Magnificent, clearly not a modest man, was sultan at the height of the Ottoman power and was a great soldier, lawmaker, builder and patron of the arts.
Ephesus and Troy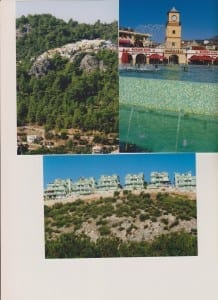 Ancient history has provided many ruins littered across the country. The most well known ones are Ephesus, a 10th century BC Greek town and Troy, of horse and Helen fame, where 9 layers of settlement have been unearthed. A number of Byzantine buildings, mostly churches have been restored. These usually have red tiled domes and stone mixed with terra cotta walls. The mix is typical of walls for both cities and buildings; sometimes the terra cotta is deliberately patterned and sometimes it is used to fill in gaps. Whatever the reason Byzantine walls are easily recognised and pretty.
Ottoman residential buildings are usually laid out in a grid and feature balconies and large box bay windows at upper levels. Typical ones are of wood construction as built in Elizabethan Britain. Usually houses are pastel shades sometimes with exposed beams.
20th century residential buildings are usually in 5 or 6 storeys of quite colourful apartment blocks. Strict height limits are adhered to so that minarets can dominate. Towns often have dual carriageways running right through them rather than vehicular bypasses.
Red interlocking tiles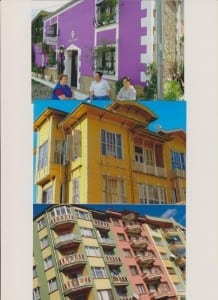 Various sects of Moslems make up well over 90% of the population so mosques and minarets are a feature of nearly every settlement. They vary little in design, certainly not as much as churches, but tend to have more colour and patterns. The loudspeaker wailing emanating from the balconies happens frequently and sometimes when you are asleep!
So there is little vernacular architecture where a design can be tied to a specific part of the country. One unifying design feature is red interlocking tiles even on apartment buildings. Turks embrace the sun unlike southern European countries which close down for most of the afternoon. They enjoy views from large windows and balconies. I have never seen so many restaurants looking out to sea and it is common to have restaurants on roofs. On one menu I noticed "grilled vegetarian"! In Toronto it seems that there must be an ordinance to require restaurants to look out on car parks or the passing traffic.
Bodrum on Agean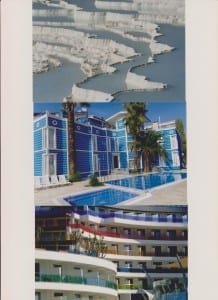 Turkey ranks 6th in the world as a tourist destination and 3rd for blue flag beaches. Bodrum on the Agean was the first to feel the tourist boom at the beginning of this century. Since then tourism has quadrupled. Summer weather extends well into autumn in the south so that northern Europeans flock there.
Bodrum is an amphitheatre of hills around the stage of the sea. It is the one place I saw with its own vernacular architecture. Its square white houses, like rows of seats, look more Greek than Turkish. Low height restrictions have been consistently followed. In North America or even Spain the pressure to build high rise would never have been resisted and the integrity and charm of the town of 50,000 would have been lost. As it is every building view is protected and the character reinforced by encouraging unique and innovative development. The Monistair Hotel is an example where a new development has been created with a charm of its own. I have never seen this in North America. Bodrum is a classic case of good planning which has both visual and economic benefits.
Grid layout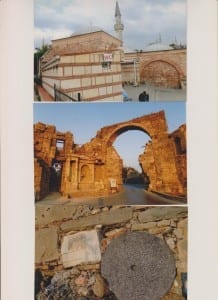 Side is a town in the banana belt and where yellowish green pine clad mountains "tumble to the sea". The grid layout from the Ottomans is softened by the curves of the peninsula on which it sits, change in levels and pre existing ruins. The old town is filled with tourist shops each selling exactly the same knock off clothing, watches jewellery, etc. Every tourist store in every city seems to have the same line of products. I declined to buy an "Obey" label top in case my wife stole it!
The extraordinary aspect of Side is that the centre has been built around ruins. A Roman temple, theatre and pillared approach are scattered throughout the settlement. The Byzantines added to the walls (sometimes using Roman marble columns as filling material) and have a basilica in the centre. There are acres of other buildings that you can wonder freely around. I discovered a 2 storey Byzantine hospital by fighting my way though undergrowth.
Thermal water
I had seen the pale blue ponds held back by sinuous white rims in adverts for Turkey. But I was not expecting a whole hillside of white looking much like a large ski hill. A long walk up the shining white slope has to be done barefoot. You can walk in the pools on the way up but the best pools at the crest are off limits. Warm thermal water runs down the pathway. The viewing areas at the top have been created sensitively echoing the shapes of the pools. As a bonus you can see the ruined Roman city of Heiropolis, another attraction of national importance. The Pammukkale pools are one of the wonders of the natural world.
Turkey spans many climate zones and is large and mountainous – Mount Ararat is higher than anywhere in Europe. It is one of the few countries that can be self sufficient in food. Apples grow in the north and bananas in the south with huge quantities of melons and pomegranates in between. It is the largest producer of black olives and supplies 80% of the world's hazel nuts.
Downtown Ayfon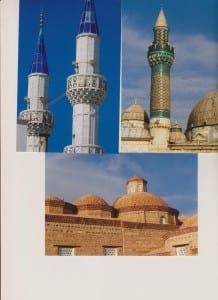 Oddly hazel nuts are quite expensive but generally travel and goods are affordable. I stayed in a hotel in with a fabulous view of downtown Ayfon with its castle perilously balanced on a tall volcanic plug; the sun shone in the penthouse all day. Breakfast was included for $35. Melons, fresh baked loaves and wildly coloured socks are 50 cents each. Post cards are 5 cents. Genuine fake "Ice" watches are $5.
I only ventured to the western parts of Turkey. Driving is easy once you get used to the Turkish interpretation of rules of the road as being advisory. Drivers may not be as good and quiet as the roads. I received a scrape on my car as proof.
Turks are naturally friendly and even in remote villages do not pass up a chance to have their photo taken. In one city when consulting a map as to how to walk back to my hotel, I became surrounded by advisors. Dressed in shorts, floppy sunhat and exotic socks I probably stood out. Despite my mother telling me never to get in a car with strangers I found myself sitting next to an unbelted Turkish driver with 4 children in the rear car seats.
Traffic lights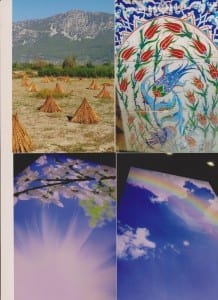 I noticed innovations that I had never seen before perhaps illustrating Turkey's will to advance. One was large ceiling panels imitating the sun and sky, some with rainbows, some with branches of flowering fruit trees and all with an impression of looking up on a sunny day. Another was traffic lights whose posts lit up in the same colour as the traffic light. Coloured lit buttons were used instead of the cardboard hangers in hotels indicating when the rooms were ready for cleaning.
Tartan quilts
Despite modernisation, dress is often traditional and religiously inspired especially amongst women who regularly wear head scarves and the like. Men usually wear nothing on their heads but the older generation may wear head dress including the traditional cloth kufi that clings to the head. Legs are covered by both sexes but this restriction need only be followed by tourists on religious sites. Interestingly tartan kilts were worn by some school girls, sometimes to match the colour of the school building. It was noticeable how men who sat out drinking tea, chatting or playing games were segregated from women who were presumably working in the fields or at home.
Turkey's denizens include Aesop, Homer, St Paul and St Nicholas of Santa Claus fame. Also presumably Noah as his boat settled on Mount Ararat after the last global warming!
Fruit from a barrow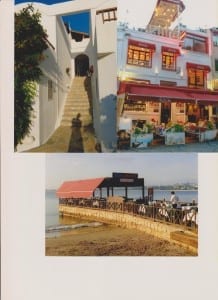 Other sights typical of the country are the abundance of sleek well fed street cats, hundreds of roadside produce stores and lots of tourist pirate ships. There is something deeply satisfying by buying fruit from the barrow of the grower or meeting a shepherdess on a hillside. Globalisation has not penetrated everywhere.
The weather in October consisted of pink sunrises, blue skies, orange sunsets, day after day in southern Turkey, where I roasted. It is a fusion of east and west, of traditional and modern as well as secular and religious.
The only dent in the trip was the one in my car.
David Godley, October 2014
[End of text by David Godley. The photos are by David Godley. I've inserted them at random. The photos do not have a 1:1 relationship with the text that appears next to each of the images. The next post deals with the history of Turkey, Armenia, and the Kurdish people.]
https://preservedstories.com/wp-content/uploads/2019/04/Preserved-Stories-logo-horizontal-1.png
0
0
Jaan Pill
https://preservedstories.com/wp-content/uploads/2019/04/Preserved-Stories-logo-horizontal-1.png
Jaan Pill
2014-10-26 10:34:02
2015-01-17 09:57:54
Turkish Delight : Travel report by David Godley