Taiwan, the Little Dragon: Travel report from David Godley
I am pleased to share with you the following report (I've added the photos at random) from David Godley, who has previously posted articles for this website on City of Toronto planning issues as well as previous vacation trips that David has enjoyed:
Following text is by David Godley:
Taiwan, the Little Dragon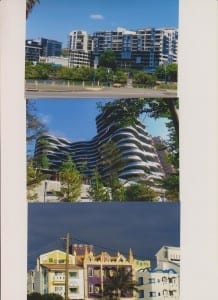 According to China and most of the world, Taiwan does not exist as a country. 22 countries recognise its legitimacy, the most important being Paraguay; the Vatican is the only European state. Nobody wishes to upset the large Chinese Dragon. Nevertheless Taiwan has been self governing since 1949 when Chiang Kai-shek fled the Communist regime.
Taiwan seems as Chinese as China but wealthier and with more Chinese temples.
I like islands partly because the culture is usually purer. I was encouraged to visit by the larger than life pictures of verdant mountains, vividly coloured temples and people in traditional dress working in the fields.
English is the second language as in most non-English speaking countries. Mandarin is the first. Nihao.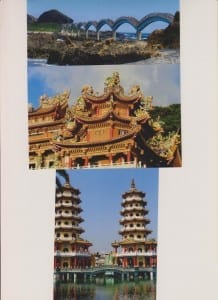 The 25 million people have an advanced technological economy which ranks 19th in the world. From 2000 to 2008 it had the tallest building "Taipei 101" (the number of stories). The mostly raised freeways and spaghetti junctions are wonders in themselves. The high speed railway was completed in 2008 and links the capital Taipei with second city Kaohsiung down the west coastal plain. All stations have striking architecture. The distance is equivalent from Toronto to Ottawa.
Direct transportation to China only started in 2005 with Taiwan's national airline China Airlines; next year their low cost carrier, Tigerair, will enter the fray.
The spanking new airport, as with many Asian airports, makes returning to Toronto's Terminal 3 rather third world, especially when visitors have to shuffle in line for over an hour. Taiwan's main airport is the 15th largest in terms of passengers and 10th largest in terms of freight.
Visitor centres
No expense has been spared on the vast visitor centres which are often more enjoyable than the attraction themselves. Taroko Gorge is a must see for visitors and is impressive with a narrow road tunnelled through rock in many places; but I have seen similar gorges elsewhere. The visitor centre has gardens but the inner courtyard is a masterpiece of stonework with detailed patterns made up of different stones. The visitor centre for "Water Running Uphill" also outdoes its attraction.
Automated tolls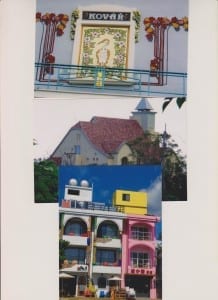 Transportation is really cheap. I paid 80 cents for a 60km train ride and $14 for extensive use of expressways where tolls are automated.
Drinking water is not potable
From the plane the darkened jagged peaks (there are nearly 100 mountains over 10,000 feet) were surrounded by cotton wool clouds which had a fairy tale look. I encircled the island in a rental car in 10 suns and 9 moons visiting the most interesting sights. It was sunny and warm. So what was there not to like?
First the drinking water is not potable. Second I was not keen on the food; deep fried squid tentacle and pig intestines are not my cup of tea. Third the Presidential Palace is surrounded by barbed wire. Fourth most of the buildings are undistinguished and aggressively uglified by wires, security bars and adverts. Most urban streets looked better in the dark with their back lit adverts and flashing signs. Also sidewalks are often non existent, blocked by scooters or have steps between properties – a wheelchair nightmare.
Colourful buildings in the south
Modern blocks were more imaginative and recent ones have small towers on top to improve the skyline. More colourful buildings exist in the very south. But there are radiantly colourful gems among the ugly streetscapes. These are the Chinese temples basically of Buddhist origin.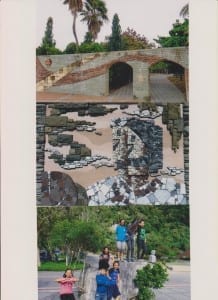 They range from tiny wayside shrines to magnificent palace-like structures and nearly all are brilliantly coloured and usually well maintained. They are guarded by decorative dragons, a sign of vigour.
If you think Eastern Orthodox churches are rich inside you should see these temples. Eventually you become templed out but then there are the much rarer pagodas. There are a staggering 15,000 temples, 3 times as many as 7-11 stores which become home from home with their basic foodstuffs and modern toilets.
Taipei's main square is also impressive with the Chiang Kai-shek memorial flanked by the National Concert Hall and National Theatre, both in temple architecture with huge orangy-yellow roofs. Lots of colour and wide open spaces but you can absorb it in a short space of time. This is a "dictator" type layout which is designed to show power and dragoon nature.
Free parking
Far more attractive is Lotus Lake in Kaohsiung where there are lovely temples and bridges scattered around an informally shaped lake. Twin pagodas are the highlight. One has a dragon entrance and the other a tiger exit.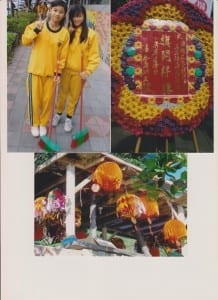 New vistas continually open up as you walk around the perimeter of the lake – a visual delight that takes an hour. Working with nature gives a more human and enjoyable experience. What is more parking is free!
Another lake, Sun Moon, up in the mountains is a draw for locals and has an alpine feel although there are rather too many tall hotels. Again there is a walkway all the way round as well as a bike path mostly through tropical foliage. The Tropic of Cancer runs through the island.
Lugang is an ancient port which silted up and has some measure of history. One temple is made of shells. There is a 200 year old narrow passage nicknamed breast touch passage. The market is chaotic. Vendors simply set up by the side of the road, some laying out there goods on blankets on the tarmac and the throng of pedestrians squeeze out cars and most scooters. Freedom from regulation can create a more exciting environment but perhaps not quite as sanitary or safe.
I had to navigate by the sun as so many street signs were in Chinese. There are many spellings in English for the same Chinese name.
Customer orientation
Proprietors are customer oriented – tipping is an insult. My first Bed and Breakfast was close up and personal with a family as much interested in me as I was in them. In fact in some places on the island I had my photo taken. After winding up the hillside a huge portcullis barred my way with no visible signs of contacting those within.
As I was scratching my head as to what to do next the mother and daughter arrived behind me on a scooter. Apparently their dog had alerted them to my arrival. They sat for meals with me, the first Canadian they had encountered and first single traveller. I was given a Taiwanese version of an American breakfast.
Inside of the villa gave an indication of other places I stayed. Antiques were in great evidence as were furniture made from recognisable parts of a tree. Interior décor was thoughtful with good use of colours.
Local waterfall
I had disappointed each member of the household, Emma because I had not viewed a local waterfall, Edward because I had not eaten the special dish in a historic mining community (Juifen) and Larissa who declared I did not appear to like Taiwanese food (perceptive). On leaving I made a point of saying how much I loved their property, the elegant villa with its Japanese garden and their hospitality. In reply they said "and we love you."
I visited in a lead up to local elections. Millions of flags on bamboo sticks were attached to any spare post or tree. Huge adverts with pictures of candidates had been erected, groups of people in brightly coloured uniforms swept streets and joined in parades and loudspeakers from vehicles rent the air.
The HQs of the candidates were decorated in Christmas-like crepe paper and shiny balls and what appeared to be large archery targets on stands made up with plastic flowers. It was more like a festival than an election.
Moral democracy
The result was that the ruling party nationally, Chiang's pro China, pro business, top down policy makers took 40% of the vote whereas the populist party that wants independence received most of the rest. Although these were local elections the President, the Premier and the Cabinet resigned as they felt they were not carrying out the will of the people. If only the rest of the world had such moral democracy instead of partisan politicians implementing the policies of the global corporations and the wealthiest one percent.
It is time for the big dragon to let the little dragon spread its wings.
David Godley
November 2014
https://preservedstories.com/wp-content/uploads/2019/04/Preserved-Stories-logo-horizontal-1.png
0
0
Jaan Pill
https://preservedstories.com/wp-content/uploads/2019/04/Preserved-Stories-logo-horizontal-1.png
Jaan Pill
2015-01-06 22:04:23
2015-01-06 22:05:54
Taiwan, the Little Dragon: Travel report from David Godley