You Are Invited – Wesley Mimico Place – Information Gathering, May 2, 2015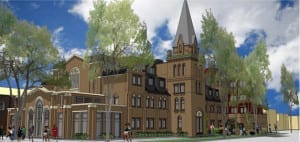 Click here to access the Mimico Wesley United Church back story >
Click here to access the Wesley Mimico Place website >
The following information is from the Wesley Mimico Place website (see link above):
Information Gathering, Saturday, May 2, 2015
Wesley Mimico Place Invites You!
Many Update readers are thinking about the housing and other benefits that the renewal of Wesley Mimico church will provide. As the project gets closer to construction, more and more information to help people make decisions is becoming available.
To share that information, the project team is inviting you to a further:
Information Gathering to be held in Mimico Presbyterian Church (corner Mimico Ave. and Royal York Road) on Saturday, May 2, 2015 from 10 a.m. to 2:30 p.m. in the church hall. (Elevator accessibility)
Doors open and coffee will be ready at 9:45 – come and get to know some potential neighbours.
At 10 a.m., the first session will focus on basic information about the project – how it got started and what it aims to achieve, the three key aspects: community centre, housing for adults 55+, and a renewed setting for the Wesley congregation. Other information will include life lease tenure, funding, design features, heritage conservation, etc. All information to help participants get answers to the questions they have about the project.
At noon, a light lunch will be available.
From 12:30 p.m. on participants can gather information from members of the WMP team about:
Prices and cost of housing suites; steps toward occupancy
Floor plans and lay out information
Sample finishes and interior design features
Transitioning to simpler lifestyle and housing
For those who have reserved suites there will be opportunity for 15 minute, one-to-one conversation with the WMP architect Robert Reimers to discuss your suite and finishes.
(Just sign up in the morning or during lunch.)
Please join us for this special pre-construction opportunity
Your RSVP – 416-546-5737 or email at info@wesleymimico.org —
will help us plan for the gathering.
[End of text from Wesley Mimico Place] 
https://preservedstories.com/wp-content/uploads/2019/04/Preserved-Stories-logo-horizontal-1.png
0
0
Jaan Pill
https://preservedstories.com/wp-content/uploads/2019/04/Preserved-Stories-logo-horizontal-1.png
Jaan Pill
2015-04-24 14:01:57
2015-04-24 17:36:21
You Are Invited – Wesley Mimico Place – Information Gathering, May 2, 2015