Jeanne Butcher outlines role of Prefect Board at MCHS, 1962-63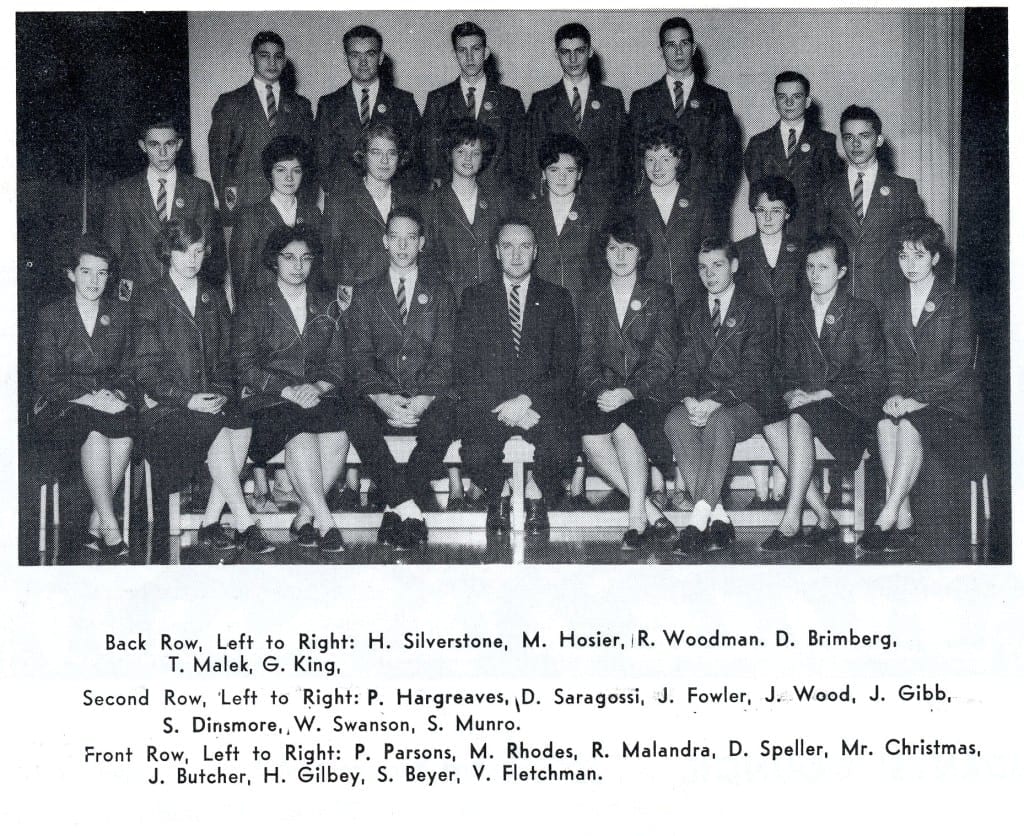 Click on the photo to enlarge it. Click again to enlarge it further.
The following text by Jeanne Butcher is from the MCHS 1962-63 yearbook (p. 58).
THE PREFECT BOARD
The Prefect Board is gradually becoming a tradition at Malcolm Campbell High School. Since the opening of our school three years ago, the Prefects have played an increasingly important role in student discipline. This year they have added another job to their large roster of duty, that of supplying ushers and guides at all social events where the parents are involved. These events include Home and School meetings, Open House and Special Drama Productions.
It is a great honour to be a member of the Prefect Board at Malcolm Campbell High School. All candi­dates for Prefects must first be recommend by their homeroom teachers. Mr. Christmas, the Prefect Board advisor, then decides which of these students are best qualified to become Prefects. This decision is based largely upon the leadership abilities and scholastic achievement of each candidate. The final choice is, of course, left to the individual himself.
On becoming a Prefect, one assumes many new and varied responsibilities. As a result, the role of a Prefect is a hard one but one which often proves to be very satisfying.
JEANNE BUTCHER,
XI-A
[End of text]
https://preservedstories.com/wp-content/uploads/2019/04/Preserved-Stories-logo-horizontal-1.png
0
0
Jaan Pill
https://preservedstories.com/wp-content/uploads/2019/04/Preserved-Stories-logo-horizontal-1.png
Jaan Pill
2015-05-31 12:37:55
2015-05-31 18:34:53
Jeanne Butcher outlines role of Prefect Board at MCHS, 1962-63