Étienne Brûlé and Wendat Project: On Sept. 12, 2015, join East Gwillimbury event starting at 9:00 am. Sept. 26 afternoon events in Toronto: No registration required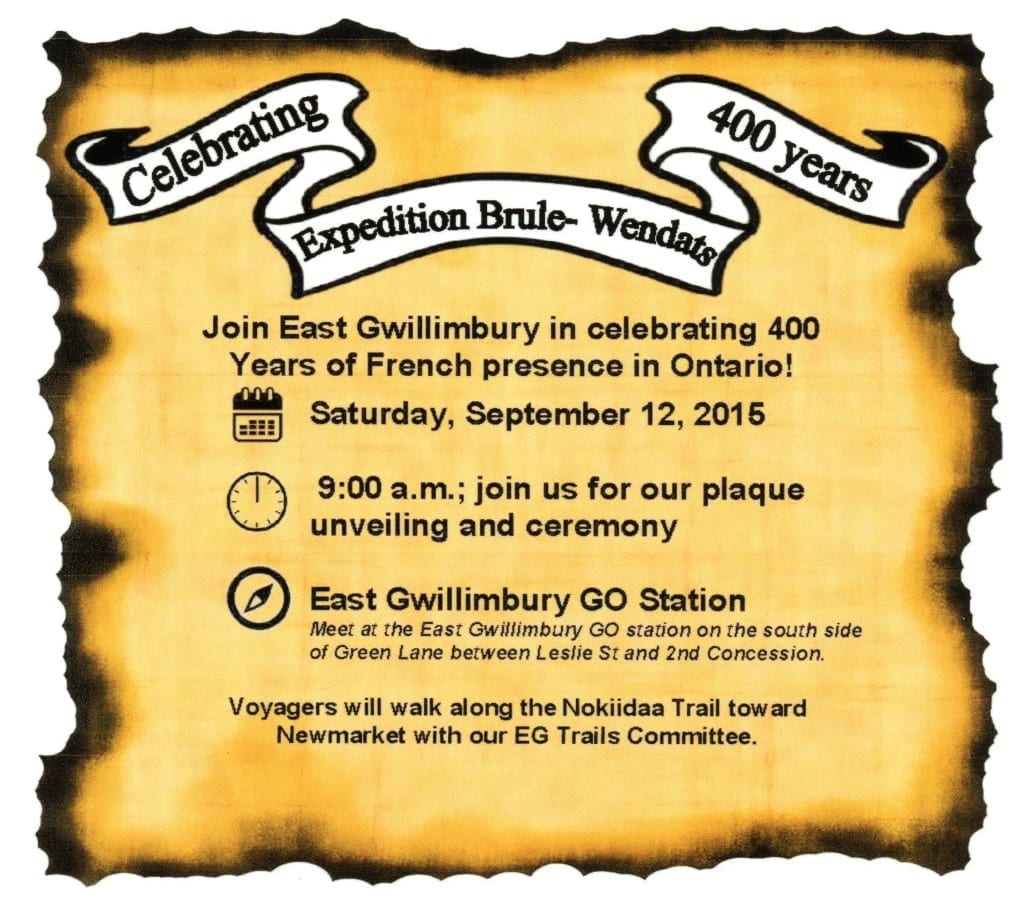 Updates
See also: Sept. 13 & Sept. 27 events at Lambton House related to Étienne Brûlé/Wendat Expedition (also Sept 11 pub night)
See also: Sept. 19 at 9:30 am – Reenactment of first day of Simcoe's 1793 journey up Toronto Carrying Place
Also, the Sept. 26 event at Old Mill is sold out, but the afternoon events that day – that is, walks along the Humber River – do not require registration. All the events that day are free. The morning event is "sold out" in the sense that the event is free but pre-registration was required as the capacity of the meeting rooms, while substantial, is limited.
I am really pleased to know that there is strong interest in these events, and that the First Nations participation is a key element of the commemorations taking place along the Toronto Carrying Place this month.
[End of update]
September 2015 marks the 400th Anniversary of Étienne Brûlé's trip along the Humber River accompanied by Wendat First Nation guides.
I am very highly impressed with the energy and dedication that so many community groups and agencies have brought to the planning of events related to the 400th Anniversary of the Brûlé-Wendat expedition!
Previous post
A previous post about Étienne Brûlé and the Wendat First Nation is entitled:
The year 2015 marks the 400th anniversary of Étienne Brûlé's expedition from Orillia to Lake Ontario in 1615
Bloor West Village article refers to Sept. 12 & 13 events including in Swansea
An Aug. 28, 2015 Bloor West Village article is entitled:
Toronto marks 400th anniversary of explorer's epic journey along Humber's Carrying Place Trail: Étienne Brûlé's epic journey along the Humber River will be marked on Sunday, Sept. 13
The article includes a reference to events in Swansea at 222 Riverside Drive on September 13. Here's an Event Map for Swansea:
Swansea8000Years_EventMap_merged_final3
Here's a jpeg version of the Event Map:
September 4 is the deadline if you want to attend free 400th Anniversary event starting at 9:30 am on Sept. 26 at Old Mill Toronto, but afternoon events do not require pre-registration
News release – The Toronto Carrying Place: A Shared Legacy
A news release about the Étienne Brûlé and Wendat Project  can be accessed here:
The Toronto Carrying Place A Shared Legacy media release[1]
The text for the above-noted news release reads:
For immediate distribution: Event announcement
Saturday, September 26, 2015 – The Toronto Carrying Place: A Shared Legacy
A special one-day event exploring the history of Toronto's most storied path!
August 2015 – The Etobicoke Historical Society, in collaboration with partner organizations The Etobicoke York Community Preservation Panel, York Pioneer and Historical Society, Swansea Historical Society, West Toronto Junction Historical Society, and King Township Historical Society, with financial support provided by the Toronto and Region Conservation Authority, and the City of Toronto through the Host City Showcase Program, is pleased to announce the upcoming event, The Toronto Carrying Place: A Shared Legacy.
This event is scheduled to take place Saturday, September 26th, 9:00a.m.-3p.m., at the Old Mill Inn, located at 21 Old Mill Road, Etobicoke. Featuring presentations from noted authors, academics, and local historians on such diverse topics as the Tkaronto Portage or Toronto Carrying Place Trail, the Iroquoian and Algonquian origins of the Toronto region, as well as First Nations' encounters with Étienne Brûlé, Samuel de Champlain, and other Franco-European explorers and voyageurs in 17th century Ontario, this event will also feature a series of multilingual theatrical "living history" theatrical installations along the Pan Am Path/Shared Path, in Étienne Brûlé and King's Mill Parks, along the banks of the Humber River – a federally designated Canadian National Heritage River since 1999.
Featured Presenters:
Annie Veilleux, Cultural Heritage Division Manager, ASI Christian Bode, President, La Société d'histoire de Toronto Prof. John Steckley, anthropologist/linguist, Humber College
Christopher Moore, Governor-General's Award-winning author and historian
Prof. Carolyn Podruchny, historian, York University
With Special Guest:
J'net AyAy Qwa Yak Sheelth, Indigenous Outreach and Learning Coordinator, Royal Ontario Museum
During the afternoon, participants will be invited to walk the Pan Am Path/Shared Path, encountering some of the people whose own stories have intersected historically with those of the Humber River. These theatrical installations, scheduled at designated points along the Path, will feature scenes by professional performance groups including Ars Musica, Jumblies Theatre/First Story Toronto (Talking Treaties collaborative project), as well as Etobicoke's own Humber River Shakespeare Co.
The Toronto Carrying Place: A Shared Legacy, is FREE and open to all members of the public, with light refreshments provided free of charge. Morning programming begins in the Old Mill, Brûlé Rooms A&B, at 9:30 a.m., with doors opening at 9 a.m. Afternoon performances will begin at 1:30 p.m., with group-led tours meeting in the parking lot across from the Old Mill at 1p.m. Those wishing to attend are asked to RSVP by registering here, or by phoning (416) 346-9291 (NO pre-registration is required for those wanting only to attend the afternoon program). For more information, please visit sharedlegacy.ca, or contact hugh.barnett@mail.utoronto.ca.
[End of text]
Please note: NO pre-registration is required for those wanting only to attend the afternoon program
Comment:
I became interested in the East Gwillimbury event because I was involved with early networking with a contact in that community, with regard to planning for the 400th Anniversary event. I was really pleased that, through a previous post at my website, I was able to help with such networking.
I also want to share a brief anecdote. In the past, I would have found room in my schedule to devote a great deal of time to the publicizing of events of the kind that are described in the post you are now reading. However, I've learned from experience that I have to focus on just a few things at a time, and my major focus for the past couple of years, and especially so in the past year, has been a small high school reunion that I've been helping to organize. That being said, I'm pleased I've had time to post the item you are now reading.
With regard to the year 1615, my own major interest concerns the relation of the year 1615 to the year 1610 as outlined in a March 13, 2015 CBC article (among other sources):
Was 1610 the start of the Age of Man? New epoch in Earth's history in which humans are the dominant agent of change
An Aug. 29, 2016 Guardian article, which focuses on 1950 as compared to 1610, is entitled: "The Anthropocene epoch: scientists declare dawn of human-influenced age: Experts say human impact on Earth so profound that Holocene must give way to epoch defined by nuclear tests, plastic pollution and domesticated chicken."
https://preservedstories.com/wp-content/uploads/2019/04/Preserved-Stories-logo-horizontal-1.png
0
0
Jaan Pill
https://preservedstories.com/wp-content/uploads/2019/04/Preserved-Stories-logo-horizontal-1.png
Jaan Pill
2015-09-03 12:35:50
2020-03-02 16:58:30
Étienne Brûlé and Wendat Project: On Sept. 12, 2015, join East Gwillimbury event starting at 9:00 am. Sept. 26 afternoon events in Toronto: No registration required