Travel report from David Godley: "The Real Costa Rica"
I am pleased to share the following travel report from David Godley. Please note that previous travel reports from David can be accessed through the link at the previous sentence.
The Real Costa Rica
WestJet Airline suggests that Canadians should discover the natural beauty of Costa Rica including the tropical rain forests, crystal blue oceans and majestic volcanic peaks. They encourage you to escape to paradise. The Tshirt temperatures and warm sea are alluring for those in the snowbound north. Our visit was a great adventure but not paradisiacal.
Columbus viewed the Caribbean coast in 1502 and named it Rich Coast – Costa Rica. As usual Columbus was mistaken and the country offered little for profiteers. Now it is the Pacific Coast that is far richer in beauty and of interest than the flat lands of the east.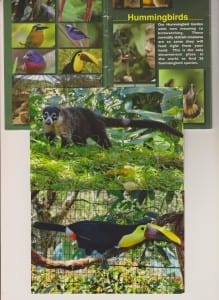 When the government in 1948 dissolved the army it was said to be neutral like Switzerland and from there it was called the Switzerland of Central America. Apart from mountains, cows and cantons it is quite different starting with the climate. Another difference is that the Swiss have the reputation of running their country like clockwork.
Poverty level lower than Toronto
Costa Rica has a history of socialism and equality which is perhaps why you do not see poverty, at least not on the Caribbean scale. About 20% of residents are below the poverty line, lower than in Toronto. Ticos, as Costa Ricans call themselves, have a manana attitude. They are strong on aspiration but not so much on perspiration. It is one of the greenest countries both literally and figuratively in the political sense. It has one of the most stable and democratic Governments in Latin America.
The best way to get an overview of the country is to hire a car. To get third party insurance involved a package with collision damage waiver and other protections. Then they want you to spend more on eliminating the deductible of about $1000. Just the minimum insurance doubles the cost for the tourist. The car hirers told us that there was an insurance company monopoly. The next unexpected item was the car did not need plates.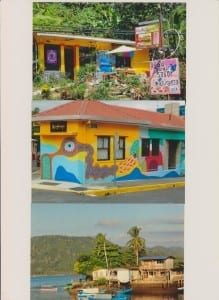 Driving
Driving in Costa Rica is rewarding especially in the Pacific coastal and mountain areas. It is fun if you can handle aggressive drivers, feel comfortable driving close to wheel-eating drainage gullies, overtaking trucks and managing without direction signs. As in most second world countries speed limits and double yellow lines are treated as advisory only. Groups of police do random checks under the shade of trees. They know that the restrictions are impractical anyway.
Lack of signs is extraordinary. It must be assumed everyone knows their way about so why bother. Direction signs, even at critical junctions, are often absent. Towns or their centres or attractions are rarely signed. Canas a town on the tourist route has no bienvendu/welcome sign announcing you are in the town, no sign to the centre and no sign to the unusual mosaic church. Where is the Chamber of Commerce? Some hotels have started to put up direction signs so clients can find their way to a town and a hotel. Perhaps this is the way forward.
Click on the photos to enlarge them; click again to enlarge them further
Service people work long hours and a good meal is always available whatever time of day for reasonable cost. Sodas are small family restaurants that are frequent on roadsides. The food is comparable to basic North American but rice and beans is a staple including at breakfast.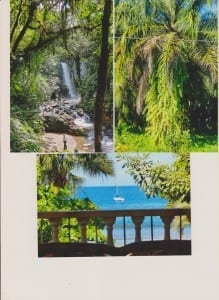 Water is potable everywhere we visited unless you have a particularly sensitive stomach. Ice and salads cause no worry. At the other end of the spectrum the sewage disposal systems are weak and toilet paper has to be discarded in a basket in most of the places we stayed. Washrooms for use by the public are readily available often at gas stations.
Back roads
Paraiso, about 50,000 population, has no street signs. San Jose, the capital, has no regular addresses with numbers. Properties are described for example as 25 metres from the corner of streets or some landmark. The landmarks may have disappeared years ago such as the Coca Cola plant.
On back roads there are still plenty of potholes and road surfaces made up of joined up patchwork but Costa Rica has at last put their paving machines to work. Two new toll roads have been built out of San Jose and lots of existing roads have recently been repaved. The route along the south part of the PanAm Highway is a brilliant drive, especially on Sunday when there are fewer pineapple trucks. The amazing thing is that there is a 10 mile stretch of judder-making rubble road still to be fixed up to Monte Verde cloud forest, the country's prime tourist attraction.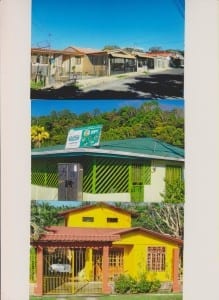 Guancaste
The northern part of the country, Guancaste, is dry tropical where the scenery is a browner shade of green but with sun and sea where beach people head. Liberia, the main town, has an airport where traffic is increasing in leaps and bounds. The resorts have kept their rustic charm and Tamarindo, one of the most popular, has no high buildings and looks like an overgrown villages. Their rustic charm holds steady.
To save the character of coastal areas the Government have instigated a strict planning code – no development within 50 metres of high tide, 3 storey or less only within 200 metres, up to 5 storeys within about 1km and up to 8 storeys within about 5k. I doubt the OMB would approve. The concern was that development was costing more in infrastructure than needed to support it.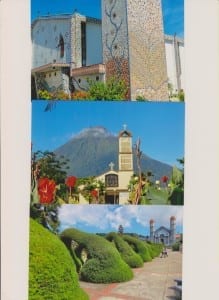 San Jose
The only concentration of architecture of interest is in San Jose. Otherwise there are a few churches and cathedrals in outlying towns. The former capital Cartago (Spanish for Carthage) has the best church. San Jose grew with the coffee trade. A railway to Limon on the Caribbean coast was financed by starting banana plantations along the way. A modern version of this strategy is being promoted by the mayor of Toronto.
San Jose, about 1 million people, looks and feels like a capital city with historic buildings, pedestrianised shopping malls and a profusion of busy squares. There are a few high rise buildings most of which make little contribution to aesthetics. The pea soup green "old post office" stands out as a must-see structure. Showing a tremendous confidence in the early 1900s it was built in baroque style but with plenty of other flourishes including a nod to art nouveau. As well the sculptures of the presenters look as though they have as much success as those in Toronto facing the OMB.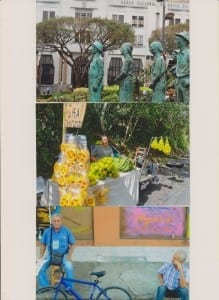 Homeland security
There are many other unique historic buildings. Coffee baron mansions are present in the two neighbourhoods to the north of the downtown Otoya and Amon. Lots of the city is ugly like the rest of the towns with grids ignoring topography, cat's cradles of wires and 8 feet high bars on many properties. Industrial properties have spiral razor wire on top for good measure. Much modern style development has taken place to the west of the City and this is where the rich suburbs have been established. I never felt unsafe during my on foot explorations. San Jose is definitely a rewarding city to visit on a worldwide scale.
Costa Rica is obsessed with homeland security. We had to remove every personal item from the car at one hotel. Most houses have protection from intruders with fences at the front property boundary or in the front of the verandah. This gives a locked down look to most urban areas throughout the country. It is a visual blight.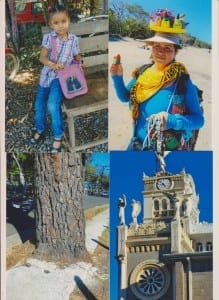 National parks
At least the towns have kept their scale with low rise buildings usually with a church dominating the central square. Centres of towns can therefore be identified by church towers. When you stand in the central square of Heredia, another city of half a million, it feels more like the centre of a small town. Little redevelopment has taken place. A few colonial buildings have survived and can be distinguished by their tile roofs as opposed to corrugated iron.
The exception to the signs rule is those to the National Parks. If you pick up a car at the international airport the brown signs will soon get you to the top of a volcano with one of the largest craters in the world and containing a small lake. Volcan Poas National Park costs $10 US to enter (locals pay $1). No loonies are accepted. Colons, the local currency are about 350 to one Canadian dollar. It is confusing to translate cost. Why not change the decimal point two places to the left.
There are many National Parks and protection of habitat by the government is increasing. However we found that we had many more intriguing wildlife experiences outside these areas. We may have seen a couple of new sights but it makes expensive walking even with the beauty of tropical foliage. There was more action in the car park at Carara National Park, south of San Jose, with iguanas. Near there is a road bridge where we saw at least a dozen large crocs basking in the river below. At the hanging bridges canopy walk, near Mount Arenal, we saw wild spider monkeys but not much else we had not seen before.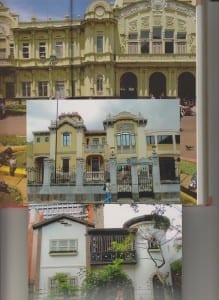 Mario Antonio National Park
Mario Antonio National Park near Quesno, was perhaps the most worthwhile. At the idyllic beach there are "tame" wild capuchin monkeys. There are also wild howler monkeys but we saw them clambering in trees at our hotel. A mile walk leads to the beach but the only item of great interest was a humming bird's nest seen through the guide's powerful telescope.
There are no refreshments at the beach other than potable water with crowds thirsting for a beer, a cocktail, or a soft drink or hungering for ice cream. The strict rules forgo a tidy profit for the Government and relief for visitors.
So we paid $50 each instead of $16
There is a rip off at the park entrance. A road to get tickets is not marked and in a car you are herded into a field to park and than asked by people looking official for large volumes of cash for guided tours. As well a security guard has to be paid. So we paid $50 each instead of $16. This led to a shortage of cash and another saga.
Arriving at our B&B in La Fortuna near active volcano Mount Arenal we needed more cash as the hostess had no credit card machine. We went to every ATM in town without either debit cards or credit cards working – just a terse message saying "transaction cancelled". Eventually we found online that the State Bank had instigated a $100 limit on withdrawals per day (for security reasons – whatever that meant). So we drew our cash out in smaller amounts on successive days.
The next part of the adventure was trying to drive into a car garage with 8 feet high steel gates that did not open fully, fronting the sidewalk, with a tree in the middle of the entrance. If you drove as close to the tree as possible, at the best possible angle, it was fine. But I did not. Hotel staff watched a passenger side slow motion scrape probably to add interest to a slow moving day. So the insurance issue bit. Not only did I have to pay extra for insurance I did not want, I had to pay $1000 for damage which the credit card company is unlikely to honour. They demand that collision damage waiver be declined.
Surprise airport tariff
Then there was a surprise tariff at the airport. Departure taxes are now included in the price of the ticket but we booked before this.
We had to pay in US or local cash or credit card which was treated as a cash advance. Why they made us pay 23% rather than 3% has not been explained.
Clearly the Government is protecting its citizens but the strategy for emptying tourists pockets makes for a much more stressful time. My contention that Canadian Governments makes life as stressful as possible has been tempered somewhat.
Birds
We saw a few land animals other than monkeys – coatis and tree porcupine on a night walk. There are plenty of blooms at this type of year especially noteworthy are the trees with orange blossoms that look as though they are lit by electric lights. These are called Malinche and originate in Madagascar. Butterflies and other insects abound.
The real stars of Costa Rica are the birds with 880 species, many brightly coloured. There are more species than US and Canada combined. Zoo Ave, near the international airport, served as an introduction to local birds. La Paz Waterfalls to the north of San Jose is a more upscale place to see a wider range of local animals.
There is no comparison to the thrill of seeing birds in their natural environment – a toucan flying over the road, pelicans diving in sync, and oropendola's at the UNESCO Peace University with their strange habits and glorious yellow fan tails. The resplendent quetzal, a colourful long tailed pigeon, remained illusive although guides swore they had seen one only a couple of days ago.
Bread and breakfast
Our main source of avian experience was the B & B's in which we stayed. Two of them positively encouraged wild birds – breakfast time for us coincided with that of the birds. One was set in a former heliconia (banana "tree" like plants with brightly coloured lobster-like flowers) botanical garden in Tigre (Heliconia Island) and another at the foot of Mount Arenal in an extensive garden (Roca Negra).
Another had a balcony in a low canopy of trees (Melrost). This latter was also the one that had us bring coffee from our room machine to the breakfast table and served a small plate of fruit and then exactly the same fruit on a larger plate for the second course.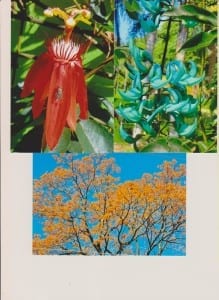 Quetzal
The Government through its wisdom chose the duskiest bird of the many as its National bird – something called a robin with brown colouring which only an ornithologist would notice.
Resplendent quetzal's might have been a choice if Guatemala had not already reserved this as a national bird and for good measure uses the quetzal for currency. The garden frequenting tanagers offer some of the brightest colours. One of the most engaging birds is the yellow fronted kiskadee found wherever you go. They build scraggy nests which might represent the lackadaisical outlook of Ticos.
Costa Rica may not quite the paradise Westjet project but it is on the right lines for the long term. To speed the process perhaps the Government should hire the Swiss and make the similarities between the counties more real.
David Godley. February 2016
[End of text from David Godley]
The headings have been added by Jaan; the photos are from David.
For your interest: A recent post about Latin America at this website is entitled:
Barrio Rising: Urban Popular Politics and the Making of Modern Venezuela (2015)
https://preservedstories.com/wp-content/uploads/2019/04/Preserved-Stories-logo-horizontal-1.png
0
0
Jaan Pill
https://preservedstories.com/wp-content/uploads/2019/04/Preserved-Stories-logo-horizontal-1.png
Jaan Pill
2016-03-14 08:01:52
2016-03-14 08:24:48
Travel report from David Godley: "The Real Costa Rica"