Hanlan Water Project: What's New? (May 30, 2016 update)
I have discussed the Hanlan Water Project (aka Hanlan Feedermain Project) at previous posts.
The following overview is accessible at this link.
The PDF file of the update is available here:
Below is a JPEG version of the update: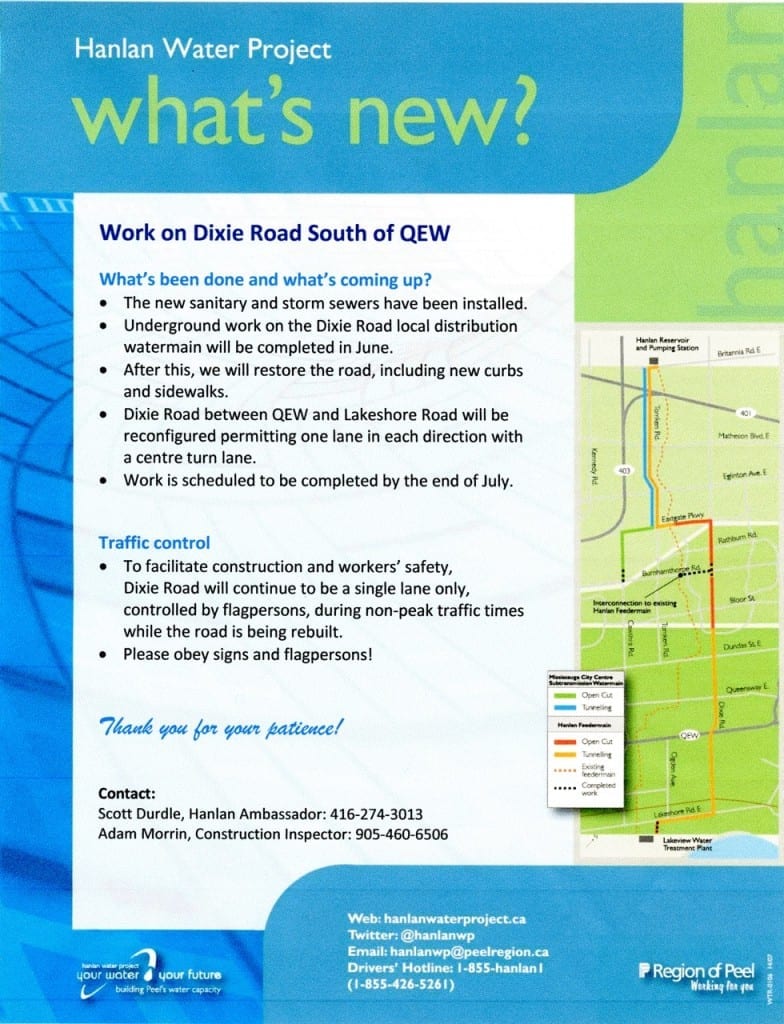 The text reads:
Work on Dixie Road South of QEW
*
What's been done and what's coming up?
• The new sanitary and storm sewers have been installed.
• Underground work on the Dixie Road local distribution watermain will be completed in June.
• After this, we will restore the road, including new curbs and sidewalks.
• Dixie Road between QEW and Lakeshore Road will be reconfigured permitting one lane in each direction with a centre turn lane.
• Work is scheduled to be completed by the end of July.
Traffic control
• To facilitate construction and workers' safety, Dixie Road will continue to be a single lane only, controlled by flagpersons, during non‐peak traffic times while the road is being rebuilt.
• Please obey signs and flag persons!
Thank you for your patience!
Contact:
Scott Durdle, Hanlan Ambassador: 416‐274‐3013 Adam Morrin, Construction Inspector: 905‐460‐6506
Twitter: @hanlanwp
Email: hanlanwp@peelregion.ca
Drivers' Hotline: 1-855-416-5261
https://preservedstories.com/wp-content/uploads/2019/04/Preserved-Stories-logo-horizontal-1.png
0
0
Jaan Pill
https://preservedstories.com/wp-content/uploads/2019/04/Preserved-Stories-logo-horizontal-1.png
Jaan Pill
2016-05-31 07:02:54
2016-05-31 07:08:01
Hanlan Water Project: What's New? (May 30, 2016 update)