VOLUNTEER opportunity at "IN SITU" – Multi-Arts Festival in Mississauga, Oct. 27-29, 2016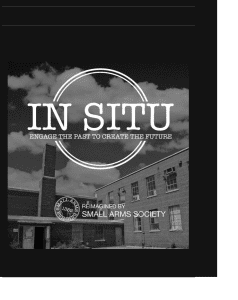 Click here to access previous posts about the Small Arms Building >
Volunteers for SAS Multi-Arts event "In Situ"
Coming October 27-29, 2016
SAS is celebrating the restoration of the Small Arms Building with In Situ, a three-day multi-arts event planned for October 27th to 29th and intended to animate the space, build awareness and engage the community in its potential as a creative hub.
Partners will come together to celebrate arts, culture and the environment through performance, installation pieces, mentorship opportunities and more.
Imagine the building being transformed by local and emerging artists, live music, live art creation and pop up theatre performances!
The SAS In Situ event would not be possible without the support of volunteers to help bring this event to the community and build awareness of this important landmark and its transformation into a creative hub in the future.
We are hoping you will volunteer and bring your talent, skills, commitment and enthusiasm to this event to ensure its success.
HOW TO BECOME A VOLUNTEER
If you would like to volunteer at In Situ please go to website: http://smallarmsbuilding.ca , fill out the form, and email it to to info@sasociety.ca with SAS | Volunteer In Situ Sign-Up October 26-30, 2-16 in the subject line.
Thank you all,
Iwona (Evona) Vineham 416 998 1657
Small Arms Society · 6 Helene Street North · Mississauga, On L5G 3B2 · Canada
Copyright © 2016 Small Arms Society, All rights reserved.
View this message in your browser
https://preservedstories.com/wp-content/uploads/2019/04/Preserved-Stories-logo-horizontal-1.png
0
0
Jaan Pill
https://preservedstories.com/wp-content/uploads/2019/04/Preserved-Stories-logo-horizontal-1.png
Jaan Pill
2016-09-26 20:14:29
2016-09-27 06:26:25
VOLUNTEER opportunity at "IN SITU" – Multi-Arts Festival in Mississauga, Oct. 27-29, 2016