Question from Norman Bates regarding Raimbault Creek in Cartierville, Quebec
Updates
A May 2017 CBC interactive webpage is entitled: "Montreal is 375 years old, but how old are its buildings?"
A May 17, 2017 Montreal Gazette article is entitled: "Montreal's history did not start 375 years ago."
[End]
At a previous post, The stream that used to run through Cartierville in Montreal was called Raimbault Creek, we have a question. I share the comment as a separate post, in order to bring attention to it.
If you know the answer to the question (see below), please let us know.
Click on the maps to enlarge them
Norman Bates has posted the following comment:
As late as the mid-1960s, I do remember riding my bicycle into Ville St. Laurent and encountering the final remnant of Raimbault Creek, that section of which buried into pipes soon afterwards beneath what is now Hartenstein Park.
I wonder if anyone can identify the source of and have any further information about the so-called "Drouin Ditch" – a creek which ran through part of Dollard des Ormeaux, on through Cloverdale Park in Pierrefonds, to eventually end up connecting into the Ruisseau Bertrand and finally at Riviere des Prairies at the former town of Saraguay just east of Autoroute 13 where it crossover the river. A wooden walkway and nature trail currently exists there.
The "Drouin Ditch" was finally placed underground into pipes around 1970-71 after years of complaints by residents whose children often played in and around the polluted water.
The 1907 map on this webpage shows it near the top left corner entering cadastre 300 and continuing eastward.
[End]
Let us know, if you can answer Norman's question.
Archival photo of Cartierville
I recently came across a Jan. 31, 2021 Facebook post from Peter Halliday that I want to share; Peter writes:
I posted this shot a few years ago, but because of the renewed interest in the Canadair shot below, I thought I'd re-post this one too. Some landmarks are visible already – the path of highway 15, the railroad tracks, Sacre Coeur hospital, the neighbourhood where MCHS would be built, in the lower center of the photo. I think the picture was from the 1950's, but I am not sure when… If you want the full zoomable photo/file you can try this link:
http://depot.ville.montreal.qc.ca/vues-aeriennes-1958/VM97-3_02_10-159.TIF?fbclid=IwAR1_pTHg9hRYuBTP7nlTW8A9wce–10HVXABELl_AdmbOi95ci6HL2B1a-I
*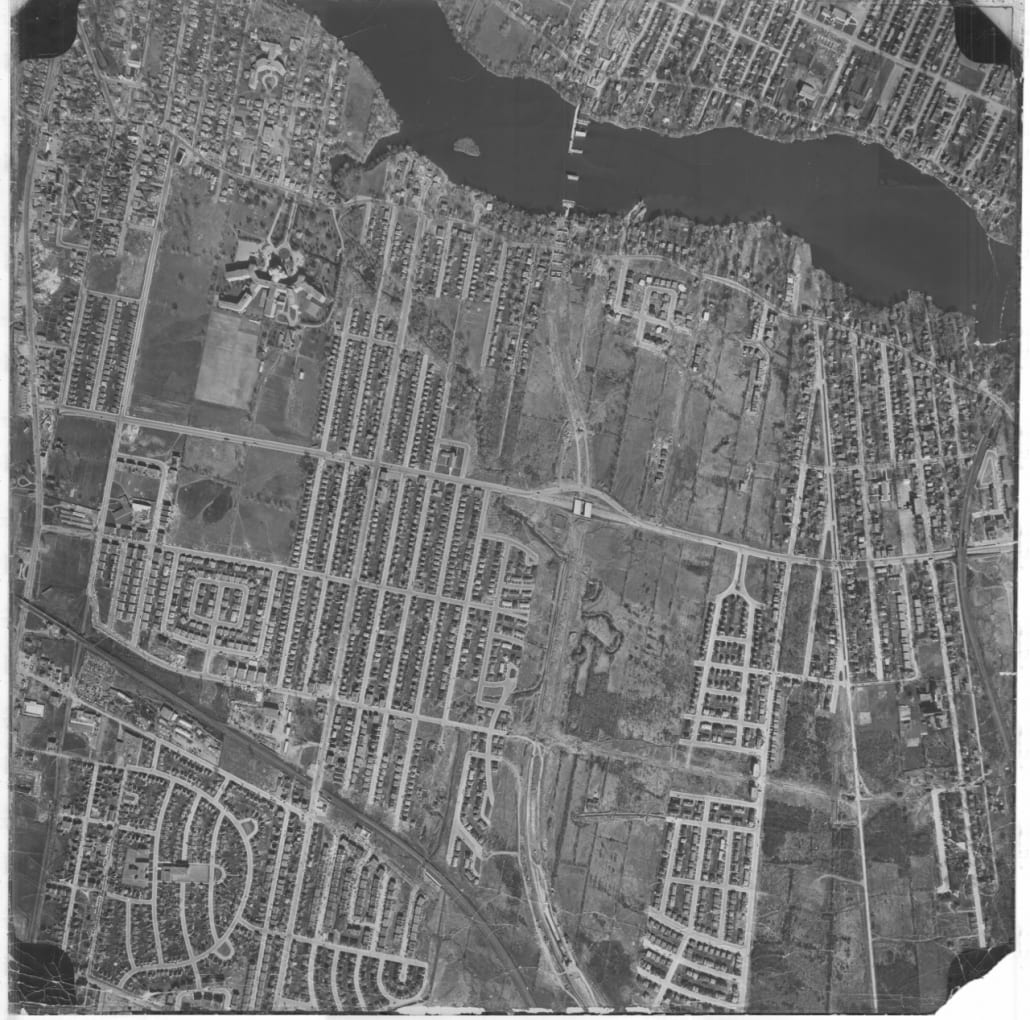 https://preservedstories.com/wp-content/uploads/2019/04/Preserved-Stories-logo-horizontal-1.png
0
0
Jaan Pill
https://preservedstories.com/wp-content/uploads/2019/04/Preserved-Stories-logo-horizontal-1.png
Jaan Pill
2017-02-19 15:20:56
2021-03-20 15:25:55
Question from Norman Bates regarding Raimbault Creek in Cartierville, Quebec