Conserving Long Branch June 2017 Update (Part 1) from David Godley
Part 2 of the message that follows has already been posted:
Conserving Long Branch June 2017 Update 2 from David Godley
I had Part 2 at hand and decided to post it at once. I then found a copy of Part 1 and that's what I'm posting below.
Sometimes I'm very quick about posting, and sometimes I'm very slow. Sometimes I just like to take a break.
Two images (click on them, to enlarge them) accompanied David's message.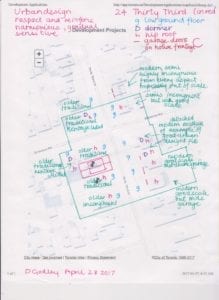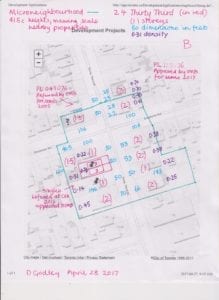 The following (earlier) message is from David Godley:
Happy June
CONTENTS
1) Severance and Variance Applications
2) Community Meeting
3) OMB Reform
4) TLAB
1) Severance and Variance Applications
*
Status of applications will be forwarded later in the month.
*
2) Community Meeting
Long Branch Neighbourhood Association meeting Monday June 5 2017, 7pm, Legion near Long Branch GO Station(see Attached)
3) OMB Reform
Councillor Josh Matlow, Lakeshore MPP Peter Milczyn and Cherie DiNovo MPP for Parkdale/ High Park should be particularly thanked for their participation.
Peter will be holding 2 sessions on this matter at times to be determined. Submissions to the Province are welcome.
Letter from the Minister of Municipal Affairs and Attorney General
We are pleased to announce that the government introduced the proposed Building Better Communities and Conserving Watersheds Act, 2017 in the legislature. These proposed changes follow extensive public consultations.
Ontario is taking this action in order to overhaul the provincial land use planning appeal system to give communities a stronger voice and ensure people have access to faster, fairer and more affordable hearings.
For more information and background on the bill you may visit: www.ontario.ca/OMBReview
For a copy of the proposed Building Better Communities and Conserving Watersheds Act, and to monitor the status of the bill through the legislative process, please visit the Legislative Assembly of Ontario website: www.ontla.on.ca
Comments on the proposed bill can be made through the Environmental Bill of Rights Registry at www.ebr.gov.on.ca (EBR Posting Number: 013-0590) or by email to OMBReview@ontario.ca. In addition, the bill proposes amendments to the Conservation Authorities Act which the Ministry of Natural Resources and Forestry is leading – please visit EBR Posting Number: 013-0561.
We look forward to working with you as we move forward on this initiative.
Sincerely,
Bill Mauro Yasir Naqvi
Minister of Municipal Affairs Attorney General of Ontario
Letter from Nick Elson who works at York University
I thought it would be good to start the long weekend with what appears, overall, to be good news on the OMB front. As you may have seen in the media, the government announced a few days ago that they plan to bring forward legislation in a few weeks that will do away with the OMB and replace it with a "Local Planning Appeal Tribunal".
Unlike the current OMB "de novo" system, this would in fact be an appeal process, not treating the issue as if it had never been considered before as is currently the case. While we can't know what will eventually end up in the legislation, at this stage it appears that the proposed changes shift the responsibility for planning decisions back to the local municipal level in several significant ways. Council decisions could only be overturned if they do not conform to city plans or provincial policies.
Understandably, community groups that have fought the good fight for responsible and compatible development are supportive of the proposed changes, while groups such as Building Industry and Land Development Association and the Ontario Home Builders' Association are howling that this will only encourage rampant NIMBYism and slow development.
Among the interesting features of the government announcement:
* the introduction of free legal and planning support, similar to
the Human Rights Legal Support Centre, that would "provide planning
and legal advice to people who want to participate in tribunal
appeals."
* a shift towards alternative hearing formats to encourage earlier
settlements.
* Rather than replacing a municipal decision with its own, as happens
with the OMB, the tribunal would have to send its decision, with
written reasons, to the municipality and provide the municipality
with 90 days to make a new decision.
* Overall, a shift away from the pseudo-court structure of the present
process, with its emphasis on lawyers and "experts," which greatly
disadvantaged community groups and citizens. This would include more
emphasis on written arguments. It also introduces the possibility of
multi-member panels hearing cases, rather than an individual board
member of the OMB as is currently the case.
This is a link to the government announcement:
https://news.ontario.ca/mma/en/2017/05/ontarios-proposed-changes-to-the-land-use-planning-appeal-system.html
A  Toronto Star article on the reforms:
https://www.thestar.com/news/city_hall/2017/05/16/omb-reform-praised-as-bold-boon-to-local-democracy.html
A  Globe & Mail  article on the reforms:
https://www.theglobeandmail.com/news/national/ontario-municipal-board-reforms-will-stifle-new-housing-developers/article35004540/
Cautious optimism would seem to be in order. Have a great weekend.
Nick
4) TLAB (Toronto Local Appeal Board)
*
Letter to our Chief Planner and Local Planning Director
Two map appendices are attached. Others supplied on request
Dear Jennifer and Neil,
Thank you for your past support on severances and variances in Long Branch.
With TLAB we have an opportunity for a new start. Hearings will be commencing soon and 9 38th Street in Long Branch will be one of the first.
We hope to retro back to 5 years or so ago when the Committee of Adjustment followed planning more closely (see below for information) and the OMB seemed more reasonable.
I rarely see any difference to the Department's and the Community's planning objectives so offer the following as joint principles.
1) Provincial Policies are irrelevant. The OMB hearing officer cut off any evidence on Provincial policy at the 168 Lake Promenade hearing. Provincial policies are implemented through Official Plans.
2) Neighbourhoods are not for intensification. TLAB have been told this clearly by Jeffrey Cantos of your Strategic Division at a business presentation in February.
3) Evaluations for reinforcing and respecting character follow established practice – the abutting properties in the row are key, as mentioned in UDG draft, followed in importance by the row in which the proposal sits, followed by the micro-neighbourhood (usually the block) and then the overall neighbourhood (not the 200 or 300 properties surrounding). The clarification and reinforcement policies included in OPA 320 be used as a base.
4) Minor is the dictionary definition or the ones already used by the City (on the website and in the new blue brochure)
5) The low density of Long Branch zoning to override market forces. The intent of the zoning reflects the intent of the Official Plan. The OMB decision on 30 36th clearly states market forces are not part of the equation. It also includes good reasoning on sideyards. PL160520.
Attached is my evidence from the 24 33rd Street hearing illustrating these principles. Appendix A is not included because of size.
As usual, community representatives are always ready to meet although we recognise the extreme pressures of your roles.
We would however like your feedback please.
Yours truly,
David
[Message A]
Mr. Godley,
Perhaps one of these days we can catch up and talk about your concerns. I am happy to arrange to meet with you, or we can talk on the telephone. However, I might benefit by a bit more time ramping up.
Michael
Michael Mizzi, MCIP, RPP
Director
Zoning and Secretary-Treasurer Committee of Adjustment
City Planning Division
T 416-392-0888
E Michael.Mizzi@toronto.ca
[Message B]
As you probably know the COA have gone from the sublime to the ridiculous.
They are following a course opposite to planning policies. Nothing fundamental has changed yet the COA are making radically different decisions than when they started.
1 They seem to think that they must accommodate the market, when, as the OMB points out on a recent decision on Long Branch PL160520, this is not a factor.
2 They seem unaware that minor must be in size as well as impact.
3 They ignore the general intent of the Official Plan and zoning.
4 They mostly ignore citizens.
5 The Chair is frequently saying aesthetics, which is basically urban design. is not relevant despite two thirds of the OP being related to this.
They seem wholly unknowledgable.
Have the members been briefed on their role and the planning and legal framework as members of TLAB were.
What are the remedies when the Committee of Adjustment members become loose canons.
Look forward to your reply.
David
https://preservedstories.com/wp-content/uploads/2019/04/Preserved-Stories-logo-horizontal-1.png
0
0
Jaan Pill
https://preservedstories.com/wp-content/uploads/2019/04/Preserved-Stories-logo-horizontal-1.png
Jaan Pill
2017-06-13 18:12:49
2017-06-13 18:14:15
Conserving Long Branch June 2017 Update (Part 1) from David Godley