MPP Peter Milczyn, Etobicoke-Lakeshore, hosting Free Family Events over March Break 2018
Following message is from MPP Peter Milczyn's Office:
Once again I will be hosting free family events in Etobicoke-Lakeshore during the week of March Break. On Tuesday, March 13th, my 4th Annual March Break Free Family Skate will take place at the MasterCard Centre for Hockey Excellence – we have booked the Toronto Maple Leafs practice ice pad. On Thursday, March 15th, the Kingsway Theatre on Bloor near Royal York Road will present my Annual March Break Free Family Movie – Ferdinand! Please join me and/or feel free to pass this along to others in Etobicoke-Lakeshore who would be interested. Looking forward to a great March Break 2018!
Best,
Peter Milczyn, MPP
Etobicoke-Lakeshore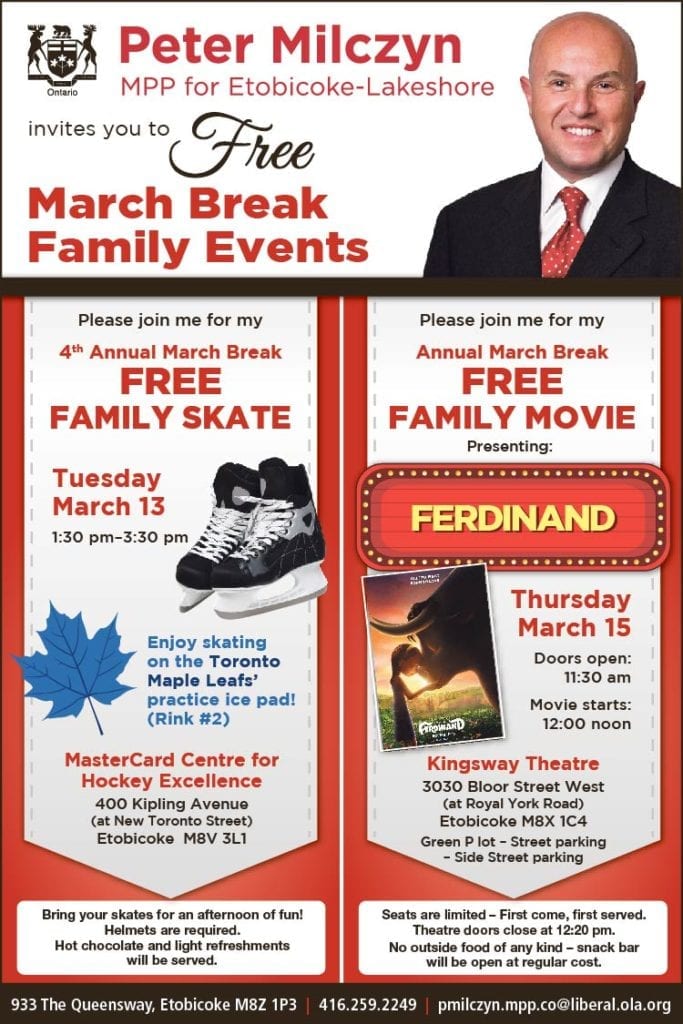 https://preservedstories.com/wp-content/uploads/2019/04/Preserved-Stories-logo-horizontal-1.png
0
0
Jaan Pill
https://preservedstories.com/wp-content/uploads/2019/04/Preserved-Stories-logo-horizontal-1.png
Jaan Pill
2018-03-04 12:07:48
2018-03-04 12:38:47
MPP Peter Milczyn, Etobicoke-Lakeshore, hosting Free Family Events over March Break 2018