Councillor John Campbell (Ward 4) and the City of Toronto have organized a Community Environment Day which took place on Saturday, April 21, 2018 at Richview Collegiate Institute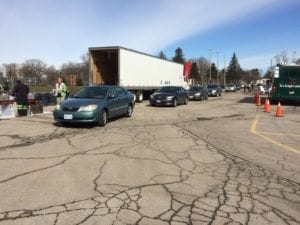 Councillor John Campbell and the City of Toronto have organized a Community Environment Day which took place on Saturday, April 21, 2018 from 10:00 a.m. to 2:00 p.m. at Richview Collegiate Institute, 1738 Islington Avenue, Etobicoke (at Eglinton Ave. W).
I am pleased I had the opportunity to drop off a wide range of accumulated items, from our home, during this great event.
I also picked up some handouts related to what we as residents can do on behalf of environmental awareness and sustainability.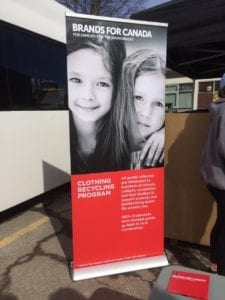 Sustainability
My favourite environmental event by far, in recent years, was a presentation by Jim Tovey and John Danahy over a year ago in Port Credit in Mississauga.
Tovey and Danahy had returned from a trip to Europe where they had visited innovative sustainability projects (and spoken with officials and planners) in Scandinavia and continental Europe.
That presentation was for me a eye-opener.
I especially enjoyed learning about how natural features of the urban landscape can be used to address water-related issues, in new housing developments.
The bottom line, as these two great speakers underlined, is that you don't really need to spend endless amounts of money on in-ground storm management infrastructure, and endless cycles of infrastructure-maintenance spending, if you know how to ensure the natural environment does a great deal of the work for you, while enhancing the attractiveness of your surroundings.
Community-driven, Mississauga-based projects such as Inspiration Lakeview will, as I understand, apply some of the key concepts that John Danahy, of the University of Toronto, and the late Jim Tovey, a champion of sustainability in all of its possible manifestations, learned about, during their above-noted, fact-finding visit to Scandinavia and Europe.
I am totally inspired by the work they have done!
I am pleased, as well, that there are solid indications that Jim Tovey's legacy will live on, and that it will endure in the lives of the future generations, that he was always talking about, whenever he spoke about the future of the Mississauga waterfront.
https://preservedstories.com/wp-content/uploads/2019/04/Preserved-Stories-logo-horizontal-1.png
0
0
Jaan Pill
https://preservedstories.com/wp-content/uploads/2019/04/Preserved-Stories-logo-horizontal-1.png
Jaan Pill
2018-04-21 11:58:46
2018-04-21 17:01:04
Councillor John Campbell (Ward 4) and the City of Toronto have organized a Community Environment Day which took place on Saturday, April 21, 2018 at Richview Collegiate Institute