Doors Open Toronto in Etobicoke Lakeshore – May 25 & 26, 2013
For a May 23, 2013 Toronto Star guide to May 25 & 26 Open Door events click here. As the guide notes, many great events are taking place across Toronto this weekend!
Click on the images on this page to enlarge them. Click again to enlarge them further. Use the 'Back' button on your browser to return to the page you are now reading.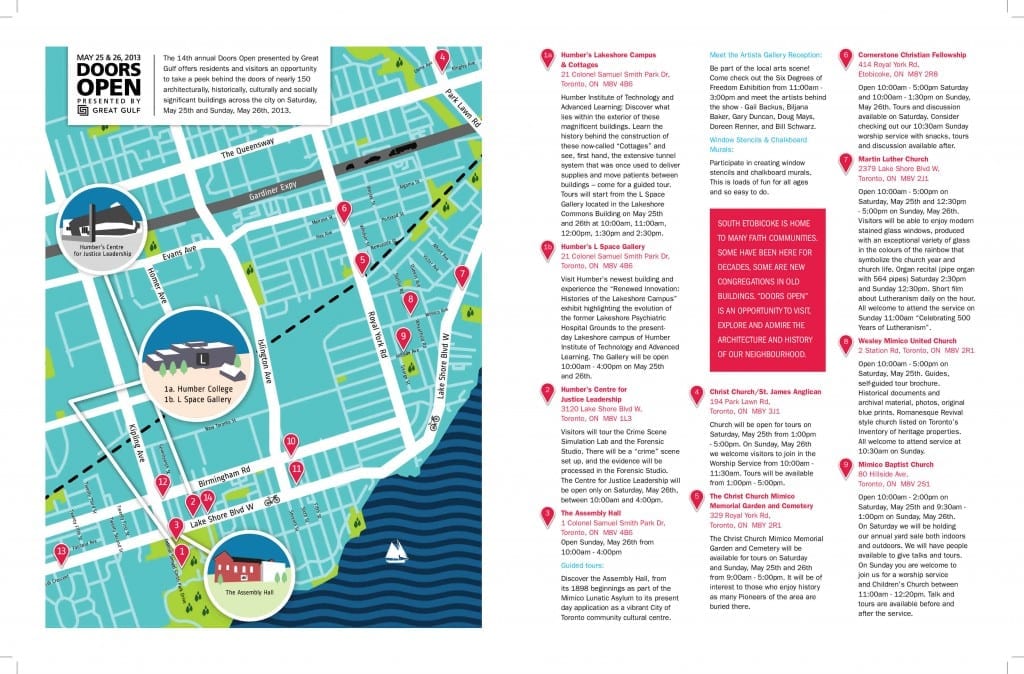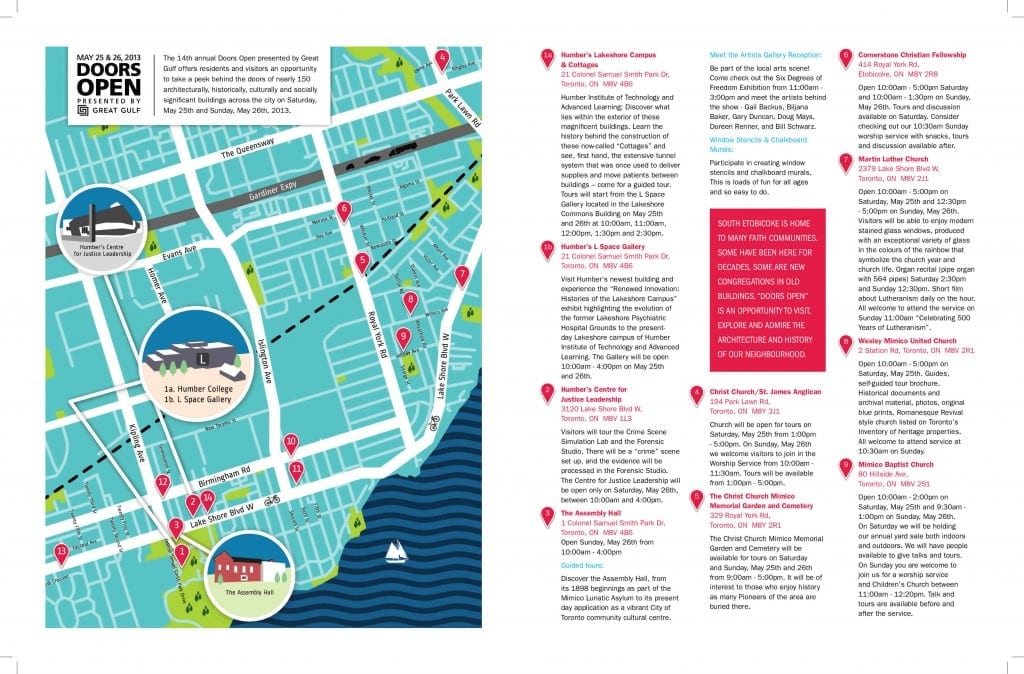 The map on this page (see above) is sponsored by the Humber Institute of Technology and Advanced Learning.
You can access the Humber College Lakeshore Campus website here.
Information about Doors Open events across Toronto can be found here.
An earlier blog post about Doors Open can be found here.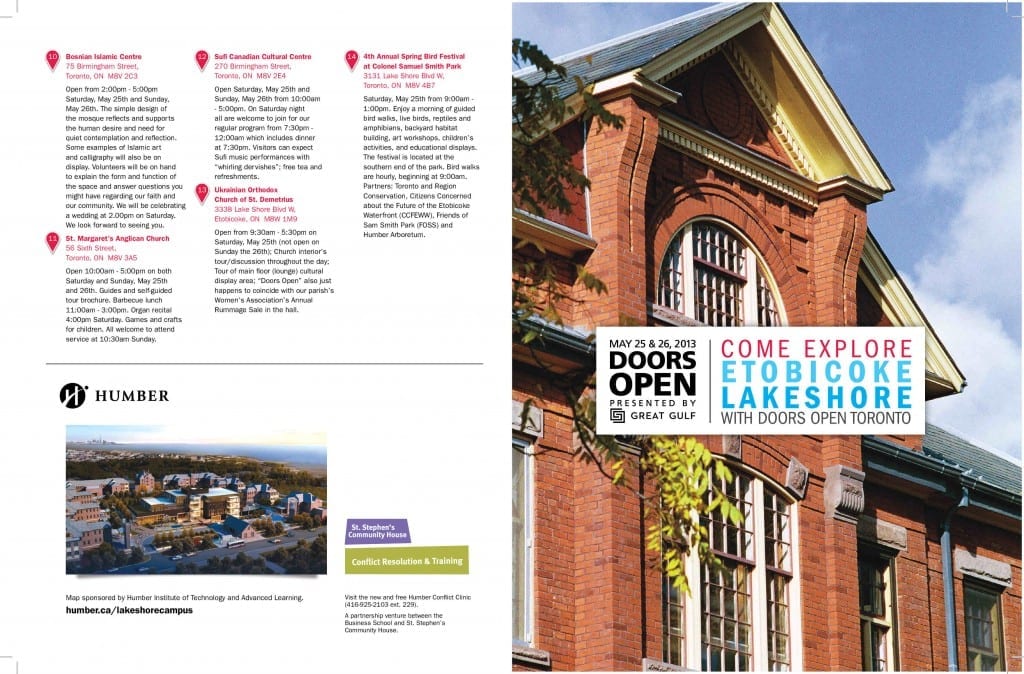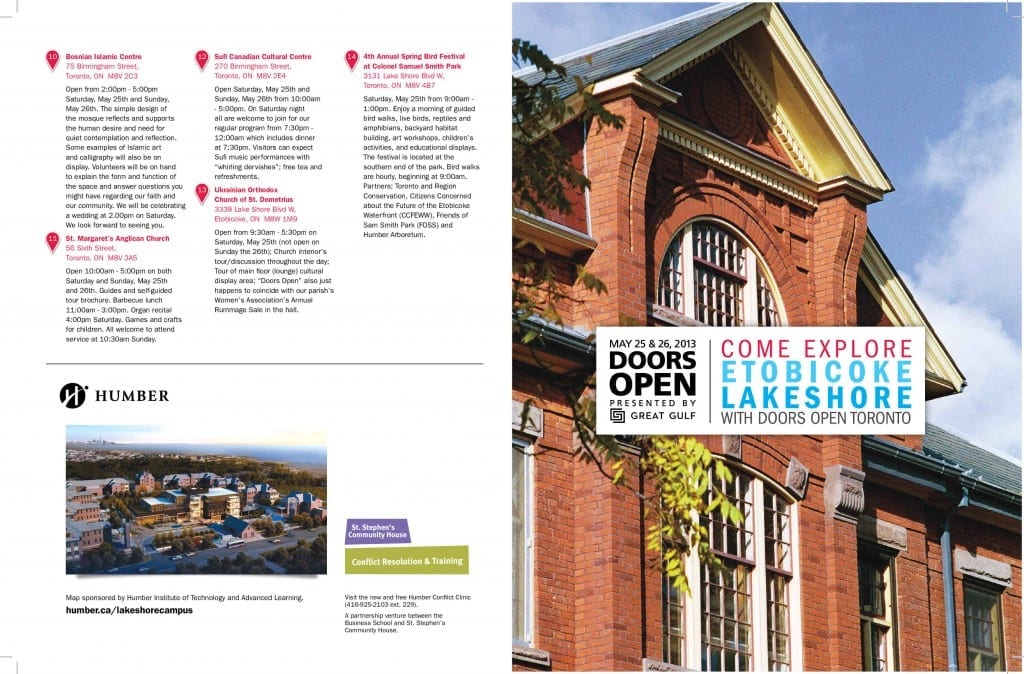 Click here for details about Doors Open in Toronto with a focus on what's happening in the West District (Etobicoke and York).
The Humber College Lakeshore Campus website has a great overview of events connected with the campus.
The Humber Doors Open events are also highlighted here.
An excerpt from the site reads:
Doors Open Toronto – Humber College events
May 25, 2013 – 10:00am
May 26, 2013 – 10:00am
Humber opens its doors to the community during Doors Open Toronto, May 25 and 26.
Buildings to tour include:
Centre for Urban Ecology/Humber Arboretum (North Campus, 205 Humber College Blvd.;10-3, Saturday only)
Lakeshore Campus cottages and tunnels (Lakeshore Campus, 21 Colonel Samuel Smith Park Dr.; 10-4 Saturday and Sunday)
L-Space Gallery/Lakeshore Commons (Lakeshore Campus, 21 Colonel Samuel Smith Park Dr.; 10-4 Saturday and Sunday)
Humber Centre for Justice Leadership (Lakeshore Campus Annex, 3120 Lake Shore Blvd. West; 10-4, Saturday only)
For more information, click on the links above or go to http://wx.toronto.ca/inter/culture/doorsopen.nsf/BuildingsAll?OpenView&count=999
https://preservedstories.com/wp-content/uploads/2019/04/Preserved-Stories-logo-horizontal-1.png
0
0
Jaan Pill
https://preservedstories.com/wp-content/uploads/2019/04/Preserved-Stories-logo-horizontal-1.png
Jaan Pill
2013-05-23 08:14:53
2013-05-24 10:31:25
Doors Open Toronto in Etobicoke Lakeshore – May 25 & 26, 2013