Watch for temporary entrance to Small Arms building east of Dixie Road and Lakeshore Road East
The Autumn 2014 issue of Arms2Arts, the newsletter of the Small Arms Society in Lakeview (Mississauga) can be accessed here:
Arms2Arts Fall 2014 Newsletter
The map at the bottom of this post is from the newsletter.
As noted in a previous post, a public reception will take place starting at 11:00 am on Sept. 7, 2014 at the Small Arms building in celebration of the 100th anniversary of the Princess Patricia's Canadian Light Infantry Regiment.
The following information is from the Autumn 2014 Arms2Arts newsletter:
Watch for the Temporary Entrance, East of Dixie Road
During construction of the Hanlan Feedermain, the entrance to the Small Arms building has been moved about 90 metres (300 feet) eastward along Lakeshore Road from Dixie Road.
Coming In From the West
To get to the closest parking lot, and to the accessible lot, eastbound cars can turn south 90 metres past Dixie Road. Or use the lot on the north side of Lakeshore Road, about 100 metres (300 feet) past Fergus Avenue.
Coming In From the East
For westbound traffic from Toronto, turn south just a few short metres after Cherriebell Road.
Coming In From the North
There's also convenient parking on the northwest corner of Lakeshore Road and Dixie Road for cars traveling south on Dixie Road. Turn west into the parking lot just before Lakeshore. Road East.
Access to the Building
The wheelchair-accessible entrance is on the east side of the building. See map below. Drive safely.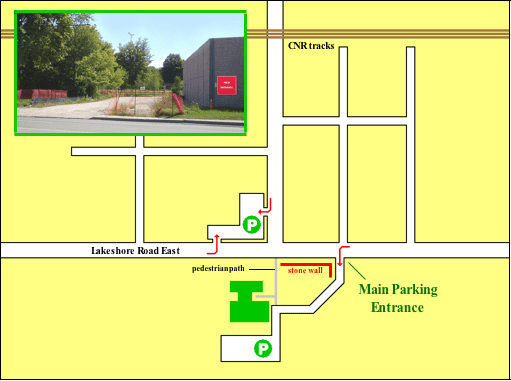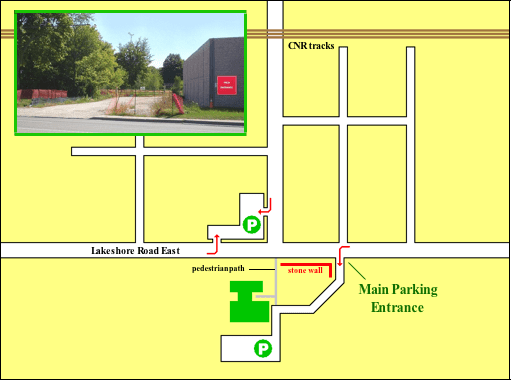 https://preservedstories.com/wp-content/uploads/2019/04/Preserved-Stories-logo-horizontal-1.png
0
0
Jaan Pill
https://preservedstories.com/wp-content/uploads/2019/04/Preserved-Stories-logo-horizontal-1.png
Jaan Pill
2014-09-06 15:50:10
2014-09-10 16:23:28
Watch for temporary entrance to Small Arms building east of Dixie Road and Lakeshore Road East