Spaghetti Junction – The Farewell Tour: 10:30 am, Saturday, May 2, 2015 Jane's Walk hosted and led by MPP Peter Milczyn
I'm pleased to share the following overview of Etobicoke-Lakeshore MPP Peter Milczyn's Saturday, May 2, 2015 Jane's Walk.
The walk starts at 10:30 am at the Starbucks at 5251 Dundas St. West (on the south side of Dundas) near the Kipling subway station.
This is a once-in-a-lifetime opportunity to join a guided tour, by Peter Milczyn, of the Spaghetti Junction before it gets untangled forever.
Mark it in your schedule book today.
A PDF version of the flyer can be accessed here:
Please note:
"We will be traversing a construction site. Sturdy walking boots or construction boots would be in order. Hopefully the main site will be relatively dry."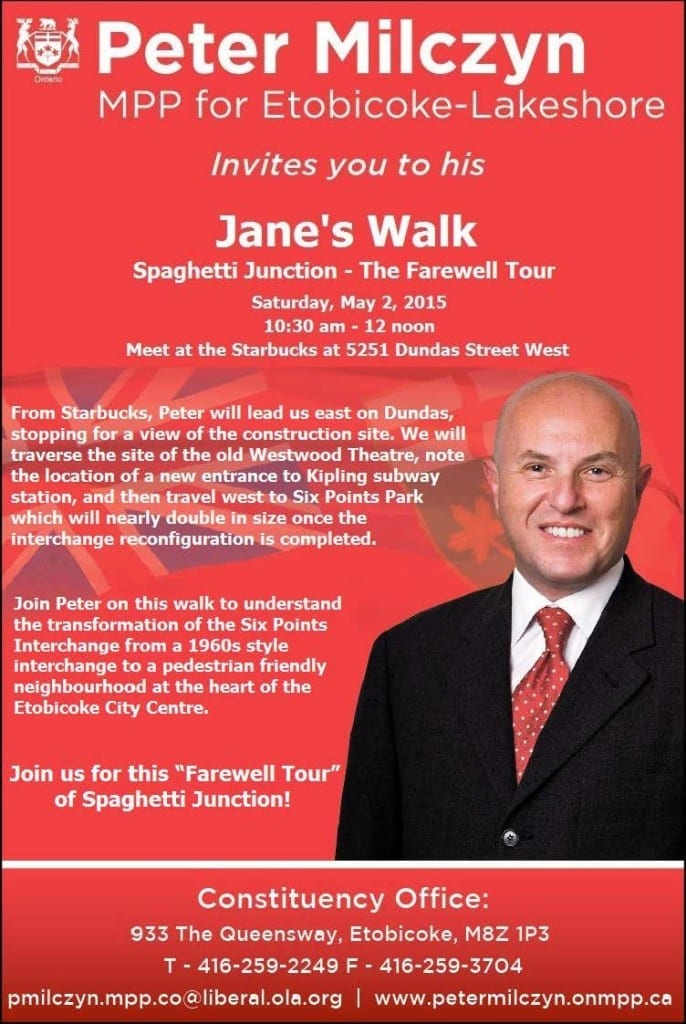 Spaghetti Junction Farewell Tour
The walk is led by Etobicoke-Lakeshore MPP Peter Milczyn. We begin at the Starbucks on the south side of Dundas St. West near the Kipling subway station. We travel east on Dundas, stopping for a view of the construction site. We traverse the site of the old Westwood Theatre, note the location of the new entrance to the Kipling subway station, and then travel west to Six Points Park which will nearly double in size once the interchange reconfiguration is completed.
In the 1960s the former Metro Toronto conceived and built the interchange to speed traffic through the awkward intersection of Kipling, Dundas, and Bloor (Six Points). Then a suburban site at the edge of the city the interchange was to assist with traffic flow from the industrial areas to the south onward to Highway 427 in the west. In the 1980s the former City of Etobicoke identified this area as its future City Centre, an unrealizable dream due in part to the design of the road network.
As a City of Toronto Councillor, Peter Milczyn led the planning and redesign for the City Centre area as well as changes resulting in the Six Points Reconfiguration project. The scale and transformative nature of the plans for the area have been noticed internationally as an example of urban renewal. Peter delivered a lecture on the project to the Harvard Graduate School of Design, and has presented the site to representatives of M.I.T. (Massachusetts Institute of Technology) as a case study focusing on data-driven decisions related to redevelopment and mobility. Join us for this "Farewell Tour" of Spaghetti Junction.
Update
A March 1, 2017 CBC article is entitled: "City poised to redevelop Etobicoke's 'spaghetti' junction: Design, welcomed by area parents and councillor, to better serve pedestrians."
Click on the images to enlarge them. Click again to enlarge them further.
https://preservedstories.com/wp-content/uploads/2019/04/Preserved-Stories-logo-horizontal-1.png
0
0
Jaan Pill
https://preservedstories.com/wp-content/uploads/2019/04/Preserved-Stories-logo-horizontal-1.png
Jaan Pill
2015-04-18 15:32:35
2018-04-29 07:42:55
Spaghetti Junction – The Farewell Tour: 10:30 am, Saturday, May 2, 2015 Jane's Walk hosted and led by MPP Peter Milczyn