Michael Drescher takes over as Director of Heritage Resources Centre when Robert Shipley retires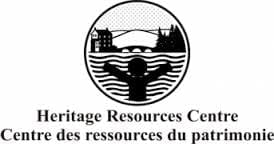 New era begins for Heritage Resources Centre at University of Waterloo
Click here for previous posts regarding HRC >
The following text and photos are from the November 2015 HRC Newsletter:
Professor Michael Drescher is set to take over the Directorship of the HRC on the pending retirement of Professor Robert Shipley. Robert became Director in 2003 following Professor Gordon Nelson, founder of the Centre. Michael will assume leadership early in 2016.
Along with a new Director the HRC will take on a new organizational structure that will bring it into line with current university guidelines for institutes and research centres. In particular the HRC will have board members from different faculties and will expand to embrace interfaculty research initiatives. Several faculty members from Arts have already expressed interest in taking a greater role in the management of the Centre.
Along with members from within the University the HRC will maintain and expand its interaction with groups and organizations from the heritage community at large.
Building Stories Workshop in Wiarton, South Bruce Peninsula
On Friday October 16th, Professor Robert Shipley and masters student intern Beth Davies went to the town of Wiarton in the South Bruce Peninsula to conduct a workshop on Building Stories for the South Bruce Peninsula Heritage Committee. During the workshop, they had the opportunity to teach participants how to create a profile on Building Stories and how to upload entries onto the system.
 National Trust Conference in Calgary
HRC members Robert Shipley and Beth Davies attended this year's National Trust for Canada conference in Calgary, October 20 to 25. As usual there were many great sessions and tours and the chance to re-establish contacts with activists from across the country.
If you have any content or events you would like to add to future newsletters, please e-mail Beth Davies at info@buildingstories.co
[Yes, that's info@buildingstories.co – it's not a typo; check it out]
[End of text from HRC Newsletter]
Comment
I attended a workshop at the Heritage Resources Centre some time back and was very impressed with the work that the centre is doing – including the Building Stories project that the centre has developed.
https://preservedstories.com/wp-content/uploads/2019/04/Preserved-Stories-logo-horizontal-1.png
0
0
Jaan Pill
https://preservedstories.com/wp-content/uploads/2019/04/Preserved-Stories-logo-horizontal-1.png
Jaan Pill
2015-11-11 15:41:11
2015-11-11 15:50:50
Michael Drescher takes over as Director of Heritage Resources Centre when Robert Shipley retires