Susan (Holmes) Nash has shared information about the life and career of MCHS alumna Linda Chow
In a previous post, entitled Provisional list of MCHS '60s (and other decades) students/alumni/teachers who have passed away, we have spoken of Tom von Eicken and Linda Chow:
59. Tom von Eicken (11B, 1962; married to Linda Chow) passed away in Anshan, China on May 6, 2003, after a year and a half of teaching and travelling throughout China.
60. Linda Chow (11E, 1963; married to Tom von Eicken) passed away on March 31, 1998.
[End of text]
We owe thanks to MCHS grad Susan (Holmes) Nash for sharing with us details regarding the life and career of Linda Chow.
Linda Chow
The text in the obituary reads:
Born in May – Yuen China, Linda received her secondary education in Montreal then graduated from the Royal Victoria Hospital School of Nursing in 1966. At this time Linda was also awarded certificates in accounting and small business administration from Sir George William and McGill Universities. The wife of Thomas H. von Eicken, Linda was an active mother of daughters Tamiko (Bursey), Vanessa, Kimberly (Ishmael) and Betina; and caring grandmother to Madison, Devon and James-Thomas.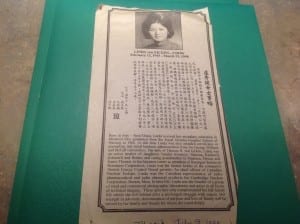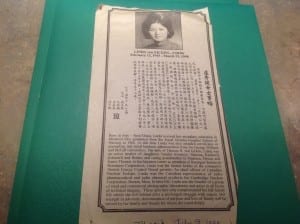 In her business career as president of Roentgen Technical Resources Corporation, Linda was the license holder of the company's Atomic Energy Control Board permits. As chief officer of Canadian Nuclear Isotope, Linda was the Canadian representative of radio pharmaceutical and radio chemical products for Cambridge Nuclear Corporation Boston, Mass. In later life, Linda was the founder of a group of retail and commercial photographic laboratories and active in all facets of technical imaging.
These activities only complemented her full family life which she left behind after a prolonged struggle with cancer. Her strength in adversity, determination of purpose and love of family will be missed by her family and friends for whom she cared deeply.
[End of text]  
Related posts which mention Linda Chow and Tom Von Eicken:
Nikki (then called Ellen) King (MCHS 1962) has shared Malcolm Campbell High School updates, from the years that followed the 1960s
Sue (Robinson) Brady (MCHS '64) shares more details about MCHS Alumni in B.C. and elsewhere
Tom von Eiken
A May 10, 2003 obituary notice notes that Tom von Eiken died unexpectedly in Anshan, China on May 6, 2003, after a year and a half of teaching and travelling throughout China, as a legacy to his late wife, Linda.
Lewis Hong Chow
A July 1, 2015 SooToday.com article about Linda Chow's father is entitled: "Lewis Hong Chow: a great Canadian (5 photos)."
Susie Chen
An Oct. 9, 2004 Ottawa Citizen obituary notice regarding Linda Chow's mother, Susie Chen, can be accessed here.
Click on photos to enlarge them; click again to enlarge them further
https://preservedstories.com/wp-content/uploads/2019/04/Preserved-Stories-logo-horizontal-1.png
0
0
Jaan Pill
https://preservedstories.com/wp-content/uploads/2019/04/Preserved-Stories-logo-horizontal-1.png
Jaan Pill
2016-03-15 20:08:09
2016-03-16 13:10:57
Susan (Holmes) Nash has shared information about the life and career of MCHS alumna Linda Chow