The recent newsletter of the Small Arms Society in Mississauga includes some great information about the work that is proceeding at the Small Arms Building in Lakeview, located at the corner of Dixie Road and Lakeshore Road East, about a kilometre west of the Long Branch GO station.
Click here to access previous posts about the Small Arms Building >
I've been volunteering in an effort to further the work of the Small Arms Society for some years.
Why did I become involved?
I attended one the Doors Open events at the Small Arms Building and was super impressed with all that I heard and saw.
I'm also impressed with the quality of all of the communications that I've encountered regarding the Small Arms Building, the Lakeview Waterfront Connection Project, Inspiration Lakeview, and the Lakeview Legacy Project.
Effective, clear communication about community-initiated, community-driven projects are a tremendous source of inspiration for me. That's why I became involved, quite a few years ago.
Last year I took the step of formally signing up as a member of the Small Arms Society. I cautioned the executive of the Society that in fact I live in Long Branch in Toronto, not Lakeview in Mississauga. They said, "Great! You're on board. We love reaching across the borders!"
A key bit of information from the most recent SAS newsletter is the following: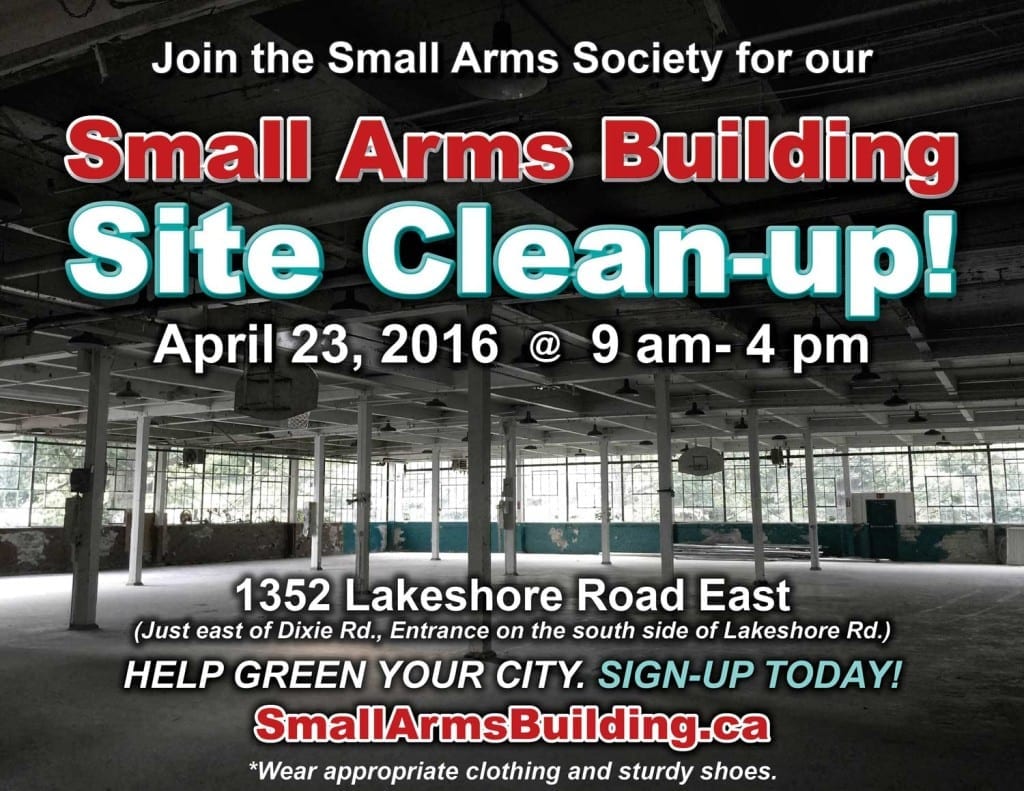 A great opportunity to help with clean-up efforts at the Small Arms Building this coming Saturday:
April 23, 9-4 pm
Sign-up (by sending an email to info@SASociety.ca) and receive a FREE tour of this historic building!
[Or just turn up; you may STILL get a free tour!]
As noted above: Wear appropriate clothing and sturdy shoes.
Upcoming projects are also in the works
In the following months, the Small Arms Society will be sharing details about the unique events, and plans that are now under development at the Small Arms Building for 2016. As part of SAS's proposed adaptive reuse of the Small Arms Building, they will be hosting or sponsoring events a the Small Arms Building (Located at 1350 Lakeshore Road East, Mississauga).
Adaptive re-use of the Small Arms Building
The Small Arms Society is dedicated to promoting and guiding an adaptive re-use of the Small Arms Building and to connect with stakeholders to encourage the creative use of spaces for a dynamic mix of heritage, arts, science, and environmental endeavour.
Volunteers play a key role in the work of the Small Arms Society
The individuals making up this creative class – we're talking about volunteers, such as myself and others who like to do enormous amounts of volunteer work – have a different set of values, work ethic, and understanding of collaboration across traditional lines. The importance of bringing together culture, science, heritage, and arts into one facility in flexible-use space cannot be overstated.
Hoping to see you on Saturday!
https://preservedstories.com/wp-content/uploads/2019/04/Preserved-Stories-logo-horizontal-1.png
0
0
Jaan Pill
https://preservedstories.com/wp-content/uploads/2019/04/Preserved-Stories-logo-horizontal-1.png
Jaan Pill
2016-04-19 18:30:05
2016-04-19 19:44:40
Join us for the Small Arms Building Site Clean-Up – a great volunteer opportunity! Saturday, April 23, 2016 – 9:00 am to 4:00 pm