Noise complaints regarding increased aircraft traffic in Alderwood, Long Branch, and Markland Wood; meeting on April 19, 2017
Updates
Please refer to more recent posts:
Message from Lakeshore Planning Council regarding air traffic noise in Markland Wood, Alderwood, and Long Branch
MP Borys Wrzesnewskyj (Etobicoke Centre) spoke most eloquently at the April 19, 2017 GTAA Air Traffic Noise meeting
A late-April 2017 CTV news report is entitled: "Runway construction at Pearson leads to ground delays."
An April 21, 2017 Etobicoke Guardian article is entitled: "Etobicoke residents issued apology for Pearson airport flight noise: Operations to normalize following completion of runway rehab: GTAA."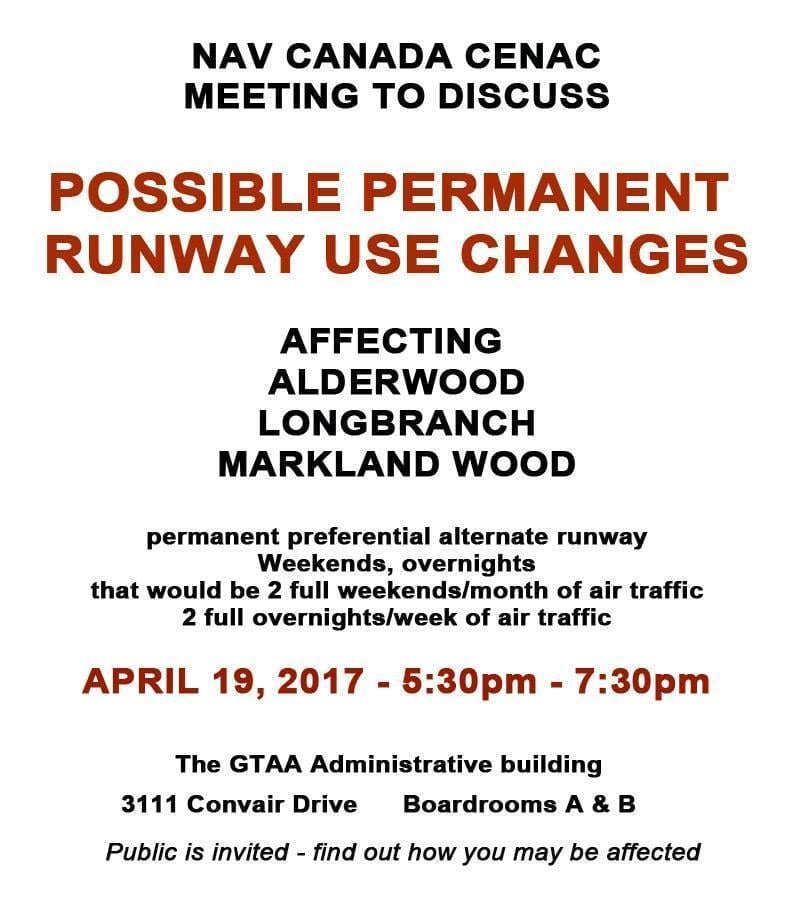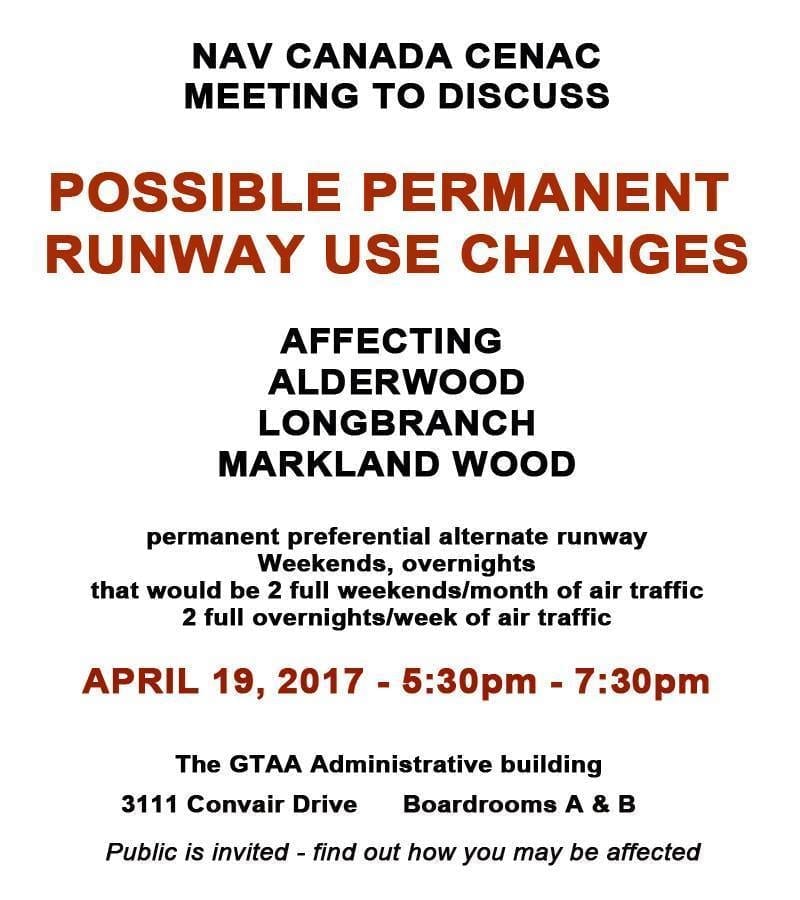 I have received the following message by email, and have also read about this topic at a "Long Branch Development" Facebook Page.
Message regarding increased aircraft traffic over Alderwood and Long Branch reads as follows:
You probably have noticed that the airplane traffic and noise has increased lately and there are plans by the GTAA to have planes fly over our houses for 2 weekends a month and 2 nights a week all night permanently.
Anyways there is a number/email you can contact to register your complaints. This is basically how the air traffic has been rerouted to our neighbourhood because other neighbourhoods complained loudly.
https://www.torontopearson.com/en/noisecomplaint/#
There is also a big meeting scheduled for April 19th to address the issue, I am not sure of the details.
There is also a Facebook page "Alderwood Airplane Noise":
https://www.facebook.com/groups/283181248789297/
[End]
[The comments below serve to round out some of what is known, regarding this topic]
Meeting on April 19, 2017
For details, here's a link:
https://www.facebook.com/photo.php?fbid=10211211769662570&set=p.10211211769662570&type=3&theater
Earlier updates
An April 2017 (not clear about exact date) CBC article is entitled: "Planes diverted around Toronto skies while Canada's busiest runway gets a facelift: East-west Runway 05-23 will be closed for repairs until mid-May."
An April 16, 2017 CBC article is entitled: "Toronto homeowners cash out of hot real estate market amid uncertainty: Agent says some buyers are delaying purchases in anticipation of possible fixes."
https://preservedstories.com/wp-content/uploads/2019/04/Preserved-Stories-logo-horizontal-1.png
0
0
Jaan Pill
https://preservedstories.com/wp-content/uploads/2019/04/Preserved-Stories-logo-horizontal-1.png
Jaan Pill
2017-04-12 11:07:42
2017-06-29 09:31:48
Noise complaints regarding increased aircraft traffic in Alderwood, Long Branch, and Markland Wood; meeting on April 19, 2017