When I visit the USA, I adopt the mindset of "the foreign correspondent"
Update
As noted in a comment at the end of this post, the flippant tone of my review of the Chicago Tribune "gentrification" article is perhaps not warranted.
Accordingly, a tentative bottom line that occurs to me, influenced by the preface by Richard J. Evans in the first of his three books – his trilogy – about Nazi Germany, is that a writer is best to keep to a minimum the moral and ethical "baggage" that can be brought to a writing task, in that way leaving it up to the reader to decide, in whichever way occurs to the reader, what the most appropriate way will be, for the reader to judge – in the context of morality, ethics, and the like – the information and details that a writer has shared.
[End]
Many people that I know in Toronto like to visit Buffalo.
I've been there a few times.
In previous years I wasn't much interested in travelling to Buffalo but now I'm starting to see it can be a lot of fun – a visit to a foreign country.
On Sunday, Nov. 19, 2017 on my most recent visit, I enjoyed a stop at Wegmans at 651 Dick Road in Depew, NY.
Wegmans is a great place to do some shopping; the setting is cheerful and the food (assuming you choose wisely, of course) is good, and healthy. You can stop for a snack right in the store, paying for it at a cashier, leaving your cart full of groceries nearby while you eat, and before you proceed to a checkout.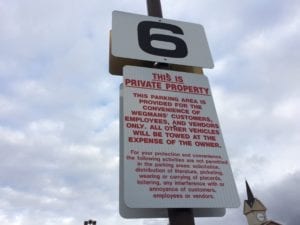 I noted that the warning-signage at the Wegmans parking lot and elsewhere is written in clearly worded declarative sentences often backed up by implicit or explicit references to the rule of law.
On a Sunday, the travel through customs went quickly, wherever it was that we crossed. (I wasn't driving, so I didn't pay attention.)
I would describe it as a cross-cultural experience. I like to approach a visit to the USA through "the eyes of a foreign correspondent."
In fact, I like to approach events and happenings in Long Branch in Toronto, where I live, on the same terms.
I was especially interested in the magazine racks at Wegmans and bought two magazines – the November / December 2017 issue of Dwell: At Home in the Modern World; and the October 2017 issue of New York Spaces: The Home Design Magazine of Metropolitan New York. There's a particular design project that I'm interested in and the magazines were helpful in getting me oriented with regard to it.
There's a standard visual trope or meme that recurs in such magazines. The meme features an appealing view of untrammelled nature, as seen through a picture window of an artfully designed interior. I am reminded of the machine in the garden trope of postwar industrial land-use design.
Plus, I like to see print magazines that have a good business model, that enable them to survive, and reach a paying audience.
A cross-cultural experience
I also came across a copy of the Sunday (Nov. 19, 2017) edition of The Buffalo News. The front page of the Business Section of the latter paper gave readers notice that an article on Page G7 addressed a most intriguing topic, that is to say: "Exploding common myths about housing: Statistics uncover reality of gentrification, poverty and property values."
The article, from the Oct. 18, 2017 Chicago Tribune, is entitled: "3 housing myths, debunked: Poverty, property values, and gentrification."
The opening paragraph notes that "as one grows more attached to a residence over the years, feelings often deepen as house becomes home and memories start to accumulate."
Well, I would say that sometimes as the years pass, a person becomes less attached. It depends on the person, and the family.
The article notes, anyway, that "According to experts," "myths abound" regarding "gentrification, poverty and low-income housing."
First myth of gentrification, according to Oct. 18, 2017 Chicago Tribune article
"Myth 1: Gentrification has as much to do with morals as with economics," the article notes, and adds that varied definitions exist regarding gentrification. An expert is quoted who asserts that gentrification "becomes sticky only when we assign moral weight to the term."
Good to know.
The expert is quoted as attending to the relevance of the terms:
demarcation
devaluation
deterioration
demolition, and
defunding
The bottom line, if you follow the narration to its logical conclusion, is that gentrification carries no moral weight at all.
Having made quick work of the first myth, the text turns to the second on the list.
Second myth
"Myth 2: There is more poverty in cities than in suburbs."
Statistics are referenced indicating the poverty has reared its head in the suburbs as well.
An expert is quoted as observing: "I think we're not aware of these trends in part because suburbs were created to be exclusive places … and therefore no suburb really wants to think they have a poverty problem, partly because it may require them to do something about it — but it also may affect their ability to maintain property values or to attract new homeowners."
What's interesting, the article adds, is that "poverty is as segregated in suburbs as it is in cities."
How can poverty become a thing of the past both in cities and suburbs? Strengthen safety nets, the article says. That will solve the problem.
And we proceed to the third myth.
Third myth
"Myth 3: Having low-income housing in your community reduces property values."
The topic is covered in a manner that is of interest. If you have an interest in learning about this myth, please refer to the Chicago Tribune article, at the conclusion of which you will be de-mystified.
It's an enjoyable article. I also bought a print edition of the Sunday New York Times. It's a fun read but I do keep in mind that the paper acted as a "stenographer to power" during the run-up to the American invasion of Iraq. It's one of those little things that I keep in mind, as I read the New York Times.
I like the way the stories are structured. They have a start, middle, and end and things do appear to fit into place well, my recollections about Iraq notwithstanding.
Sometimes, a copy of the Sunday edition is enough to keep me reading for several months. I like to make a close study of articles that I read, when I can. That takes time, and some concentration of attention. I like especially to consider how the stories are constructed, and how language is used to advance particular arguments or themes. The New York Times is a fun paper. There is much of value in the contents from what I can see.
Williamsville, NY
From Wegmans on Dick Road in Depew, NY, we next travelled to a fabled Talbot's outlet in Williamsville, NY. You can save a lot of money by buying things online in Canada, and then going to the Talbots outlet to pick them up. If they don'd fit, you get a refund there and then, as I understand. (I don't follow all the details.)
I had close to an hour to spare, as I was not involved with the in-store Talbot's visit. This was my second visit to Williamsville. On this occasion, I walked along Main Street for some distance, stopping at some historic houses that caught my eye.
I noted that many historic buildings in Williamsville have been repurposed for contemporary uses. I also learned that one old building, which in particular caught my eye, may be headed toward a tear-down as part of a new development.
I also learned, through a conversation with a local resident (who as often occurs, asked what I was doing with my camera) that another historic house, dating from the early 1800s, is fortunately not under threat, as a local judge has purchased it and is taking great care to fix up the interior.
What was I doing with my camera? I was a visitor from Toronto (you can tell by my accent) and I enjoy taking pictures of historic houses, wherever it is that I am travelling.
I do not know what kind of heritage preservation regime is in place in Williamsville, or elsewhere in New York state, but am keen to learn more.
I also walked along a residential area where one house in particular caught me eye, as it had an expressiveness about it – as if it had jumped off of an architect's old-time drafting table to appear fully fleshed out, in its good-natured expressiveness, as a reality on the ground.
That house was designed using analog methods – as in drawings on a drafting table; I am relatively certain of that. It does not look like a house that an architectural technician (who is not an architect) would design using a software program, as perhaps has become standard practice in many places in the world today. (Some of those places include Long Branch, where I live now.)
Richard J. Evans
On the way to Buffalo and on my way back, I read three passages from three books, namely:
The Third Reich at War (2008) by Richard J. Evans, and two books on strength training,
Bigger, Faster, Stronger: The Proven System for Developing Athletes (2017) by Ken Shepard and Kim Gross; and
Eat. Lift. Thrive (2017) by Sohee Lee
I've been reading all three of Richard J. Evans' trilogy of books about Nazi Germany – focusing upon the coming to power of the regime; the years it was in power up to 1939; and its conduct in wartime –  as well as several other books addressing several related themes. I began an intensive process of focused reading of recent studies in this area, after a close study of my father's photo album from the 1936 Berlin Summer Olympics.
https://preservedstories.com/wp-content/uploads/2019/04/Preserved-Stories-logo-horizontal-1.png
0
0
Jaan Pill
https://preservedstories.com/wp-content/uploads/2019/04/Preserved-Stories-logo-horizontal-1.png
Jaan Pill
2017-11-20 00:13:56
2017-11-21 12:05:14
When I visit the USA, I adopt the mindset of "the foreign correspondent"