Nov. 27, 2013 update regarding Inspiration Lakeview
Please note:
The Inspiration Lakeview meeting (described below) is on Nov. 27, 2013 and the Lakeview Waterfront Connection Project Environmental Assessment meeting is on Nov. 20, 2013.
The following message is from Inspiration Lakeview:
You are invited to Join the Conversation!
November 27, 2013
Join us for an update on the status of Inspiration Lakeview.
Date: November 27, 2013
Time: 6:30 pm to 9:00 pm
Location: Cawthra Seniors' Centre, Olga Tyne Room. 1389 Cawthra Road, Mississauga
(beside the Carmen Corbasson Community Centre.)
Please SAVE THE DATE!
Show up – Stand up – Stay connected
It's your Mississauga waterfront.
Help define the vision.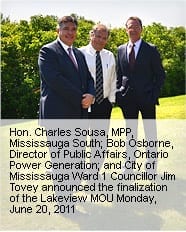 Visit the website for more information
on the project…
www.mississauga.ca/lakeview
[End of text]
Comment
What's an MOU (see photo above)? It's a Memorandum of Understanding.
As I've mentioned in previous posts, I am highly impressed with the Lakeview Inspiration concept – and with the exemplary communications and community consultation associated with the project.
Community input
Communications and community input – including in the context of Placemaking – are topics of particular interest to me.
When communications of any kind work well, I notice it. As with many people, I really enjoy witnessing the outcome of an effective communications strategy. I also have an interest in community input, especially given that with such a process, the distinction between appearance (perception) and reality is of strong importance.
Aug. 11, 2013 interview with Jim Tovey
An interview that I did with Ward 1 Mississauga Councillor on Aug. 11, 2013 provides background about the project.
To access the interview, click here.
Sand Beach on west side of Etobicoke Creek at Marie Curtis Park
A related topic, in the context of the Lakeview Waterfront Connection Environmental Assessment project, concerns the fate of the Sand Beach at Marie Curtis Park on the Toronto side of the Mississauga-Toronto border. Background regarding this topic can be accessed here.
https://preservedstories.com/wp-content/uploads/2019/04/Preserved-Stories-logo-horizontal-1.png
0
0
Jaan Pill
https://preservedstories.com/wp-content/uploads/2019/04/Preserved-Stories-logo-horizontal-1.png
Jaan Pill
2013-10-31 07:31:17
2013-11-06 15:38:26
Nov. 27, 2013 update regarding Inspiration Lakeview