Workers, Warriors, and Weapons: Open House at Dixie Road and Lakeshore Road East, Saturday, September 29, 2012, 10:10 am – 4:00 pm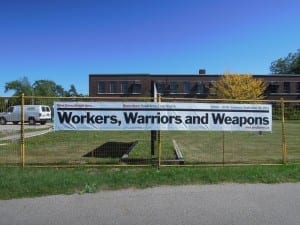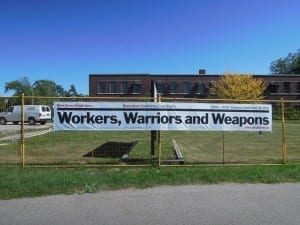 I happened to read this banner while riding my bicycle in the neighbourhood. Usually I ride along the Waterfront Trail from Long Branch to Port Credit or thereabouts and back. On a recent ride, I changed my route to have a look at the Small Arms Building. That's when I saw the banner.
I attended a similar open house at the Small Arms Building in Mississauga around September 2011. I was highly impressed with this heritage site, and with the information that was shared at the event. I was very pleased as well to meet people who had worked at the arms plant during the Second World War. I was delighted to learn that this building will be preserved and repurposed. It's a beautiful building. Such a strong sense of history is attached to it.
This year's event promises to be equally impressive. If you have the opportunity to attend to attend , I recommend it highly.
Remember the date: Saturday, September 29, 2012.
Note the website: http://www.smallarms.ca
The Small Arms Plant is in Mississauga at Dixie Road and Lakeshore Road East. The latter roadway turns into Lake Shore Blvd. West when you cross the Mississauga – Toronto boundary line as you head east toward Long Branch.
The information at the bottom of the banner reads as follows:
Doors Open is presented by Culture Division, City of Mississauga in partnership with participating sites.
Visit www.mississauga.ca/doorsopen for further information.
Tours of the Small Arms Building are coordinated by the Lakeshore Legacy Foundation with the support of Toronto Region Conservation.
https://preservedstories.com/wp-content/uploads/2019/04/Preserved-Stories-logo-horizontal-1.png
0
0
Jaan Pill
https://preservedstories.com/wp-content/uploads/2019/04/Preserved-Stories-logo-horizontal-1.png
Jaan Pill
2012-09-10 19:01:22
2013-08-17 14:22:57
Workers, Warriors, and Weapons: Open House at Dixie Road and Lakeshore Road East, Saturday, September 29, 2012, 10:10 am – 4:00 pm