Etobicoke-Lakeshore MPP Laurel Broten's New Year's Levee invitation – Sunday, Jan. 6, 2013 – 2:00 – 4:00 pm
Message from the Office of Etobicoke-Lakeshore MPP Laurel Broten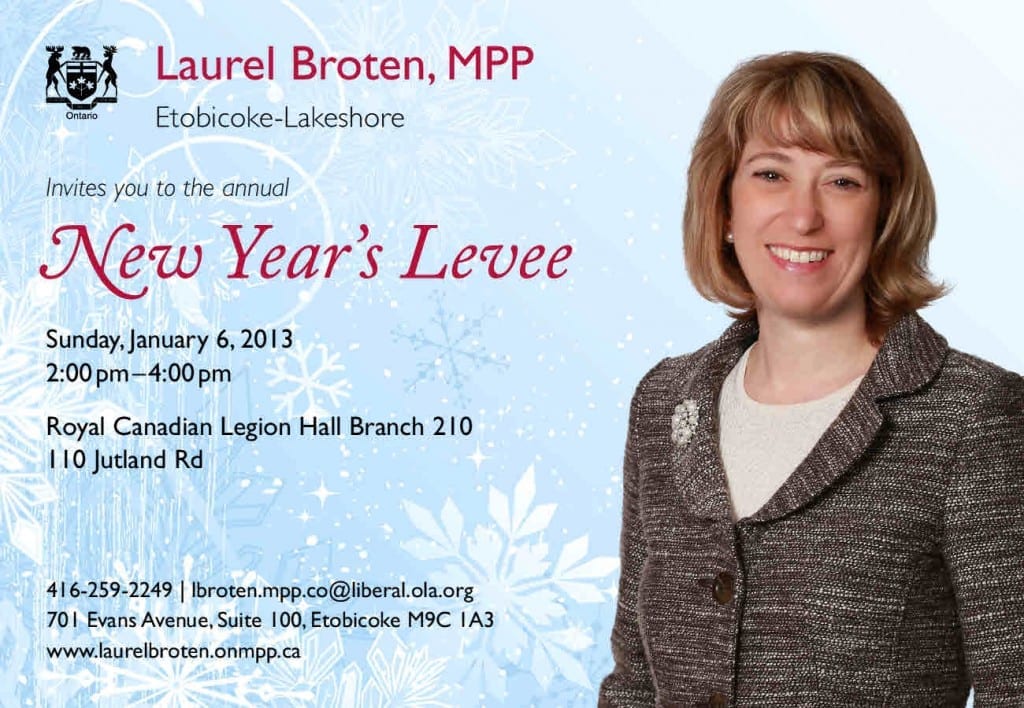 The Levee will take place on Sunday, January 6th from 2:00 – 4:00 pm at the Royal Canadian Legion Hall Branch 210 – 110 Jutland Road.
This is a community event that is open to everyone, and Laurel is hoping to see many Etobicoke-Lakeshore residents there, as well as local business owners and community agencies' staff, to meet and greet the New Year and enjoy some refreshments.
Please accept our very best wishes for a peaceful, healthy and happy New Year.
Office of Laurel Broten, MPP
Etobicoke – Lakeshore
Tel: (416) 259-2249
Fax: (416) 259-3704
http://www.laurelbroten.onmpp.ca
https://preservedstories.com/wp-content/uploads/2019/04/Preserved-Stories-logo-horizontal-1.png
0
0
Jaan Pill
https://preservedstories.com/wp-content/uploads/2019/04/Preserved-Stories-logo-horizontal-1.png
Jaan Pill
2012-12-22 14:23:53
2013-01-10 14:36:27
Etobicoke-Lakeshore MPP Laurel Broten's New Year's Levee invitation – Sunday, Jan. 6, 2013 – 2:00 – 4:00 pm