Building proposals for Long Branch Go Station and Legion lands
I'm pleased to share with you the following image of construction plans related to the Royal Canadian Legion – 101 Long Branch property at the Long Branch GO Station. The online source source for the image can be accessed here.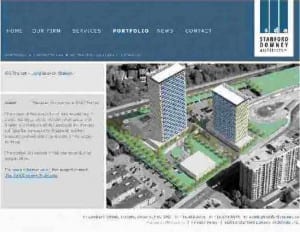 [You can access the image and the related text at the link in the previous sentence.]
The text accompanying the image reads as follows:
Terrasan Corporation and GO Transit
"The scope of this project includes developing 2 condo buildings which include retail space and limited GO station with full accessibility. Parking will also be increased to double its existing capacity and will also incorporate a new Legion building.
"The station will remain in full operation during construction.
"For more information on this project contact Stanford Downey Architects."
"Limited GO station" appears to be a technical expression. Stanford Downey Architects are also involved with the Mimico GO Station redevelopment described in an earlier blog post.
Legion newsletter
The redevelopment plans for the Long Branch GO Station are highlighted in a recent Legion-Branch 101 newsletter:
The newsletter provides the following update:
Terrasan  update
"As previously reported, Terrasan, our joint venture partner on the redevelopment proposal, entered into a Letter of Intent with Metrolinx (GO Transit) in March 2011 to complete a feasibility study for the redevelopment of the Branch 101 and GO Station lands. Terrasan prepared a terms of reference and a work program for the feasibility study and this was approved by Metrolinx in late summer.
"In September, Terrasan and its consultants began the process of preparing the feasibility study by undertaking certain background work, including site visits, an inventory of the site and surrounding area, carrying out various preliminary technical and land use analyses (transportation, real estate market evaluation and planning policy review).
"These analyses formed part of a detailed draft background study which was completed in November and is currently being reviewed by Metrolinx.
"Over the last year, Metrolinx has put this work on the back burner as they deal with other issues of the Toronto/Ontario transportation.
"Although this proposal is still feasible and is supported by our councillor Mark Grimes, the lack of progress by Metrolinx is frustrating. If we do not see progress in 2013, the Executive will begin to look at other alternatives."
Click on these photos to enlarge them. Click again to enlarge them further. Additional views of the area, which is close to Etobicoke Creek, can be found at an earlier blog post. The site of the Colonel Samuel Smith homesteadis a short distance south of the area under discussion.
https://preservedstories.com/wp-content/uploads/2019/04/Preserved-Stories-logo-horizontal-1.png
0
0
Jaan Pill
https://preservedstories.com/wp-content/uploads/2019/04/Preserved-Stories-logo-horizontal-1.png
Jaan Pill
2013-01-24 09:19:32
2013-01-30 19:23:02
Building proposals for Long Branch Go Station and Legion lands