Our City Our Future: Decongesting Toronto – Panel Discussion – Mon. Mar 4, 2013 – 6:00 pm – 8:00 pm
The following information is based on the email indicated below. To access the links, cut and paste the URLs. I owe thanks to David Juliusson for sharing this information with me.
From: Toronto Official Plan Review [OFFICIAL-PLAN-REVIEW@LISTS.TORONTO.CA] on behalf of Official Plan Review [opreview@TORONTO.CA]
Sent: March 1, 2013 11:53 AM
To: OFFICIAL-PLAN-REVIEW@LISTS.TORONTO.CA
Subject: Update No. 24 – February 27, 2013
[Our City Our Future]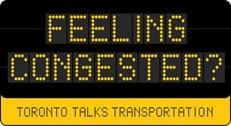 Image source: http://www.toronto.ca/opreview/e-blasts/images/feelingcongested.jpg
Update No. 24 – February 27, 2013
Evening Panel Discussion:
Decongesting Toronto
Building a Great City by Changing The Way We Move
feelingcongested.eventbrite.com
Toronto is a vibrant, growing, and prosperous city, and is currently having an important city-wide conversation about how to plan and invest in improving its transportation and transit infrastructure.
Toronto's roads and transit system have become increasingly congested over the past decades, but across the city, people's attitudes are now changing about the need for new transportation and transit infrastructure and the need for new funding tools to pay for it.
The city is hosting an evening panel discussion to discuss these topics further, as part of the "Feeling Congested?" Official Plan Review public consultation campaign. The panel discussion will take place at:
6 – 8 p.m.
Monday, March 4, 2013
St Lawrence Centre for the Arts (Jane Mallett Theatre)
27 Front Street East
Toronto, ON M5E 1B4
How does Toronto take advantage of this important turning point and harness new investments to create a better transportation system that fundamentally changes the way we move?
Attend the panel discussion and hear some of Toronto's and Canada's leading urban thinkers tackle this question as they discuss the issue of transportation and transit.
The panel discussion will be moderated by Matt Galloway, CBC Metro Morning radio host, and will consist of:
Jennifer Keesmaat, Chief Planner, City of Toronto
Larry Beasley, former Co-Director of Planning, City of Vancouver
Carol Wilding, President & CEO, Toronto Region Board of Trade
John Howe, Vice President, Investment Strategy & Project Evaluation, Metrolinx
Councillor Peter Milczyn, Chair, Planning and Growth Committee
Councillor Michael Thompson, Chair, Economic Development Committee
Please RSVP for this event at feelingcongested.eventbrite.com
Also visit the Feeling Congested website, feelingcongested.ca, and complete the city's online survey to give the city your feedback on Phase 1 of the public consultation process, which ends March 15, 2013. So far, almost 5,000 people have completed the survey. Add your voice to the conversation!
VISIT THE FEELING CONGESTED WEBSITE: feelingcongested.ca
FOLLOW US ON TWITTER: @congestedTO
SEND US AN EMAIL: feelingcongested@toronto.ca
LIKE US ON FACEBOOK: facebook.com/feelingcongested
SIGN UP FOR "OFFICIAL PLAN" E-UPDATES: toronto.ca/e-updates/index.htm
Visit www.toronto.ca/opreview – your portal for learning about and getting involved in the Reviews
[City of Toronto]
https://preservedstories.com/wp-content/uploads/2019/04/Preserved-Stories-logo-horizontal-1.png
0
0
Jaan Pill
https://preservedstories.com/wp-content/uploads/2019/04/Preserved-Stories-logo-horizontal-1.png
Jaan Pill
2013-03-02 17:58:11
2013-03-04 14:29:25
Our City Our Future: Decongesting Toronto – Panel Discussion – Mon. Mar 4, 2013 – 6:00 pm – 8:00 pm