Zoom H6 audio recorder review at videomaker.com
I've used an H4n audio recorder for many years. It's a delightful piece of equipment. I can say that it's added tremendously to the quality of my life. I've recorded so many great local history interviews with this audio recorder, often in synch with a couple of HD video recorders.
I also use an Zoom H1 as a backup and for times when I want a smaller recorder, and where the sound quality isn't as critical.
I always use a windscreen, even indoors.
I recently came across a review for the Zoom H6 with thanks to @philshapiro.
The Zoom H6 audio recorder review at video maker.com begins as follows: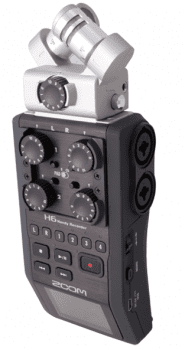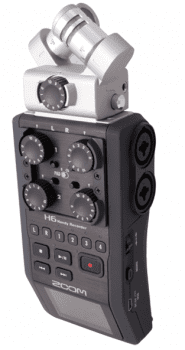 Zoom outdid even their own high-quality products with the release of the H6. The H6 is rugged, capable and one of the most exciting products we've seen in awhile. It's an absolute home run.
Zoom one-ups its own game with the H6. With the same intuitive design as Zoom's H4n, the H6 now comes with more, really fun options. Digital recording won't be the same. With four mic/line (XLR/TRS) inputs and the option to expand them to six, the H6 is flexible and suits just about every need. No matter what your use, from video production to music production, the H6 will satisfy. Unlike the H4n, and every other portable recorder, the H6 has changeable mic capsules. It can be your shotgun mic, Mid-Side pair mic or  X-Y stereo mic. On top of that, you can nix the mics all together and expand it to having six separate XLR/TRS inputs.
https://preservedstories.com/wp-content/uploads/2019/04/Preserved-Stories-logo-horizontal-1.png
0
0
Jaan Pill
https://preservedstories.com/wp-content/uploads/2019/04/Preserved-Stories-logo-horizontal-1.png
Jaan Pill
2013-11-04 18:05:08
2013-11-04 18:18:28
Zoom H6 audio recorder review at videomaker.com