Transit Town Hall – Wed., Feb. 3, 2016, 6:30 pm to 8:00 pm, St. Andrews Presbyterian Church, 3819 Bloor St. West
The following message is from MPP Peter Milczyn's Office:
Dear Neighbour,
With winter conditions upon us, I would like to remind you to take extra caution and allow more time when driving and walking.
Please join myself, MPP Yvan Baker and Transportation Minister Steven Del Duca for a Transit Town Hall. The Minister will be speaking and taking your questions about Ontario's plans to improve public transit in the community.
The Transit Town Hall is scheduled for:
Wednesday, February 3, 2016
6:30 – 8:00 pm
St. Andrews Presbyterian Church
3819 Bloor Street West
Please note that GO Transit has advised that real-time service information for GO Trains and Buses will be unavailable on Saturday, January 23rd from 4 a.m. until approximately 2:30 p.m. for system maintenance. Trains and buses will operate as usual during this time but some information services will not be available. For more information, please click here.
I look forward to seeing you on February 3rd.
Peter Milczyn
[End of text]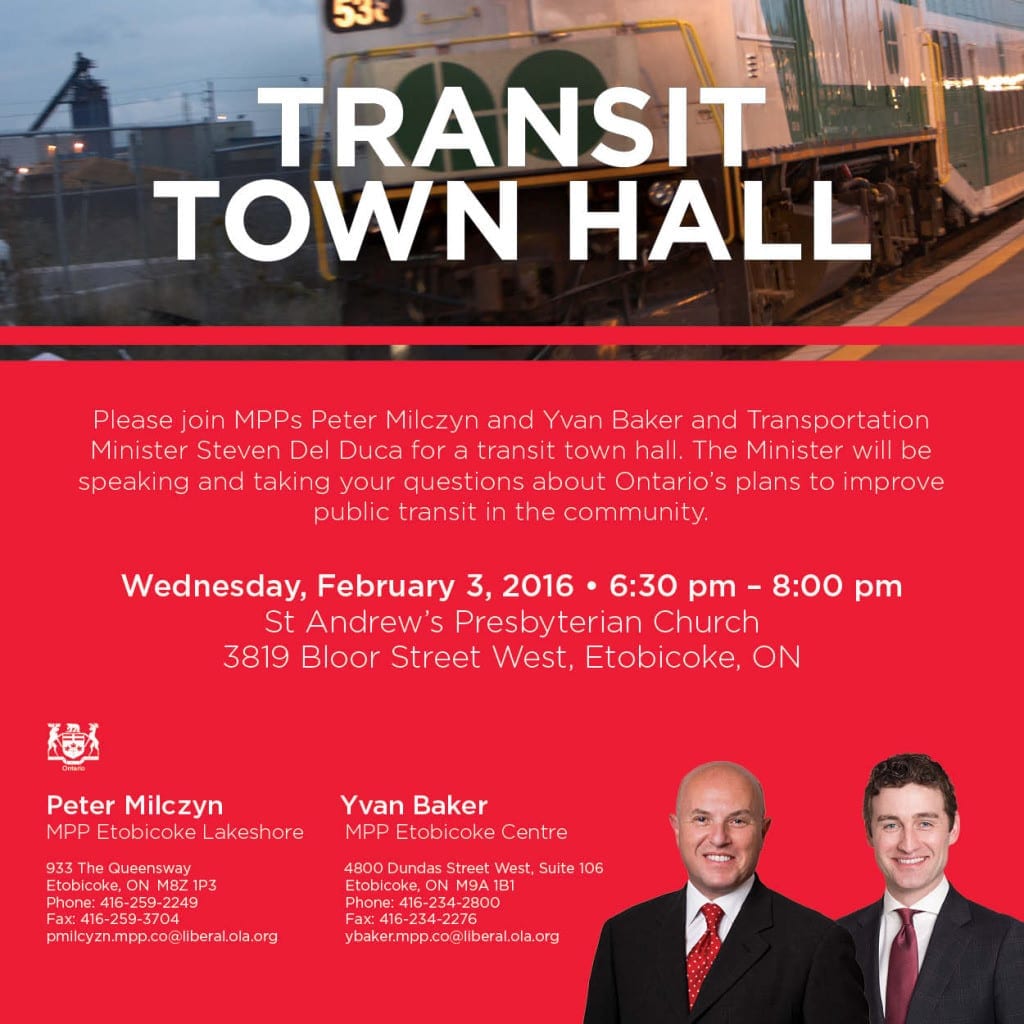 https://preservedstories.com/wp-content/uploads/2019/04/Preserved-Stories-logo-horizontal-1.png
0
0
Jaan Pill
https://preservedstories.com/wp-content/uploads/2019/04/Preserved-Stories-logo-horizontal-1.png
Jaan Pill
2016-01-22 12:47:54
2016-01-22 12:48:32
Transit Town Hall – Wed., Feb. 3, 2016, 6:30 pm to 8:00 pm, St. Andrews Presbyterian Church, 3819 Bloor St. West