MPP Peter Milczyn Oct. 7, 2016 e-News Update – Including: "Possible Changes to OMB"


Click here for previous posts regarding Etobicoke-Lakeshore MPP Peter Milczyn >
[The following message is from MPP Peter Milczyn's Constituency Office. I have not posted the images that are included with the message except for a few. However, a majority of the links are included; the ones not included can be found through a browser search as explained below.]
*
Please contact the Constituency Office if you wish to be on MPP Peter Milczyn's e-News Update mailing list
Dear Neighbour,
As we head into the Thanksgiving weekend, I feel it is important to take a moment to give thanks for all that we have and to remember those that are less fortunate than ourselves. Please remember that the Daily Food Bank needs your support for their Thanksgiving Food Drive. You can drop your non-perishable food donation off at any Fire Hall or if you wish to make a monetary donation, please click here.
I would like to wish all residents of Etobicoke-Lakeshore a Happy and Safe Thanksgiving weekend!
Peter Milczyn
Provincial News
Ontario Proposing Possible Changes to the Ontario Municipal Board to Improve Efficiency and Accessibility
The province is holding public consultations on possible changes to the role the Ontario Municipal Board (OMB) plays in the land-use planning system. Within the next couple of months, I will be hosting two Town Hall OMB Consultations (one in ward 5 and one in ward 6) for constituents in my Etobicoke-Lakeshore riding. More information, including dates and venues, to come!
The Board plays a central role in Ontario's land use planning process as an independent, public body where people can appeal or defend land use decisions that affect their property or community.
To help focus the discussion we are releasing a consultation document that outlines possible changes that could:
· allow for more meaningful and less costly participation
· give more weight to local decisions
· allow alternative ways to settle disputes
· result in fewer municipal and provincial decisions being appealed to the OMB
· support clearer and more predictable decision making.
For more information, please click here
Premier's Awards for Excellence in the Arts
The Premier's Awards for Excellence in the Arts celebrate the outstanding achievements of Ontario's arts community and its contributions to a strong, vibrant culture sector. Now in its 10th year, the program recognizes artists and arts organizations whose contributions span a significant period of time.
2017 nomination deadline: December 1, 2016
Any Ontario resident who enjoys and takes an interest in Ontario's arts and cultural industries may nominate an artist or arts organization for the awards. You may submit a nomination in one category only, for either the Artist Award or the Arts Organization Award, not both, per year.
For more information, please click here
Ontario Helping Etobicoke-Lakeshore Newcomers Settle and Succeed: Local Funding to Help Immigrants Adjust to Life in Ontario
Etobicoke – Ontario is supporting a project in Etobicoke-Lakeshore to help newcomers and their families adjust to life in Ontario.
* JobStart is receiving $130,000 over two years to provide settlement services in Etobicoke to approximately 1,250 newcomers.
The Newcomer Settlement Program helps newcomers and refugees find housing, enrol their children in school, learn about life in Ontario, find employment and language-training supports, and develop social connections. Settlement services are offered free of charge in many communities and are available in several languages to provide newcomers with information, resources and community supports to help them integrate successfully.
As part of It's Never Okay: An Action Plan to Stop Sexual Violence and Harassment, a portion of this investment will support a multilingual awareness campaign targeting newcomers and refugees to help prevent sexual violence and human trafficking, as well as provide training for settlement workers on recognizing sexual violence.
To read my News Release, please click here
Ontario Making Hospital Parking More Affordable: Rates Cut in Half for Frequent Visitors to Hospitals
Ontario is reducing a financial burden on patients and their loved ones by requiring hospitals that charge more than $10 per day for parking to offer discounted passes that effectively cut the daily maximum rates for frequent visitors by at least 50 per cent.
Lowering parking costs by offering discounted parking passes will help people in their everyday lives by saving money for those who need to go to a hospital often, such as for a series of treatments, or to visit friends or family members who are in hospital for an extended stay.
Hospitals with a daily maximum rate of more than $10 are now providing 5-, 10- and 30-day passes that are:
* Discounted by at least 50 per cent off the daily maximum rate
* Transferrable among patients, caregivers and their vehicles
* Equipped with in-and-out privileges throughout a 24-hour period
* Valid for consecutive or non-consecutive days, at the choice of the pass user
* Good for one year from the date of purchase.
For more information, please click here
Ontario Protecting Water Quality, Wetlands and Beaches
Applications Now Open for Great Lakes Project Funding
Ontario is supporting the work of community groups across the province to protect the Great Lakes and the rivers and streams that flow into them.
Applications for the Great Lakes Guardian Community Fund are now open to organizations working to protect, restore and enhance the Great Lakes and surrounding water systems. Not-for-profit organizations, schools, First Nations and Métis communities and other local groups are encouraged to apply by December 1, 2016.
Successful projects must have a direct environmental benefit to the Great Lakes. Past projects and activities supported include:
*Planting native grasses and trees to protect the shores of the St. Clair River
*Creating rain gardens to reduce the effect of storm water along Toronto's beach
*Restoring wetland habitat along Lake Erie
*Controlling invasive species along the Ottawa River
*Cleaning up beaches or shorelines throughout Ontario
*Naturalizing stream banks and shorelines along the Speed and Eramosa Rivers.
For more information, please click here
Calling All Young Writers!
Apply to the Speaker's Award for Youth Writers
Calling all young writers! The Speaker's Award for Youth Writers invites Ontario youth in grades 7-12 to submit their short stories and personal essays to this writing contest. Original fiction and non-fiction submissions are
welcome and a winner from each of the following three grade categories will be chosen:
1) Grades 7-8
2) Grades 9-10
3) Grades 11-12
Online applications will be accepted from September 26th through November 4th, 2016.
For more information and to apply please click here
Recruitment for 14 LHIN's
The largest LHIN Board Director recruitment undertaking probably since their inception is currently taking place.
Deadline to apply is October 18th to be considered in this round. Please note that applications are kept on file for 3 years, and applicants do not need to re-apply to be considered.
Link to all LHIN postings: https://www.pas.gov.on.ca/scripts/en/advertPositions.asp
Call for Nominations for the Ordre da la Pleiade Award
Each year, the Ontario Branch of the Assemblée parlementaire de la Francophonie (APF) submits provincial nominations for the Ordre de la Pléiade award to the Secretary General of the international APF. The Ordre de la Pléiade is an internationally-recognized award bestowed upon individuals who have made significant contributions to their francophone communities and upheld the ideals of the APF. The medals are presented at an awards ceremony held annually at the Legislative Assembly.
For more information, please contact the Ontario-APF Secretariat directly at 416-325-2233 or by email: APF_Ontario@ ola.org. The nomination form and criteria will also be available at www.facebook.com/SectionOntarioAPF.
The deadline for nominations is November 14th, 2016.
Metrolinx Engage
Learn more about Metrolinx projects and participate in various engagement initiatives
How Metrolinx Engage works. Having your say is what this site is all about.
Metrolinx plans, builds and delivers. Our goal is to transform the way the region moves by championing long-term transportation and transit solutions that enhance prosperity, sustainability, and quality of life. Guided by an award-winning Regional Transportation Plan, Metrolinx is implementing the biggest transit expansion in Canadian history with more than 200 projects currently underway across the region. Whether you drive or ride, a better transportation and transit system benefits us all because it means less time getting there and more time being there.
To find out more and to have your say, please click here
MPP Peter Milczyn Out and About in the Community
*
A Visit to The GARDENS Pod Project 2016, South Etobicoke, at LAMP Community Health Centre, October 7, 2016
The Ontario Trillium Foundation granted $16,400 to LAMP Community Healthy Centre over 4 months, to deliver a project that consisted of building a versatile system of volunteer-run modular garden pods throughout the South Etobicoke Community. I was happy to visit the Pod Site at LAMP CHC and chat with LAMP staff, volunteers and youth from the South Etobicoke Youth Assembly (SEYA) about the project.
Encouraging people to support a healthy and sustainable environment, this initiative is helping people connect with the environment and understand their impact on it, and has an impact on the lives of 1,000 people in the community. The pods, which only use organic practices (no chemical fertilizers and pesticides) are similar to the concept of a community garden, except that they tend to be smaller, mobile raised beds that don't need a lot of space, and they are spread throughout the community.
One of the GARDENS mandates is to build community engagement as well as provide education and involve volunteers in the planting process, The primary aim is "food security support" to persons living in the area that are food insecure. The GARDENS Pod Project has installed planters at various pod sites in Etobicoke-Lakeshore, including, in addition to LAMP CHC:
* Toronto Public Library – Long Branch
* St. Leo's Catholic School
* Thomas Berry Early Learning and Childcare Centre
* Marguerite Butt Early Learning and Child care Centre
* LUSH Fresh Handmade Cosmetics
* Lakeshore Lodge Long Term Care
* Humber College (Fashion Institute)
* Barsa Kelly Cari-Can Coperative Homes Inc
* Haven on the Queensway
Lakeshore Collegiate Institute's Thirty-Second Annual Graduation Ceremony, October 6, 2016
I was very pleased to attend Lakeshore Collegiate Institute's Thirty-Second Annual Graduation Ceremony, and bring greetings from the province – very proud of these amazing young men and women! It was a pleasure to have the honour of presenting , with LCI Principal Allan Easton, the Lieutenant Governor of Ontario Community Volunteer Award to graduating student Heather Perl. Congratulations on this outstanding achievement and best wishes in your future studies!
Grand Opening of the Humber College Centre for Entrepreneurship, Lakeshore Campus, October 5, 2016
I was delighted to attend the Grand Opening of the Humber College Centre for Entrepreneurship on October 5th, 2016. The Centre, located at Humber College's Lakeshore Campus, provides training, resources and opportunities for Humber students, alumni and community members looking to start their own businesses.
The CfE provides a space for like-minded individuals to meet and collaborate, as well as mentorship opportunities, workshops, networking events and startup competitions. It was exciting to tour the building afterwards and view a host of impressive resources. I am very proud and fortunate to have Humber College's Lakeshore Campus right here in my riding of Etobicoke-Lakeshore, and I appreciate all of the leadership and support that they provide to the local community.
MPP Peter Milczyn's Second Annual Corn Roast and Children's Pumpkin Decorating event, October 1, 2016
I had a great time hosting my Second Annual Corn Roast and Children's Pumpkin Decorating event in Mimico Square, Amos Waites Park, on October 1, 2016. A delicious and fun way to celebrate the arrival of fall in Etobicoke-Lakeshore! There was a little morning rain during our set up but the weather cleared and local residents showed up to enjoy some delicious roasted corn and hot apple cider, while the children enjoyed decorating their pumpkins, which they plan to display come Halloween!
MPP Peter Milczyn's Queensway Constituency Office an active participant in the shop the Queensway Festival, October 1, 2016
It's great to be on The Queensway! I was very pleased that my office was able to actively participate in the shoptheQueensway Festival on October 1, 2016. This exciting event featured a scavenger hunt, sidewalk sales, live bands, kids' activities, a shuttle bus and much more.
We set up an information table outside of the constituency office, and staff was on hand to help with a Children's Pumpkin Cookie Decorating activity, while I enjoyed some coffee, timbits and good conversation with local residents. Local South Etobicoke Youth Assembly (SEYA) members Bri and Tsion were also on hand with some of their lovely soaps, handmade by SEYA youth, in an effort to raise funds to pay for their after school activities. Kudos to the shoptheQueensway BIA Board members, staff, business owners and volunteers for all of their hard work into making this Festival a success!
MPP Peter Milczyn, Etobicoke-Lakeshore, interviewed by local Humber College students, September 30, 2016
It was a pleasure to be interviewed in my constituency office by local Humber College students Remi Marchessault and Golzar Wander. Good questions! As an MPP I am indeed fortunate to have the Lakeshore Campus of Humber College right here in my riding – they are great neighbours and are very involved with the local community!
Municipal Matters
The next meeting of Etobicoke York Community Council will be held on October 13, 2016. I have provided the links to the reports concerning matters in both Wards 5 and 6.
Please remember if you have any questions regarding any of these reports, please contact your local Councillor:
Ward 5, Councillor Di Ciano- councillor_diciano@toronto.ca 416-392-4040
Ward 6, Mark Grimes – councillor_grimes@toronto.ca 416-397-9273
You can also submit your comments to members of the Etobicoke York Community Council by e-mail to etcc@toronto.ca or you can go to the meeting and speak in person. Please contact EYCC staff before the meeting as often items are scheduled to be heard at specific times and they can inform you accordingly. EYCC staff can be reached at 416-394-8101.
[For following items, you can find the links by doing a browser search for each of them]
EY17.1 Naming of the Proposed Private Street located at 5365 Dundas Street West
EY17.2 Intention to Designate under Part IV, Sect. 29 of the Ontario Heritage Act – 1x Audley Avenue
EY17.3 Application to Remove a Private Tree – 25 Advance Road
EY17.6 Application for Fence Exemption – 41 Long Branch Avenue
EY17.17 Cafe Blvd Application – Business Owner Change – 4906 Dundas St West
EY17.18 Café Boulevard Application – Business Owner Change – 3473 Lake Shore Boulevard West
EY17.19 Update on Etobicoke Creek and South Mimico Creek Trails – Information Report
EY17.20 Traffic Control Signals – Kipling Avenue and Jutland Road
EY17.33 Designation of Fire Routes and Amendment to Chapter 880 – Fire Routes – 77 Fima Crescent; 105 Eringate Drive; 59 Clement Road; 2 Colonel Samuel Smith Park Drive; 27 Fasken Drive and 3600 Lakeshore Boulevard West
Mimico Lakeshore Network & Mimico Residents' Association Meeting
Mimico Lakeshore Network & Mimico Residents' Association Host a Community Meeting to Discuss Mimico Waterfront Plan
Wednesday, October 19th, 2016/6:45 pm registration
Polish Hall – Ground Level
2282 Lakeshore Blvd West (Fleeceline Road west of Park Lawn Road)
Legislative Assembly of Ontario Teacher's Forum
Legislative Assembly of Ontario Teacher's Forum – Applications Accepted from September 10th to October 15th
Program held from November 13-15, 2016
The Legislative Assembly of Ontario Teacher's Forum is a 2-day professional development opportunity that allows teachers to deepen their understanding of Ontario's Parliament.
Teachers will gain knowledge strategies for teaching parliamentary democracy and active citizenship, meet with MPPs and other parliamentary officials, and learn about the inner workings of the Legislature.
If you are interested in the Legislative Assembly of Ontario Teacher's Forum, visit click here for more information and submit your online application by October 15, 2016.
Should you have any questions please contact pppr@ola.org or (416) 325-8094.
Community Police Liaison Committee
The objective of the Community Police Liaison Committee (CPLC) is to strengthen the partnership between the community and the Toronto Police Service at 22 Division.
This volunteer group, CPLC strongly believes in community policing and the effectiveness it has on the community as a whole. When the public and the police have a good understanding of its own communities and the issues that may surround it, the better we are equipped with solving those issues together.
It's about community partnership.
One of the CPLC's main priorities is enhancing the public's knowledge and awareness of public safety and community engagement.
One example would be the importance of reporting suspicious activities within your neighbourhood; no matter how insignificant this suspicious activity may seem, reporting this activity could lead to something more.
If you are interested in learning more about the CPLC, please take a look at our website: www.22divisionCPLC.ca. If you are interested in being the voice of your community to ensuring safe neighbourhoods, fill out the CPLC application form (under the membership tab) and email it back to CPLC.
Please feel free to send us any questions you may have. We look forward to hearing from you, and working closer with your communities.
Friends of Sam Smith Park Presents Nature's Sanctuary at the Assembly Hall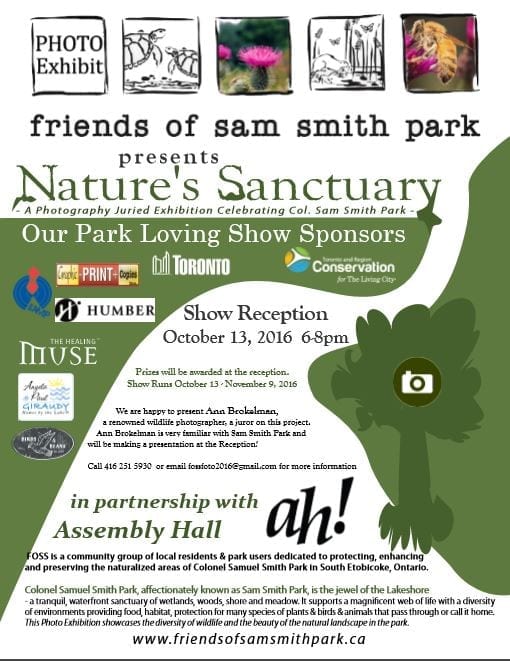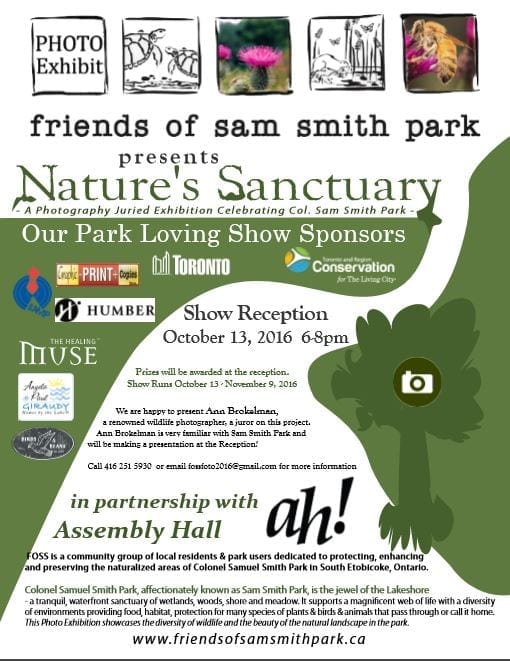 What's Happening at Lakeshore Arts
Lakeshore Arts offers a variety of exciting programs for young and old. For a complete listing of programs and event, please click here
Lakeshore Grounds Interpretive Centre
Upcoming Events – To see what's happening at the Lakeshore Grounds Interpretive Centre, please click here
What's Happening at St. Margaret's
*
Collaborate on Sixth Youth Program
This brand NEW program is open to teenagers between the ages of 14-18 years of age who would like to work collaboratively with friends and creating some amazing works of art, music, and poetry. Join us every Wednesday from 5pm – 7pm at St. Margaret's
Elton Lammie Pub Night
Join us for a night of great music, drinks, pub food and fun!
October 15, 2016
$20 at the door.
Cash Bar & Pub food available for purchase.
Doors open at 7:15. Show starts at 8pm.
Featuring Elton Lammie
Community Dinner
October 21, 2016
Enjoy a bowl of our great soup, listen to a live band made up of students from Humber College's music program, and join us for dinner and dessert.
All are welcome!
A free will donation is gratefully received – but no one is turned away.
Lakeshore Out of the Cold – Volunteer Meeting
Are you interested in volunteering with Lakeshore Out of the Cold? Our annual volunteer evening is on Monday, October 24 at 7:15 pm at St. Margaret's (156 Sixth St, New Toronto).
Everyone is welcome to attend!
The 2016-17 Lakeshore Out of the Cold Program runs every Monday from Nov 21 – March 27.
Robbie Burns Dinner & Auction
Celebrate Scottish Month at St. Margaret's with an evening of traditional food, drink and entertainment
Saturday November 12th, 2016
Tickets: $50 each
6:00 pm Silent Auction & Cash Bar
7:00 pm Parade of the Haggis, Piper, Traditional Feast & Entertainment
To reserve a table or buy tickets:
Call: 416-259-2659
Email: stmargaretschurch@bellnet.ca or stop by the office Tues-Thurs 9:30 am-2:30 pm
Women's Bootcamp – Fitness
For more information on all these programs and more, please click here
Local Farmer's Markets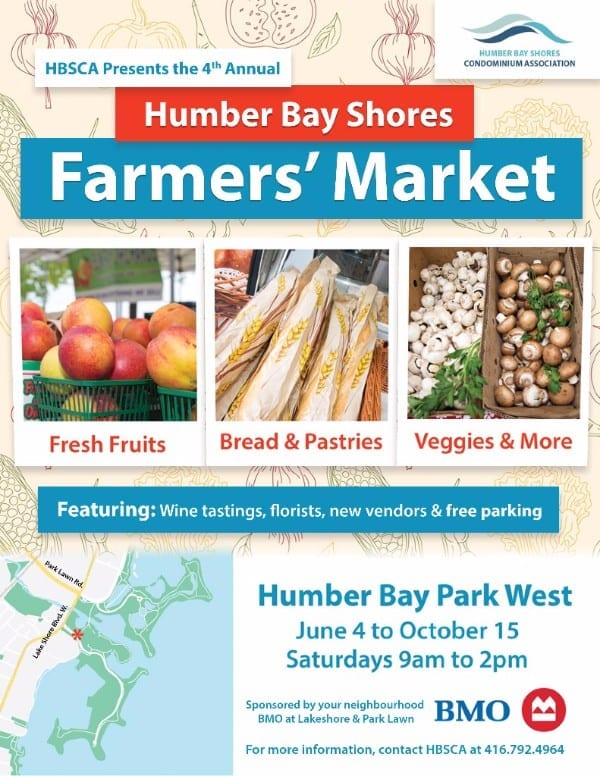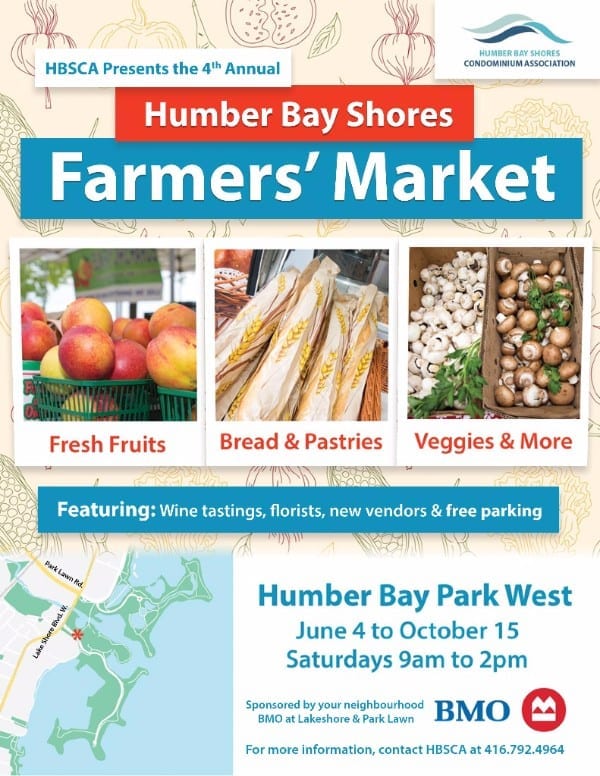 Sherway Farmer's Market
Corner of Queensway and Sherway Gardens Rd 25 The West Mall May 6 – October 28, 2016 – Every Friday | 8 a.m. – 2 p.m
Santa Claus Parade Needs Your Help!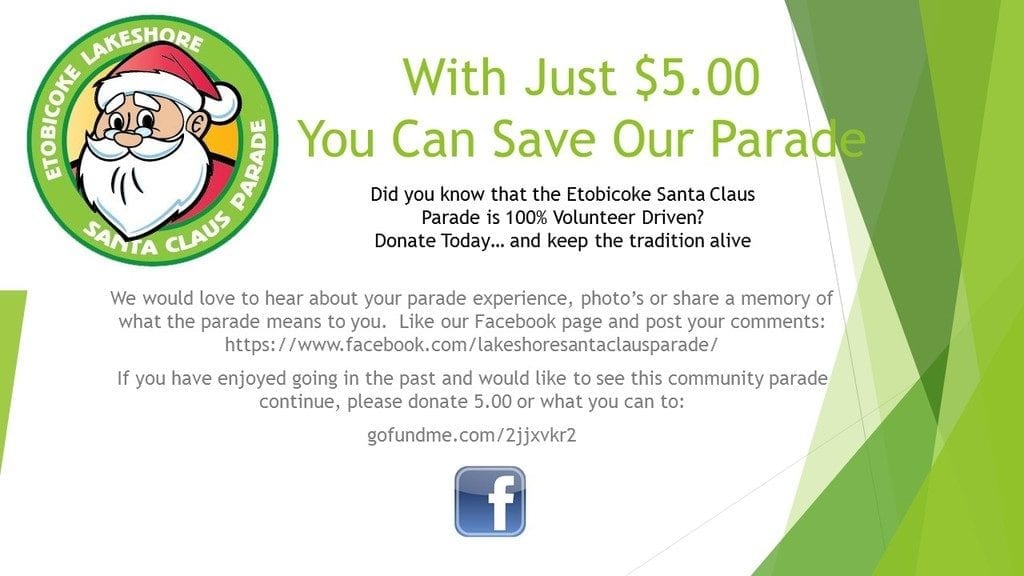 Lakeshore Community Church's October News
To view a copy of the Lakeshore Community Church's October Newsletter, please click here.
Some dates to keep in mind:
Monday October 10 – Church offices will be Closed for Thanksgiving
Saturday October 15 – Tax Preparation Clinic
Sunday October 16 – AM – Special Guests – The Oshawa Brass Band
Sunday October 16 – PM – Special Event – Thanksgiving Musicale & Supper
Saturday October 29 – Men's Rally
Sunday October 30 – Special Guests- Majors Chris & Tina Rideout
Upcoming Meetings and Events
*
2016 Move for Mental Health Awareness Run/Walk
Humber College Lakeshore
Wednesday, 12 October 2016
12:30 pm to 3:30 pm
For more information, please click here
Etobicoke Philharmonic North York Festival Winners
Friday, October 21, 2016
8 pm
Martingrove Collegiate Institute – 50 Winterton Drive
Featuring winners from the North York Music Festival:
Jared Dunn, piano
Astrid Nakamura, violin
Olga Vilkova, piano
Alik Volkov, cello
The opening concert of the season will feature winners of the North York Music Festival in an array of concerto movements, while the orchestra leads us on a Gershwin journey through the sights and sounds of 1920's Paris. Come and join the excitement!
For more information, please click here
St George's On-the-Hill Rummage Sale
Saturday, November 12, 2016
9:00 A.M. TO 2:00 P.M.
4600 Dundas Street West (just west of Royal York Road)
Quality used clothing, books, movies, kitchen items, china, amazing toys and gift items, Christmas decorations, small furniture items, home décor, jewellery, purses and more!
Free Admission. (Limited) Free Parking.
For more information, please click here
Etobicoke School for the Arts Craft Fair and Silent Auction
November 19, 2016
10:00 am – 3:00 p.m.
675 Royal York Road
For more information, please click here
Etobicoke Centennial Choir 50th Anniversary Concert Season 2016-2017
Sacred Traditions 2016
Saturday, December 10, 2016
7:30 p.m.
Cost $25
This joyful celebration of the holidays includes A Ceremony of Carols by Benjamin Britten and a selection of contemporary carols by Barry Gosse, the ECC's first conductor. Audience sing-alongs will help to kindle the holiday spirit.
For more information, please click here
All Saints' Kingsway Anglican Church Upcoming Events:
Place: All Saints' Kingsway Anglican Church, 2850 Bloor St. W.
Phone: 416-233-1125, Ext.0
Website: www.allsaintskingsway.ca
Constituency Office
933 The Queensway
Etobicoke, ON M8Z 1P3
416-259-2249
pmilczyn.mpp.co@liberal.ola.org
https://preservedstories.com/wp-content/uploads/2019/04/Preserved-Stories-logo-horizontal-1.png
0
0
Jaan Pill
https://preservedstories.com/wp-content/uploads/2019/04/Preserved-Stories-logo-horizontal-1.png
Jaan Pill
2016-10-10 09:27:19
2016-10-10 09:27:19
MPP Peter Milczyn Oct. 7, 2016 e-News Update – Including: "Possible Changes to OMB"