Conserving Long Branch: July 2017 Update from David Godley
Attachments for this message:
The following message is from David Godley (I will also be posting David's final Update for June 2017):
Enjoy the warm July weather; the lake looks lovely from Long Branch
CONTENTS
1) Toronto Local Appeal Board
2) Recent COA decisions
3) Outstanding Committee of Adjustment Applications
4) Toronto Local Appeal Board
5) OMB Hearings
6) 38 36th Street Report from the COA
7) Trees, See attached trees doc and 001.jpg
1) Toronto Local Appeal Board
9 38th Street, TLAB hearing 13 October 2017.
Letter to the Committee Secretary for TLAB, acknowdged and forwarded to Ian Lord, Chair of TLAB
Dear Hsing, Thank you for your information so far. Please can you forward this material to the Toronto Local Appeal Board (TLAB) body for their response to the recommendations. I am hoping they can easily satisfy the TLAB rules.
Attached is my March 1 2017 letter and our correspondence. My material for the summary of evidence will follow. I am also asking that this letter be transferred to pdf and placed on file. (I have found that my computer system will not operate your pdf system).
I would suggest conferring with Bruce Krushelnicki, Executive Director of ELTO (and in charge of the OMB) to validate my points. Please acknowledge and reply to the substance as quickly as possible. I also imagine my criticisms affect all your files, see scheduled hearings attached. Thanks, David
SUBJECT
Request to lift all deadlines relating to the file and proceed along the simpler lines operated by the OMB.
RECOMMENDATIONS
1) TLAB suspend the deadlines and submission by pdf. The latter can easily be done by having TLAB transfer material to pdf as the Committee of Adjustment does.
The deadlines can be removed by the simple realisation that you do not have to follow them because they are contrary to natural justice. In effect the recommendations would formally suspend their rules for this hearing.
2) It is recommended that the hearing take place in Etobicoke Civic Centre to increase accessibility for a hearing with such great interest.
SUMMARY
TLAB's rules and procedures are (1) grossly unfair to the general public who are most impacted by appeal decisions, (2) they are much worse than the OMB's protocol and (3) are awash with bureaucratic red tape.
See attached for remainder of letter and other scheduled hearings
2) Recent COA decisions
22 33rd Street, Variances for semis 0.60 density to 0.69. Consent already appealed by owner to OMB. Refused
38 36th Street. 3 storey soldier houses 0.35 density to 0.70. Refused . See comments below.
51 Elder, 3 storey house density 0.35 to 0.98. Information requested.
3) Outstanding Committee of Adjustment Applications
NEW A record month for number of applications. No idea how staff keep up with them.
90 Ash Crescent. Severance and variances. No information posted
14 Atherton Crescent. Variance. No details
59 31st Street. Variance. no details. 24 August COA
56 31st Street. Variance. Soldier house 0.35 to 0.55 density. 24 August COA
31 25th Street. 2 storey house, no further details. 27 July COA
76 33rd Street. Severance/variances. Soldier Houses 0.35 to 0.67 density. 26 October COA
15 38th Street. severance and variances. No details.
27 39th Street. Severance and variances. No details.
38 31st Street. Severance and variances. No details.
15 24th Street. Variance. No detail.
PREVIOUS
62 30th St. 3 storey modern 0.35 density to 0.84 (Deferred COA April)
32 36th Street, 3 storey buildings, soldier houses 0.35 to 0.91 density. Far too high a density. If 30 32nd is approved a new area of character destruction will be started. (Deferred April COA) No hearing date.
56 31st Street. Modern 2 storey new house, density 0.35 to 0.55. No information posted
32 28th St 2 storey 0.35 density to 0.70 on corner lot. Deferred for Community Meeting. 24 August COA
51 Elder Street. 3 storey house density 0.35 to 0.98. 1 June COA. No information posted
11 James Street. Severance variances. No further details. 26 October COA8 Branch Avenue. Classic split for 2 soldier houses, 0.35 density to 0.98 (very high) plus increase in height 31 feet to 37 feet. 24 August COA
75 James Street. Genuine minor variance, detached house from 0.35 to 0.41 density. 27 July COA
31 Fairfield Road. increase in density from 0.35 to 0.63. 29 June COA No information posted
75 25th. No information posted No hearing date
31 25th 2 storey house No other information posted COA 27 July
32 36th Soldier houses 0.81 and 0.91 density. Deferred at COA on Planning Advice. No hearing date
10 Lake Promenade, 2 soldier houses density 0.35 to 0.59 in a solid area of 50 feet wide lots. 28 Sep COA
If you wish to look at all the material online go to "City of Toronto" "Development Applications" "Committee of Adjustment" "Ward 6" "Search" and follow the cues
4) Toronto Local Appeal Board
9 38th Street. A revised application from February 2016. 2 storey modern traditional and ultra modern on 25 feet frontage lots from 0.35 at 0.56 density in a solid area of wide lots. Approved by COA and appealed by the City to TLAB.
This is Long Branch 's first appeal to TLAB. Hearing October 13 2017. Deadline for registering as party or participant 11 July 2017. Deadline for issues August 8 2017. The digital application process is not working and there are problems with the whole Early Disclosure Process. See above TLAB Mis-step. This is highly unfortunate as TLAB promised to be a significant improvement over the pro development, anti residents OMB. That is until the 9 Meaford decision.
5) OMB Hearings
14 Villa Road, July 17 2017. Severance and variances for Soldier houses (3 story, double density or near on narrow (usually 25 feet frontage) lot. PL170039
80 Twenty Third Street, January 4 2017. Decision to approve severance but deny variances. Same hearing officer as 30 36th with same decision. PL160622
68 Daisy Avenue, 73 4 storey townhouse units, February 24 2017. Prehearing Conference for 1 day held. Hearing Day 10 October 2017
82 Twenty Seventh Street, March 21 2017 Awaiting Decision PL161006
9 Meaford , April 11 2017 No planner on board. Awaiting Decision. Refused PL161048
5 Ramsgate, 16 May 2017 Awaiting Decision PL161257
24 33rd, 1/2 May 2017 No planner on board Awaiting Decision PL161073
22 33rd Street. Appeal of consent only after COA refusal. A new application has been submitted for semis instead of singles which is likely to be appealed to TLAB. (see above)
55 Long Branch Avenue. Doubling density of existing house and blocking sun, light and views from their rear garden. Appealed by owners to the north who were away for a couple of weeks with the notice delivered after they went away and decision made before they returned. No comments from Planning. Community have put them in touch with planner and lawyer. Hearing 14 September 2017. PL170469
30 38th Street, 27 June 2017 No planner on board. Awaiting Decision
34 27th, Appeal by City dismissed due to lack of City Approval to appeal. PL161254. Approved
40 37th Street, 18 April Awaiting Decision PL161248.
6) 38 36th Street Report from the COA meeting June 29th 2017
Congratulations all those involved. The large turnout, looking like a whole village was impressive.
Robert's visit to Committee on June 1st showed the importance of this and his commitment and co-ordination were a model of community organisation.
The presentations were excellent with special mention to Robert and the McGeachie family. You all graduated with flying colours as did the 33 written submission writers who objected.
It was also great to see people such as Sandy, Alex and Carolyn there from a different part of Long Branch.
You can see how the Committee are somewhere deep into the last century and have no clue of their roles.
Gulli is the worst always and simply votes emotionally without any common sense. To wreck so many trees as Robert says is unconscionable.
Member Smithies brought out why does not he build a detached on the whole lot which is a fundamental question asked in the application form.
The answer is to maximize profits which is not a valid consideration.
Whether the Committee like it or not every soldier house has been approved is based on precedent. No member as any idea about character evaluation.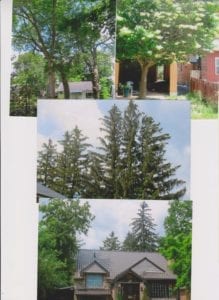 As well if Gulli does not know what a soldier house is by now probably having approved 100 of them, he has not read any of his material.
And as an Architect if Ted Edmonds cannot determine what is 3 storeys and what is 2 especially when one of the variances allows an extra storey I suspect he has lost some of his marbles.
This is a recurrent problem that he cannot count. It is misleading to everyone.
I have copied Micheal Mizzi who is a staff member who is head of the Committee of Adjustment as well as Brian Liberty who is acting Chair of Long Branch Neighbourhood Association.
You can all have great weekends now. Happy Sesquitennial.
David
7) Trees, See attached trees.doc and 001.jpg
https://preservedstories.com/wp-content/uploads/2019/04/Preserved-Stories-logo-horizontal-1.png
0
0
Jaan Pill
https://preservedstories.com/wp-content/uploads/2019/04/Preserved-Stories-logo-horizontal-1.png
Jaan Pill
2017-07-06 19:23:06
2017-07-06 19:25:08
Conserving Long Branch: July 2017 Update from David Godley