A community forum on benefits and jobs in light rail transit will be held on April 26, 2013
A community benefits forum – April 26
[I am catching up on posting of information from varied sources. I will post more items today.]
Abbe Edelson, Research Assistant, APCOL.ca, has informed me of a public forum in Mount Dennis on April 26th:
"We are bringing in three speakers to talk about community benefits from Glasgow (Scotland), LA, and Vancouver. See flyer attached [the flyer has been posted below] and spread the word!"
To read the text in the following jpeg file, click on the image. Click again to enlarge it further.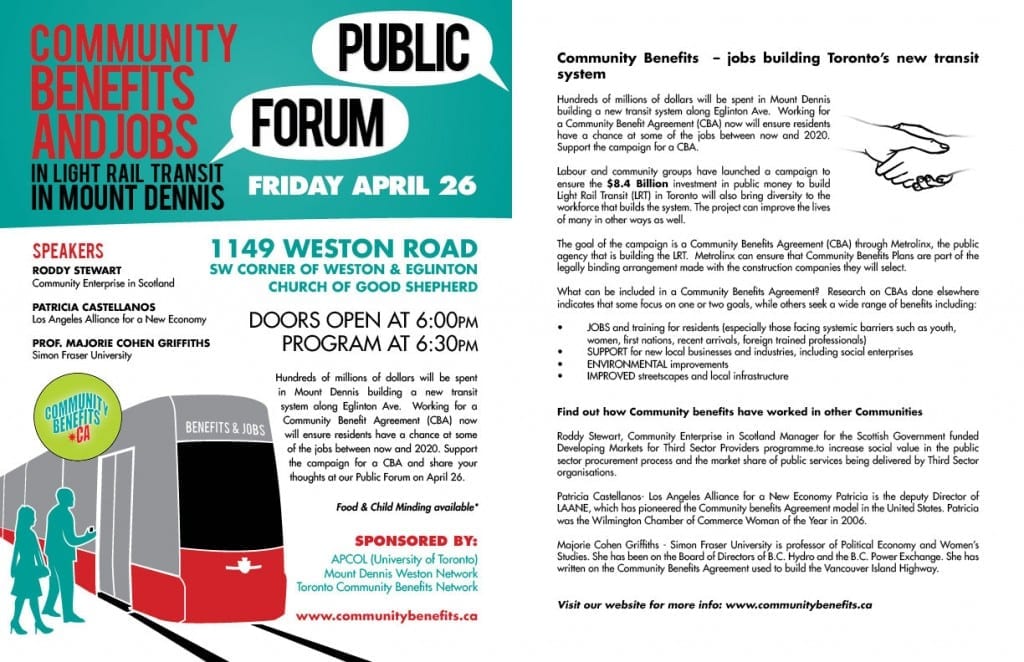 https://preservedstories.com/wp-content/uploads/2019/04/Preserved-Stories-logo-horizontal-1.png
0
0
Jaan Pill
https://preservedstories.com/wp-content/uploads/2019/04/Preserved-Stories-logo-horizontal-1.png
Jaan Pill
2013-04-24 12:21:06
2013-04-24 12:22:58
A community forum on benefits and jobs in light rail transit will be held on April 26, 2013