South Etobicoke Local Air Quality Study has identified an increased risk of cancer in the community due to air pollution
A Toronto Environmental Alliance (TEA) overview of the study can be found here.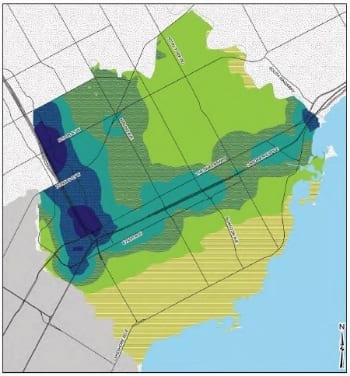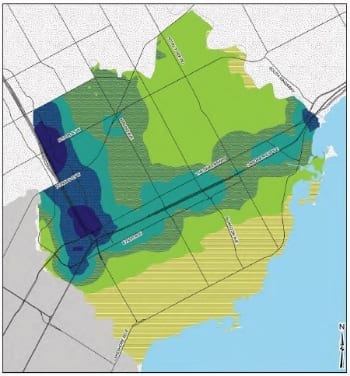 A caption related to the map on the right, from a Jan. 16, 2014 Etobicoke Guardian article by Tamara Shephard entitled "Air quality study finds traffic emissions are driving pollution in south Etobicoke," reads:
Carcinogen concentration Courtesy/CITY OF TORONTO
Eight of 19 carcinogens modelled above the one in one million excess lifetime cancer risk benchmark. The areas shaded in dark blue that flank Hwy. 427 are the areas of highest concentration.
Opening paragraphs of Jan. 16, 2014 Etobicoke Guardian article by Tamara Shephard (see link above):
High traffic volumes, particularly trucks, on Hwy. 427 and the Gardiner Expressway and the particulate matter and nitrogen dioxide it emits is responsible for a less than 10 per cent increased risk of premature death for those living nearest the highways.
Last year, Toronto Environment and Energy Office researchers joined forces with Toronto Health to conduct a study in Etobicoke's south-most wards to identify the sources and cumulative concentrations of 30 air quality contaminants that impact air quality.
[End of excerpt]
Researchers from the City of Toronto focused on South Etobicoke – See series of five maps at CBC link in next paragraph:
A Jan. 15, 2014 CBC article has a series of five maps similar to the one above,each focused on a specific carcinogen. The article is entitled: "Air quality: How gridlock is affecting west Toronto's air."
Chemicals that exceed provincial or national standards
Below is an excerpt from a Jan. 15, 2014 CTV News article entitled "Study points to health effects of traffic in South Etobicoke":
Five of 30 air pollutants were studied by the City of Toronto and found to exceed the Ambient Air Quality Criterion developed by the Ontario environment ministry.
The five substances are nitrogen oxides, benzene, benzo(a)pyrene, particulate matter PM10 and particulate matter PM2.5, and come from car emissions. Residential boilers and furnaces as well as some local industry also produce nitrogen oxides and particulate matter.
Nitrogen oxides are common air pollutants that contribute to smog. Both nitrogen oxide and smog are linked to cardiovascular and respiratory illnesses and death.
Benzene is a carcinogenic solvent derived from coal tar and petroleum and is used to make many products.
Benzo(a)pyrene is a carcinogenic hydrocarbon commonly produced by burning wood, car exhaust fumes and coal tar.
Particulate matter PM10 is tiny airborne particles of between 2.5 and 10 micrometers in size from wood burning stoves, smoke from factories and road dust.
Particulate matter PM2.5 is another kind of air pollution which is smaller than 2.5 micrometers and are from driving autos, burning plants and smelting.
[End of excerpt]
Living near a major highway could have a negative impact on your health
A Jan. 16, 2014 CP24 article is entitled "City study finds poor air quality around major highways."
An April 1, 2015 Globe and Mail article is entitled: "Air pollution may be related to anxiety levels in women: study."
A July 20, 2015 CBC article is entitled: "Canada can't afford complacency on air pollution: CMAJ editorial: Air pollution a 'silent killer' that can exacerbate other health conditions."
https://preservedstories.com/wp-content/uploads/2019/04/Preserved-Stories-logo-horizontal-1.png
0
0
Jaan Pill
https://preservedstories.com/wp-content/uploads/2019/04/Preserved-Stories-logo-horizontal-1.png
Jaan Pill
2014-01-17 22:20:28
2015-07-21 07:52:00
South Etobicoke Local Air Quality Study has identified an increased risk of cancer in the community due to air pollution