Timely cartoon – on the topic of High School Reunions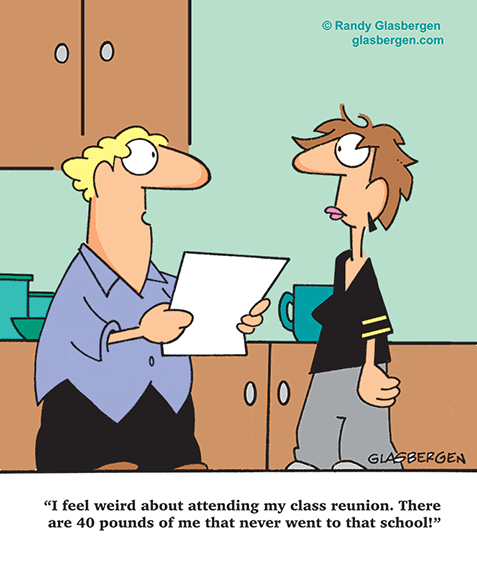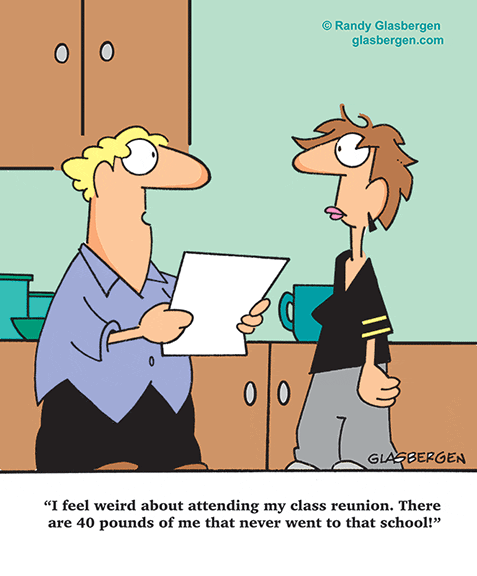 This cartoon has been circulating among the Malcolm Campbell High School graduates working on the MCHS Sixties Reunion for some time. We thought it would be great to post it. We owe thanks to Howard Hight for keeping it in circulation among the committee members.
We've actually had quite a bit of discussion about the cartoon, which we originally received as an attached file from MCHS Sixties graduate Harvey Schachter, as the following quotations attest:
(1) "It seems that as the years go by, we tend to accumulate more than wisdom and lose a few things that we would have liked to keep. Such a pity."
(2) "No worries guys. I'm sure everyone is in the same boat!"
(3) "As Pierre Berton once said, getting old is the worse thing that can happen to anyone."
(4) "But it still beats the alternative, don't you think?"
(5) "True enough. A life long lived is better than no life at all."
We look forward to any further comments about this topic, which can be approached from so many different ways of seeing, so many vantage points.
If anybody would like to write an essay, in English or French or Latin, for posting at this website, or would like to suggest the wording for a 10-minute debate about the topic that we could stage at the Malcolm Campbell High School Sixties Reunion on Oct. 17, 2015 (next year) in Toronto, please let us know.
Update to this post
I like to take a data-oriented approach to the topics of longevity and keeping one's memory in optimal shape. In that regard, two research-based overviews that I've found of value are:
A Short Guide to a Long Life (2014)
Memory Fitness: A Guide for Successful Aging (2004)
https://preservedstories.com/wp-content/uploads/2019/04/Preserved-Stories-logo-horizontal-1.png
0
0
Jaan Pill
https://preservedstories.com/wp-content/uploads/2019/04/Preserved-Stories-logo-horizontal-1.png
Jaan Pill
2014-08-07 21:47:36
2015-01-23 09:26:58
Timely cartoon – on the topic of High School Reunions